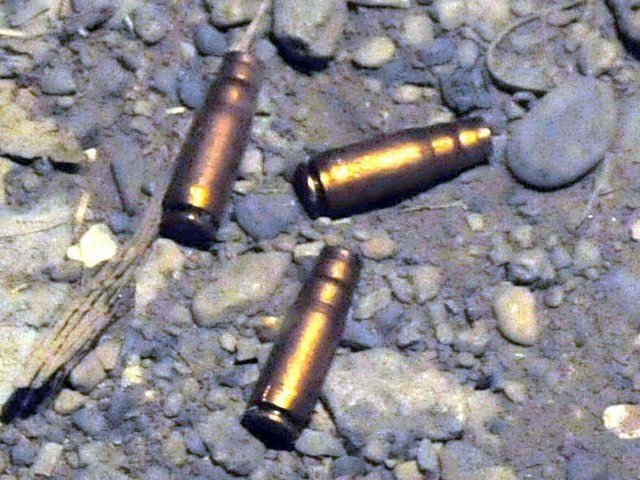 ---
KARACHI:
A man was shot dead by armed suspects for putting up resistance during a robbery bid at a famous bakery in the Gulistan-e-Jauhar area on Monday.
The incident recorded on the closed circuit television (CCTV) camera shows robbers fleeing after looting more than Rs50,000 cash, mobile phones and other goods from the bakery.
Karachi police spokesperson said that the victim, Kamran Abdur Rehman, 40, was father of two children and worked as a physiotherapist.
Kamran was purchasing breakfast items from the bakery when two armed robbers entered the bakery and started robbing the cashier and other people in the bakery at gunpoint. Kamran had a bag with him. An armed robber asked Kamran to open his bag for the sake of checking. While the robber was checking his bag, Kamran grabbed the robber as soon as he found a chance. During the scuffle, the robber opened fire, and a bullet hit Kamran in the arm.
Meanwhile, the other robber reached the spot and fired at Kamran the bullet hit him in his stomach. The accused also overturned a glass table on Kamran and fled from the spot. While escaping, the accused snatched over Rs50,000 from the bakery's cash counter, mobile phones and other items from the staf and the customers.
The CCTV footage of the incident available with The Express Tribune shows that four robbers came on two motorbikes. Two robbers entered the bakery while two stood guard outside the bakery.
The deceased's brother and relatives refused to carry out the post-mortem.
However, doctors conducted an X-ray of the body and saw that the bullet in the arm had passed through, while the bullet in the stomach had lodged in the chest.
The police have started gathering information about the robbers' identities and addresses with the help of CCTV footage.
Published in The Express Tribune, August 30th, 2022.