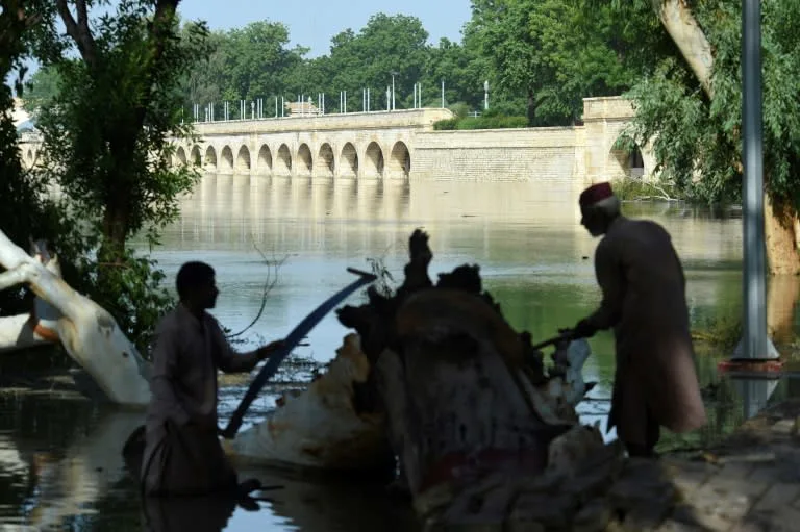 ---
RAWALPINDI:
As Pakistan is facing the worst and raging floods, the cost of personal protective equipment has skyrocketed in markets of the twin cities.
With the escalated demand for rescue equipment, the prices have soared more than double in the twin cities. Local retailers have raised the prices of life-saving equipment such as life-saving jackets, helmets, first aid kits and inflatable boats.
Life-saving jackets which previously cost around Rs2,000 are now being sold at Rs3,000 in view of their rising demand. Large jackets which cost Rs1,500 under normal circumstances are now available at Rs5,000.
Similarly, rescue helmets ranging from Rs800 to Rs1,800 have now soared to Rs2,500 to Rs3,000 amid the flood crisis in the country.
The price of special rope used to rescue during floods has also increased from Rs400 per 10 metres to Rs1,200 per 10 metres.
Ghulam Mujtaba, a volunteer associated with a local welfare organisation, told The Express Tribune that they are purchasing water rescue equipment in huge quantities from wholesale dealers in the twin cities. However, more life jackets, ropes, boats, and other first aid kits are desperately needed by field volunteers in this terrible crisis.
He further said that he contacted dealers in Rawalpindi and Islamabad to try to get reasonable rates but unfortunately even the inflatable boats now cost much more than they did before the onset of floods.
Buying rescue equipment online is much cheaper than the local markets, however, they take at least two weeks to deliver and even the slightest delay at the moment is fraught with risk for hundreds of stranded people.
Several welfare organisations have tried acquiring boats for rent from different tourist spots but the local fishermen have increased their fares after the increase in demand for boats.
A boat previously costing Rs800 for eight hours is now available to be rented at Rs5400 for 24 hours.
In this humanitarian crisis, the government needs to keep an eye on escalating prices across the country so that supplies could be bought at reasonable rates and be timely delivered to the devastated regions.