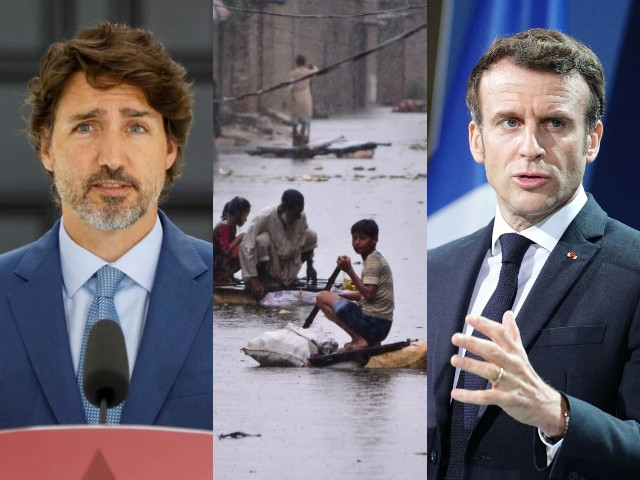 ---
As Pakistan faces devastating destruction amid heavy rainfall and floods, many world leaders have sent messages of support for the country.
Floods continued to devastate the country on Sunday, particularly the provinces of Khyber Pakhtunkhwa (K-P) and Balochistan leaving at least 119 people dead and more than 70 injured in the past 24 hours.
The devastating rainfalls have claimed over 1,030 lives, with 74 deaths reported in Sindh, 31 in K-P, six in Gilgit-Baltistan (G-B), four in Balochistan, and one in Punjab and Azad Jammu and Kashmir (AJK).
Taking to his official Twitter handle, Canadian Prime Minister Justin Trudeau said Pakistanis were in his thoughts as he announced support through the United Nations Central Emergency Response Fund (UNCERF) and Red Cross Canada.
Like many Canadians across the country, I'm thinking of everyone affected by the devastating flooding in Pakistan. Canada is providing support through @UNCERF and @redcrosscanada – to provide food, clean water, and other essential services as quickly as possible. https://t.co/jwEjiIEilJ

— Justin Trudeau (@JustinTrudeau) August 27, 2022
French President Emmanuel Macron also sent a solidarity message saying that the country "stands ready to help".
Our thoughts go out to the Pakistani people facing terrible floods, to the families of the countless people missing and to the populations affected. France stands ready to provide help.

— Emmanuel Macron (@EmmanuelMacron) August 27, 2022
Meanwhile, the European Union (EU) continues to support relief efforts across the country and has also announced the release of 1.8 million euros to Pakistan's aid.
Previously, the EU had announced that it would give €350,000 to provide crucial humanitarian assistance to families affected by severe flooding, particularly in Balochistan, Taheeni Thammannagoda, who oversees EU humanitarian programmes in Pakistan.
We are releasing €1.8 million in emergency funding for people affected by floods across large parts of #Pakistan. While the assessment on the ground is ongoing, we expect more than 1 million people having lost their homes and in need of direct assistance.https://t.co/iuhsSMHkbk

— Janez Lenarčič (@JanezLenarcic) August 26, 2022
Meanwhile, Foreign Minister Bilawal Bhutto had called off his official visits to the European capitals in the wake of the worsening flood situation in parts of Sindh.
Read PM announces Rs15b grant for Sindh
Extending its support, the United Kingdom government has also assured its assistance to Pakistan.
On Saturday, the Secretary General of the Organisation of the Islamic Conference (OIC) also shared a message of support.
Moreover, the Turkish President also sent his thoughts and prayers to the flood affectees adding that "Turkiye stood ready, as always, to provide all kinds of support to the brotherly Pakistan people during this difficult time".
Wishing Allah's mercy on the Pakistani people who lost their lives, and speedy recovery to the injured, President Erdoğan stated that Türkiye stood ready, as always, to provide all kinds of support to the brotherly Pakistani people during this difficult time.

— Presidency of the Republic of Türkiye (@trpresidency) August 27, 2022
After a telephonic conversation with the Iranian President, Prime Minister Shehbaz Sharif also thanked him for his "message of support and solidarity" to Pakistan.
I extend my profound gratitude to His Excellency Syed Ebrahim Raisi, President of Islamic Republic of Iran 🇮🇷 , for his message of support and solidarity to the government and people of Pakistan 🇵🇰. We gratefully acknowledge his offer of support at this difficult hour.

— Shehbaz Sharif (@CMShehbaz) August 27, 2022
Earlier, United States Secretary of State Anthony Blinken had also said that the US "stood by Pakistan in hard times" as it offered its support to the victims.
We stand by Pakistan in hard times and offer our support to flood victims. In addition to $100,000 in immediate relief, the U.S. announced $1 million to build resilience against natural disasters, and we continue to work together to mitigate future impacts of the climate crisis. https://t.co/eDSeZOrvaE

— Secretary Antony Blinken (@SecBlinken) August 17, 2022
It may be noted that Foreign Office (FO) Spokesperson Asim Iftikhar on Friday had confirmed that the UN was going to launch an international appeal for assistance to help people affected by massive flooding.
Earlier this week, Prime Minister Shahbaz Sharif had said that the recent rains in the country broke all previous records and the devastation it caused was more than one could imagine, stressing that this was not the time to blame each other but to join hands to help the affected masses.
Officials blame the devastation on human-driven climate change, saying Pakistan is unfairly bearing the consequences of irresponsible environmental practices elsewhere in the world.
Pakistan is eighth on NGO Germanwatch's Global Climate Risk Index, a list of countries deemed most vulnerable to extreme weather caused by climate change.