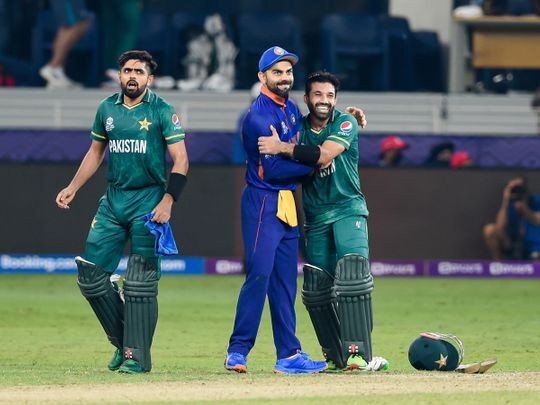 ---
KARACHI:
While one of cricket's biggest rivalries, the Ashes between England and Australia, is a regular fixture every year, Pakistan-India contests have been a rare sight for sport's fans in the past decade.
The political tension between the two Asian neighbours has resulted in no bilateral series being played, rendering a five-day contest a near impossibility. However, international events come to the rescue with at least one guaranteed fixture between Pakistan and India.
Last year the two countries squared off in the T20 World Cup and this year they'll again clash in the shortest format extravaganza in Australia, but before that, they'll face each other at least twice in the August 27-September 11 Asia Cup in the UAE.
Here are the three talking points before the two favourite teams meet in the 2022 Asia Cup on Sunday.
Pakistan's pace battery has been heavily reliant on left-arm fast-bowler Shaheen Shah Afridi since his arrival on the international stage.
Some are calling it lack of load management, others just bad luck as Shaheen has been left out of Asia Cup due to a knee injury, which he sustained during fielding against Sri Lanka in Tests.
Whatever the case, come the India match on Sunday, Pakistan will feel his absence as they weren't even able to replace him with a left-arm pacer, one of Rohit Sharma and co's biggest weaknesses.
The 22-year-old, right-arm pacer Mohammad Hasnain was picked to replace him over all-rounder Hasan Ali, but young all-rounder Mohammad Wasim Jr's injury meant Hasan was asked to join the squad at the last minute.
Indian batting star Virat Kohli has lost his Midas touch, which saw him lose captaincy to Rohit Sharma in all three formats, but if there is one opposition that he likes to score runs against, it is Pakistan.
Even in the 10-wicket loss to Pakistan at last year's T20 World Cup, he was India's top-scorer in the match.
Kohli met with Shaheen on the sidelines of practice, where the Pakistani pacer was heard saying 'we're praying for to you regain your form'. Though it was a great gesture from one cricketing prodigy to a veteran of the game, Shaheen in his heart wouldn't want his prayer to come to fruition during the Asia Cup, or at least against Pakistan.
But class is permanent and form is temporary will prove true once again, and Kohli will start finding the middle of his bat and pile up centuries. If is not the question here, just when.
While a large amount of focus is set on the Pakistan-India clash, there are others eyeing the Asia Cup title too.
Sri Lanka, Bangladesh and minnows Afghanistan and Hong Kong are also a part of the six-team event, where the T20 format allows anyone to take the game away within the span of a few balls.
One good day for Hong Kong can spoil the party for Pakistan or India in Group A. Meanwhile, Afghanistan's spin attack can wreak havoc on Bangladesh or Sri Lanka to halt their progress to the Super Four stage.
Pakistan have confidence on their side courtesy recent wins, but apart from nearly-always in-form Babar Azam, no other batter has shown consistency in run-scoring.
Thus, the Men in Green will face to tread carefully if they want to make it to the final of the Asia Cup and win a third trophy. They'll have to come up with game plans against other teams too, apart from their perennial rivals India.
For India, it is just the case of who wins the match for them on a given day. With a plethora of match-winners in their midst, be it in batting or bowling, they're the top pick to add an eighth Asia Cup title to their trophy case.