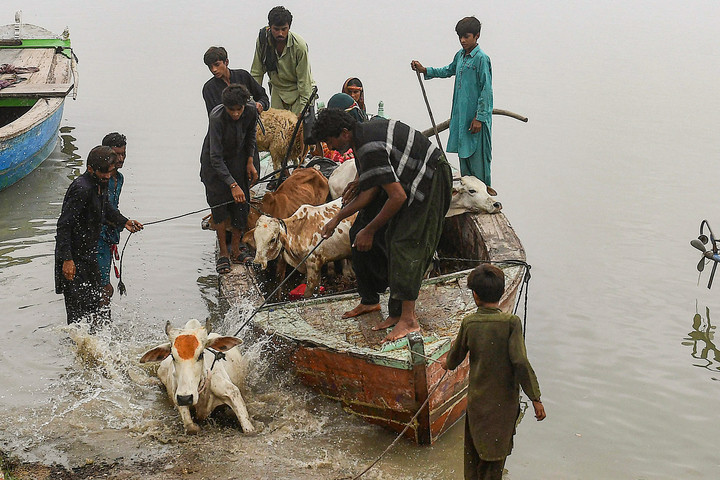 ---
HYDERABAD:
The monsoon rains that triggered floods in Sindh have also taken a toll on livestock, causing huge financial losses to breeders who lost both their animals and sheds. As thousands of animals died, the survival of hundreds of thousands of others has also become difficult.
"We are trying to survive this flood living with our families and animals on a small strip of land which has barely evaded submersion,"said Moosa Rind, a resident of a flood hit village in Badin. "And now arranging fodder for the animals has become equally difficult like arranging meals for our families."
The Sindh Livestock and Fisheries Department claims that they have been providing both animal feed and veterinary services in the affected areas. Many non-governmental organizations are also in the field. However, the scale of the devastation and displacement seems so vast that a large number of the affected people and their animals have
for now been left high and dry.
"Our livestock is dying on daily basis with little or no help from the government," claimed Sajid Ayoub Babbur, a resident of village Babbur Wada in Kotdiji taluka of Khairpur district. Social media brimmed with the videos and photos showing how the livestock and their breeders are struggling to survive especially when the animals are exposed to the flash flood with no sheds.
The farmers also need mosquito nets for their cattle. However, there is still a shortage of the nets for people let alone their animals. Prime Minister Shahbaz Sharif informed on Friday that the National Disaster Management Authority (NDMA) will being distribution of 1.5 million nets in Sindh from August 30.
The Sindh Directorate General of Livestock has put the number of perished livestock animals at 9,197 till August 25. The figure, however, is disputed by many livestock breeders who blame the livestock department for not even reaching out to a fraction of the flooded villages to be able to assess something which can be close to the real mortality. Sikandar Mangrio, a Sanghar based farmer, in his Facebook post disputed these figures as fake and underestimated.
However, according to the estimated figures of the department, the highest mortality of livestock occurred in Khairpur district where the 1,755 animals died. Another 535 died in Kandhkot-Kashmore, 494 in Matiari, 439 in Sukkur, 430 in Hyderabad, 431 in Thatta, 384 in Tando Allahyar, 355 in Sanghar, 332 in Umerkot, 317 in Ghotki, 305 in Dadu, 296 in Karachi, 285 in Larkana, 281 in Tharparkar and 238 in Benazirabad, among other districts. Dozens of animals also reportedly died in lightening strikes.
The department has put the estimated financial loss due to these mortalities at Rs694 million with Khairpur district alone suffering Rs121.33 million losses. The breeders suffered Rs41.8 million loss in Hyderabad, 42.6 million in Thatta, Rs37.3 million in Kambar-Shahdadkot, Rs35.7 million in Matiari, Rs31 million in Dadu and Rs27 million in Larkana.
The cattle farmers also sustained losses due to the partial or complete damage caused to the animal sheds. Some 1,299 of them were completely razed while 2,807 were partially affected. Interestingly, as per government estimates, the farmers sustained almost 10 times higher financial losses over such structures in comparison to the animals. The department has worked out a sum of over Rs5.865 billion as the net losses sustained over the demolished or partially collapsed sheds. As many as 134 sheds fully damaged in Kambar-Shahdadkot, 109 in Dadu, 100 in Khairpur, 87 in Sanghar, 79 in Larkana, 67 in Sujawal, 65 in Naushehro Feroze, 58 in Hyderabad and 57 in Ghotki.
The number of the displaced people and their livestock is likely to go up as the flood level in the Indus river keeps increasing. The residents of the katcha areas – the dry parts of the riverbed where the people live and cultivate crops until they are pushed out by seasonal floods – are moving out as well.
The flood level was recorded at 569,756 cusecs at Sukkur barrage, 490,393 at Guddu and 315,279 at Kotri on Saturday morning. All the seven canals springing from Sukkur barrage, four from Guddu and as many from Kotri have been closed to prevent flooding in the canals and adjoining areas.