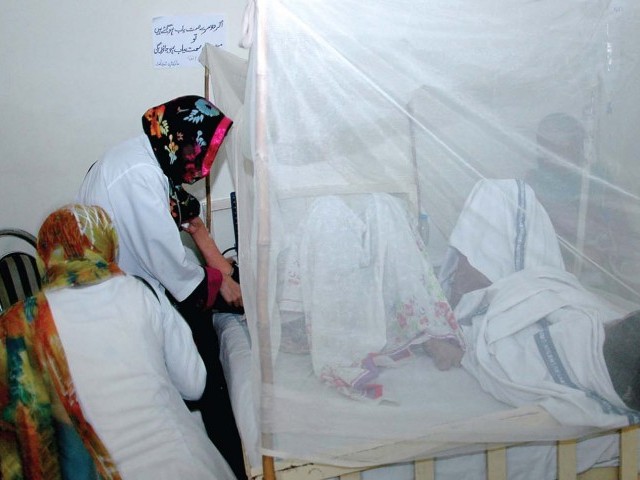 ---
PESHAWAR:
The number of officially confirmed dengue cases has reached 1,256 in Khyber-Pakhtunkhwa (K-P) as 155 new cases were reported on Saturday.
So far three people have lost their lives to the disease in the province and officials have declared all the flood-hit districts of the province high risk areas for dengue.
An official report shared with The Express Tribune shows that Mardan has been on the top with 376 cases followed by Khyber with 289, Nowshera with 158, Haripur 134, Peshawar 103, DI Khan 55 and Charsadda 41.
Similarly, in the last 24 hours around 51 cases were reported from North Waziristan. From Mardan 22, Buner 14, Peshawar eight, South Waziristan two, Kohat six and Malakand two dengue cases were reported.
All the three people who lost their lives to Dengue are residents of Khyber tribal district.
On the other hand K-P Health Department has established 29 camps in the flood-hit district across the province including Khyber, Charsadda, DI Khan, Chitral Upper, Nowshera, Kohistan Lower, Karak and Swat.
A report issued by flood emergency operation room shows that around 16,176 people have been treated so far in these camps.
Around 5,658 cases of diarrhoea, two cases of snake bite, 2,026 cases of skin, 3188 cases of lungs diseases and 5,104 cases of other infections were reported in these camps indicating that the flood victims were also vulnerable to waterborne and other infections.
Suspected cases of cholera
To add to the miseries of the flood victims, waterborne and skin diseases including cholera and dysentery have gripped the flood-hit districts. Official sources revealed that 20,753 cases of diarrhoea and 4,066 cases of skin disease have been reported.
Experts fear the large scale outbreak of dengue in these districts too which could further complicate an already complicated situation.
This has forced the K-P Health Department to increase the number of medical teams deployed in these districts to ensure quick response.
A report issued by the Health Department says that in the three days around 4,577 suspected cases of cholera have been reported in Swat district alone in flood-hit areas including Kalam and Bahrain.
In addition around 69 cases of blood dysentery and 87 watery diarrhoea have been detected.
In Malakand, 2,976 cases of suspected cholera have been reported along with 389 cases of dysentery.
Similarly, in Manshera 1,778, Peshawar 1,727, Swabi 1,321, Charsadda 1,373, Abbotabad, 786, Battagram 728, Shangla 947, Lakki Marwat 558, Dir Upper 448, Buner 597, Khyber 143 and Tor Ghar 104 cases of suspected cholera have been reported.
Skin infections are also spreading fast in above mentioned districts as 4,522 cases of scabies have been confirmed. Flue and other lungs disease have also been recorded.
"Around 6,422 cases of influenza and 4,066 cases of lungs disease and infections have been reported," said the official, adding that these infections have increased the miseries of the general public in these areas.
Torrential downpour followed by flash floods in streams and nullahs have caused large scale destruction in DI Khan, Swat, Kohistan, Swabi, Lakki Marwat, Tank, Charsadda, Dir Upper, Dir Lower, Chitral Upper and Chitral Lower districts in the recent days.
Published in The Express Tribune, August 28th, 2022.