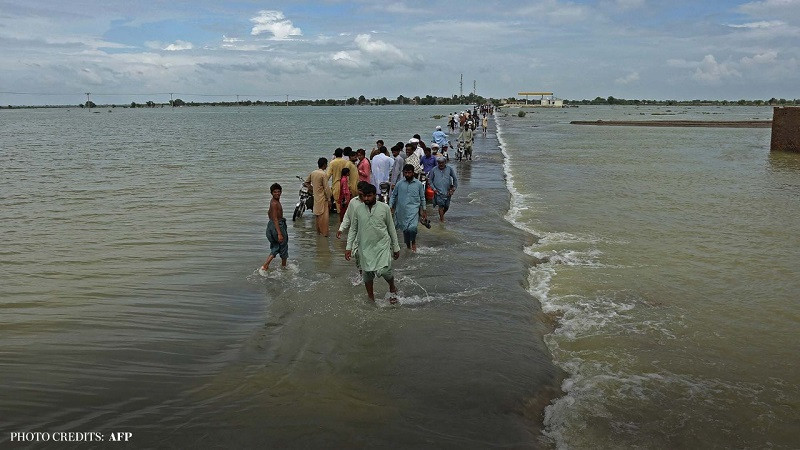 ---
KARACHI:
In the southern part of Pakistan, the disaster wrought by climate change has caused widespread damage to cotton and onion crops in Sindh, almost bringing the rural economy to its knees. "Fifteen lakh houses have been damaged in Sindh after the spell of heavy rainfall. In addition, flooding has completely damaged the agricultural output.
The crop of cotton is almost 90-100% damaged," said Pakistan Businesses Forum (PBF) Sindh Chapter Chairman Mir Murad Ali Talpur. Estimates of losses suggest the country will return to the international market to make heavy imports of cotton this year to run textile mills, which earn around 60% of the total export proceeds of the country, Talpur noted. "All vegetables, including onion, which is a major crop of Sindh, are completely damaged.
Sindh not only produces onion for the domestic market but the majority of onion exports are from Sindh," he underlined. "Now a concerted and well-coordinated effort is required to deal with this climate emergency that our country faces," Talpur said. "The rural economy has collapsed in the recent floods once again. Pakistan has faced this challenging situation before and the result was inflation for industries using onion and cotton," noted Arif Habib Commodities CEO Ahsan Mehanti.
"Millions of acres of crops have been destroyed in Sindh," said Taurus Securities Head of Research Mustafa Mustansir. He added that because of the floods, the country can likely face food shortages. Millions of farmers and labourers in Sindh have been pushed into poverty by the rains, but the government has not announced any assistance so far, Murad Talpur pointed out.
"The provincial government should declare the entire Sindh as disaster affected and provide financial assistance to them for livestock and housing. They should be immediately provided with tents, mosquito nets, mosquito spray, food, water, and help in drainage of water from villages and crop fields," he said. "We also demand the National Bank, Zarai Taraqiati Bank and Sindh Bank to write off all agriculture loans in Sindh and Balochistan for the year 2021-22," Murad Talpur proposed.
"Cotton, chillies, onions, tomatoes and all other vegetables of this season have been wiped out from the surface. In the fields, there is only water. You can't even see the crop. Rice crop has also been severely damaged. Dates and all sorts of fruits have been severely affected. Now there is so much water that no future cultivation can be made. It would be impossible to grow wheat and sugarcane in Oct/Nov," described Sindh Chamber of Agriculture President Miran Mohammed Shah.