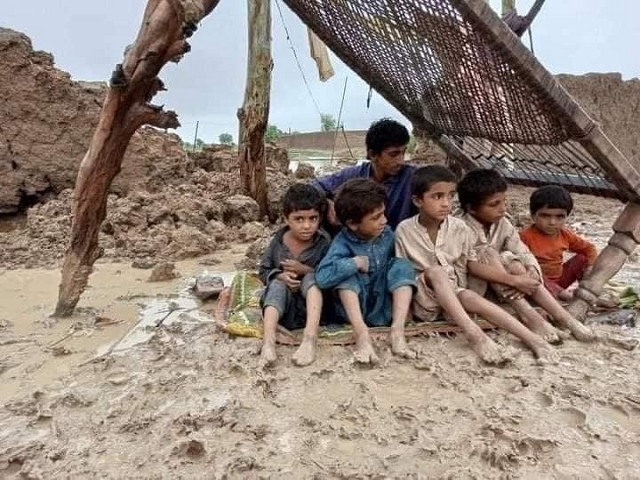 ---
KAMBER SHAHDADKOT:
The rain has not stopped in Sindh since the heavens opened this monsoon season. Countless villages have been washed away by floods triggered by the incessant rain, killing hundreds of people and leaving millions of families displaced under the open sky. They are shelterless. All they want are tents to protect their families from the merciless rain which is beating them without a pause.
"Rain has continued to pour down for the last 24 hours. We took shelter under the shed of a nearby petrol pump where we spent the night with our families because we did not have a tent," said Ali Akbar Magsi while sitting on a roadside with his family near Shahdadkot town.
Magsi's family is not alone. Several other families have the same tragic stories to tell as they sit under the open sky with whatever little belongings they could salvage from rains and floods. "We saw our houses submerging or collapsing in front of our eyes," Rahim Bux Khokhar, an elderly man while sheltering under a neem tree with his family.
"We are told that a large number of tents are available at the office of Shahdadkot Mukhtiarkar, which is locked. They open it and give tents to those recommended by the influential people," said Khokhar who left his home after the canal flowing through his village breached at several places. "We are five family members. How can we survive under this donkey-cart in heavy rain," he lamented.
While the administration has failed to help, some social workers have stepped forward to provide plastic sheets to the survivors to shield themselves against rains. "Some people came today to give us a bundle of plastic sheets and cooked food," another survivor told The Express Tribune sitting on a roadside with his family.
Kamber is not alone. Every Sindh district has been ravaged by rains and floods. "It's a catastrophe. The number of victims is beyond the estimation of the government. In our area, people have taken shelter in hilly areas," Khuda Bux Brohi, a Thatta-based journalist, told The Express Tribune over the phone. "Three days ago, the CM visited Thatta, where a large number of flood victims are living on an embankment of the River Indus. He assured them of help, but after his visit, everybody forgot about their plight," he said.
Some people took to Twitter to appeal to social welfare organisations and affluent people to provide tents to the rain victims in Sindh.
Commenting on the issue, Sindh Chief Minister said that around 86,000 tents were available with Provincial Disaster Management Authority (PDMA), which have been distributed and the government has placed an order for another 180,000, while a requirement of one million tents has been generated by district administrations that would be fulfilled.
"We request the tent manufacturing companies to expedite the orders and charge a nominal price because the tents are meant for the survivors of this national calamity," he said, adding that around 10 million people have been rendered homeless in Sindh. "Around 90 per cent of the total 1.5 million mud-houses have collapsed killing around 300 people," he said.
Also read: Floods wreak untold havoc as death toll tops 900
All Most Basic Health Centers (BHU) and Rural Health Centers (RHC) in Kamber-Shahdadkot and Larkana districts have been closed after inundation. Health officials warned their staff against coming to work. "Please come to duty after the situation returns to normalcy," states a circular issued by the health authorities.
While speaking on the condition of anonymity, a woman posted at a BHU said, "We are going to Karachi with family because our center is under water. In case of any emergency patients can be referred to Larkana city," she said. However, the Teaching Hospital Larkana, Civil Hospital Kamber and other tehsil hospitals in Warrah, Mirokhan, Nasirabad, Doktri, Rato Dero, and Kamshore are also inundated causing inconvenience to patients.
"Doctors are sitting in the hospitals, but OPDs are reporting few cases because most areas are still submerged in knee-deep water and cut off from the city," said Dr Gulzar Ahmed, District Health Officer Kamber, over the phone. "We are planning to set up mobile teams for all the relief camps to cope with a possible outbreak of waterborne diseases.
COMMENTS
Comments are moderated and generally will be posted if they are on-topic and not abusive.
For more information, please see our Comments FAQ