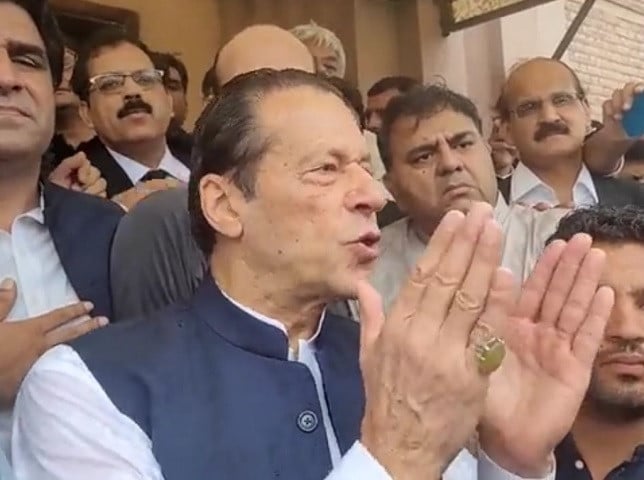 ---
ISLAMABAD:
An Anti-Terrorism Court (ATC) in Islamabad on Thursday accepted PTI Chairman and deposed premier Imran Khan's pre-arrest bail plea in a terrorism case registered against him and ordered him to appear before the court on September 1.

The former prime minister's bail was approved against a surety bond of Rs100,000.
During the hearing of the case, Imran remained present in the court along with PTI leaders Asad Umar, Pervez Khattak, Zulfi Bukhari, Fawad Chaudhry, Murad Saeed, Asad Qaiser and others.

Imran was booked in a terrorism case late Saturday on the complaint of Islamabad Saddar Magistrate Ali Javed for threatening Additional Sessions Judge Zeba Chaudhry and the police officials while addressing a PTI rally at Islamabad's F-9 Park.

The PTI chief had alleged that Judge Zeba knew that imprisoned party leader Shahbaz Gill was tortured, but she did not release him on bail. He had threatened to take action against the judge and the Islamabad IGP and additional IG.

"Magistrate Zeba sahiba, you should get ready. We will also take action against you. All of you should be ashamed of yourselves," the PTI chief had said during the rally.
On Thursday, the case was heard by ATC Judge Raja Jawad Abbas Hassan.

Giving his arguments, Imran's counsel Dr Babar Awan said that a case on the request of Magistrate Ali Javed was registered against the PTI chairman under terrorism charges at the Margalla Police Station.

Dr Awan said that according to the prosecution, Imran had hurled threats at three people – IG, additional IG and magistrate Zeba. He said none of these three became plaintiff in the case and the police registered a terrorism case against his client.

The counsel said that the term "ashamed" was presented as a "threat". He argued that Imran during his F-9 Park address had said that he would "not spare the IG and the DIG" and that he would file a case against them.

Dr Awan said it was for this reason that UN chief Antonio Guterres had said that he was "aware" of the charges brought against Imran and had emphasised the "need for a competent, independent and impartial legal process".

Referring to PTI chairman's statement that he would take action against magistrate Zeba, Dr Awan said they had taken "action" and approached the high court.

The court, after listening to the arguments, approved the PTI chairman's pre-arrest bail plea and ordered him to submit surety bond worth Rs100,000 and appear before the court again on September 1.
Dr Awan requested the court to grant bail for an extended period, saying Imran was contesting by-elections from nine constituencies.
The court rejected the request saying it was granting interim bail till September 1 for now.
Imran, Asad get bail in Section 144 case
Soon after securing relief from the ATC, Imran appeared before Additional Session Judge Zaffar Abbas in Islamabad where his request for protective bail was granted in the Section 144 case registered against PTI leaders after the August 20 PTI rally.
The court granted interim bail to Imran and Asad against a surety bond of Rs5,000 till September 7.
A heavy contingent of police and FC were deployed at the F8 judicial complex. The court summoned the police with the record on September 7.
The Islamabad High Court on Monday constituted a larger bench to initiate contempt of court proceedings against Imran after granting him protective bail till August 25. The court had also directed him to submit surety bonds worth Rs5,000 and approach the anti-terrorism court till August 25.
The PTI chairman while addressing the media after the ATC hearing on Thursday said he had been charged because "they [govt] are afraid of the PTI's popularity" which was "winning by-elections across the country".
"This is their attempt at a technical knockout," he said, before adding "whatever decisions they are taking, they should think of the country first".
PTI's Fawad Chaudhry said that the party would proceed to "move the high court for quashing" the terrorism charges against Imran and remained confident that "the FIR will be cancelled".
He further expressed the hope that "by September 10, we will rid ourselves of this government".
Asad defends Imran's statement
PTI leader Asad Umar while speaking to the media defended Imran's statements against magistrate Zeba and police officials and said that the PTI chairman had "clearly said we will take legal action" against them, which he stated was "the legal right of any Pakistani leader and citizen".
"Charging [Imran] with terrorism is disrespectful to those who have been fighting the war against terror and those who lost their lives to it," he said.
"Pakistan has become a joke in front of the international community, where one is charged with terrorism over a political speech."
Expressing solidarity with the PTI chief, Asad said that "the struggle for true freedom will succeed".
PTI supporters reach court
PTI supporters and workers had also gathered outside the court in an expression of "solidarity" with their leader, chanting slogans in his support.
Meanwhile, strict security arrangements were put in place in the surrounding area of the judicial commission, with roads closed for traffic on all sides of the compound.
Unauthorised persons were not permitted to enter the court premises while media persons were also denied access.
According to security officials, 400 police and FC officials were deployed. The police said that they had been directed not to allow anyone to enter the judicial complex without official orders.
COMMENTS
Comments are moderated and generally will be posted if they are on-topic and not abusive.
For more information, please see our Comments FAQ