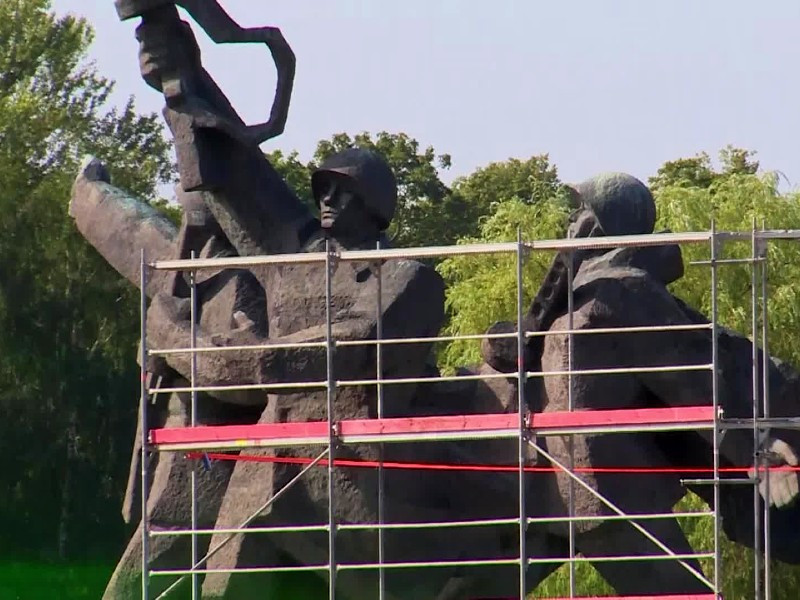 ---
Latvia has dismantled a Soviet-era monument that commemorates the Red Army's victory over Nazi Germany, Euro News reported.
The statue in the capital Riga was built in 1985 when Latvia was still part of the Soviet Union.
In the light of the Russian invasion of Ukraine, the Latvian government has introduced a law requiring such monuments to be pulled down.
"Of course, this is a question of values," explained the city's executive director, Janis Lange. "For Latvians, this monument symbolises Latvia's occupation after the Second World War and after Russia's invasion of Ukraine, we can't tolerate it anymore."
Meanwhile, another Latvian leader Egils Levits called for the isolation of the Russian-speaking residents of the Baltic country, who oppose the political course of the state on the Russia-Ukraine war.
Read more: Daughter of Russian ideologue killed in suspected car bomb attack
Russia's military operation in Ukraine has become a "routine" for the West, Levits said, speaking in an interview with Latvian radio and television joint news portal LSM.lv.
He underlined that after the beginning of the military conflict in Ukraine, both positive and negative effects were observed in the Latvian society, while the citizens of Latvia have become "more patriotic."
According to Levits, the positive effect is that the majority of society has become "more aware" of their country and the price of freedom.
"On a daily basis, you don't think much about the threat, but now you see it. It makes people think," he said.
Meanwhile, the negative effect is that "a section of Russian society that is not loyal to the state" has appeared, said Levits, noting: "Our task is to deal with that (section of society) and isolate it from society."
Since regaining independence in 1991 Latvia has become a member of Nato and the European Union.
Last week neighbouring Baltic state Estonia also removed a Soviet-era monument for the same reasons as Latvia.
(With additional input from Anadolu Agency)
COMMENTS
Comments are moderated and generally will be posted if they are on-topic and not abusive.
For more information, please see our Comments FAQ