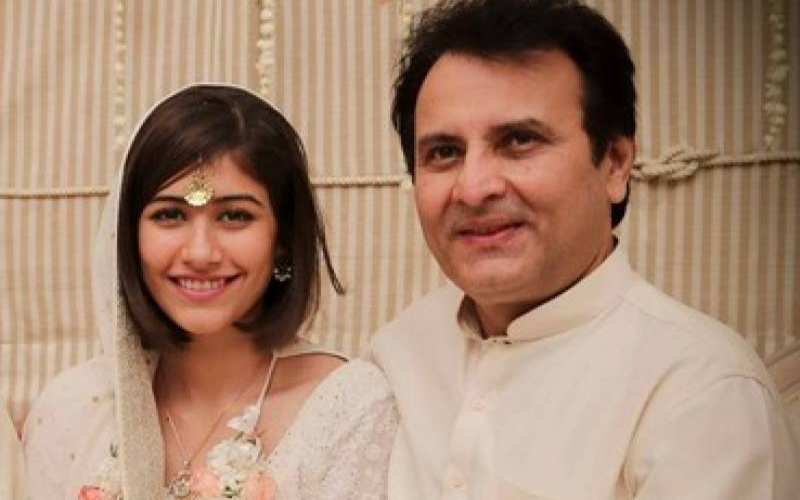 ---
Shehroz Sabzwari and Sadaf Kanwal's marriage has been the target of public scrutiny since they tied the knot in an intimate ceremony at home in 2020. Social media was aflame with rumours about the pair since as early as 2019, with many blaming Sadaf for the separation between Shehroz and his then-wife, fellow actor Syra Yousuf.
While Shehroze and Syra did file for a divorce soon after their separation, both sides have clarified time and time again that the divorce was due to differences between the pair and not the involvement of anyone else.
Shehroz's father, veteran actor Behroze Sabzwari, has especially been vocal about his distaste for social media bandwagons and unfounded rumours. In a recent appearance on Gup Shup, Behroze once again touched upon the conversation on using social media for the wrong reasons.
When speaking about the divorce, he said, "You have to have a big heart. Syra is my daughter, even now. Shehroze and Syra's chemistry didn't match, and there is nothing we could have done about it. This is all God's will."
However, God's will did not prevent the situation from becoming the face of trolls adding fuel to the flame. "There were so many people who trolled us. It was a challenging time for us, Shehroze, Syra, and our families. It was a very personal matter, but people believe they have ownership over us and our lives. Social media has destroyed our lives," the Zindagi Gulzar Hai actor explained.
"People are allowing their children, as young as nine and ten, to use social media under the guise of earning money through it. This takes a child's mind away from education. If it were up to me, I would propose shutting down social media in Pakistan," he continued.
Sharing his sentiments about a healthy outcome after an unfortunate situation, he concluded, "We've never seen Syra as separate from us, and we never will. I've told her many times, 'Beta, get settled down. Why not? I'm standing behind you.' She's our daughter, and Nooreh is our life."
The Mushkil actor shared a similar perspective while speaking to The Express Tribune in 2019. Rejecting the rumours surrounding the divorce, he said, "How can people say so many things without verification and make things even worse for the people involved? How is a couple's private conflict even someone else's problem?"
Defending Sadaf, he added, "The couple is going through something that we hope will resolve and they are trying as well. However, dragging a third person into the matter is immoral. She [Sadaf] is also someone's daughter, just like Syra is our daughter."
Have something to add to the story? Share it in the comments below.
COMMENTS
Comments are moderated and generally will be posted if they are on-topic and not abusive.
For more information, please see our Comments FAQ