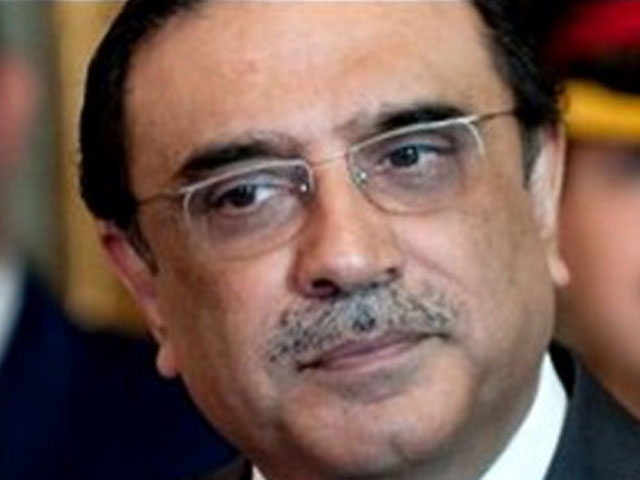 ---
KARACHI:
Former president and Pakistan Peoples Party (PPP) Co-chairman Asif Ali Zardari on Tuesday fired a broadside at PTI Chairman Imran Khan for criticisng the army, police and judiciary during his recent speeches, saying the judiciary must "see if this man is above the law".
During a meeting with the PPP ministers and leaders in Karachi after his return to the country from a few days' stay in Dubai, Zardari urged the government and institutions to establish writ of law, predicting that otherwise the former prime minister will target and weaken them.
"This man is criticising our army every day that army whose officers and soldiers are sacrificing their lives in the war against terrorism in the two provinces."
The former president lamented that Imran threatened the army, police and "now a woman magistrate".
"He is now targeting the judiciary and has threatened a woman judge in Islamabad," he added.
Two nights ago, the PTI chairman had been booked in a terrorism case on the complaint of Islamabad Saddar Magistrate Ali Javed for threatening the additional sessions judge of the federal capital, Zeba Chaudhry.
Read PTI request in Toshakhana reference rejected
A day later, the Islamabad High Court (IHC) granted Imran protective bail till August 25.
"He is challenging everyone to arrest him," said Zardari.
"This is intolerable. All institutions must ponder to establish their writ of law lest the law, constitution and institutions fall victim to his lust for power," he said.
"After losing power, Imran Niazi has lost his temper and his addiction to power is driving him mad with the passage of time," Zardari said. "His main focus is to get power again come what may."
He appealed to the judiciary to take notice of Imran's threats to judges, the ECP and the army.
"He is not above the law," he stated, inquiring "why such a soft corner is being given to him".
Zardari added that Imran targeted him, his sister Faryal Talpur, Pakistan Muslim League-Nawaz leaders Nawaz Sharif and Maryam Nawaz by sending them to jail.
During the meeting, Zardari urged his party ministers and leaders to focus on the rains and flood affectees rather than indulging in politics at this critical time.
"Almost all of Sindh along with the other provinces are reeling from the devastation," he noted, urging his party leaders to focus on rescue and relief activities.
COMMENTS
Comments are moderated and generally will be posted if they are on-topic and not abusive.
For more information, please see our Comments FAQ