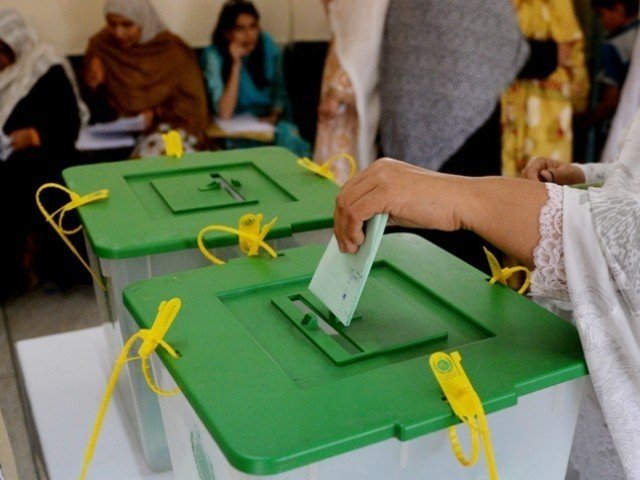 ---
KARACHI:
The by-elections on the National Assembly seat NA 245 concluded peacefully, despite the fact that all polling stations of the constituency had been declared sensitive or highly-sensitive by the aw enforcing agencies.
Unlike the violence marred by-polls of NA-240 held in June, the NA-245 by-election saw no untoward incident.
A heavy deployment of police and Rangers was present across the constituency, while the leadership of various political parties kept their workers disciplined.
Barring few incidents of hooting and exchange of hot words, no tense situation emerged in the constituency comprising PIB Colony, the areas around Quaid's Mazar, Tariq Road and the Firozabad and the Jamshed Quarters sub-divisions.
The turnout was very low at 11.8 per cent. Activists of various political parties kept trying to bring out voters to polling stations but most preferred to stay at home.
Among the 263 polling stations set up for the by-election, 201 were classified as highly sensitive and 62 as sensitive. The Election Commission displayed the results live on the screen through the result management system.
According to Form 47, Mehmood Baki Maulvi of PTI got 29,475 votes, Moeed Anwar of MQM got 13,193 votes, Muhammad Ahmad Raza of TLP got 9,836 votes, independent candidate Dr Farooq Sattar got 3,479 votes, and Mohammad Shahid of Mohajir Qaumi Movement got 1,.
Leaders of Pakistan Tehreek-e-Insaf (PTI) had kept declaring the victory of their candidate Mehmood Maulvi as certain on the occasion of the by-election in constituency NA-245.
PTI Sindh President Ali Zaidi said that he visited the entire constituency and was happy to see the rush of people on the campus of PTI, "we have won but we want to win with a big margin."
The camps of PDM, a group of 13 parties, are empty, Ali Zaidi said adding that he will celebrate PTI's victory in a big way. We want to convey this message that the whole of Karachi, the entire Pakistan, stands with Imran Khan and PTI will win all future elections of the country."
MQM-P accepts defeat
MQM-Pakistan has accepted the defeat in the by-election NA-245. "People voted for Tehreek-e-Insaf. Their representative was successful. We congratulate them. The election was clear and transparent," MQM-P Senior Deputy Convenor Aamir Khan expressed these views while talking to the media on Jamshed Road along with M Moeed Anwar, Waseem Akhtar and other leaders.
He said that this is not the last election, "we will enter the field with full preparation in the next election." There was no political activity in this by-election like in the 2018 election, "but we are concerned about our defeat where mistakes have been made by us."
Published in The Express Tribune, August 22nd, 2022.
COMMENTS
Comments are moderated and generally will be posted if they are on-topic and not abusive.
For more information, please see our Comments FAQ