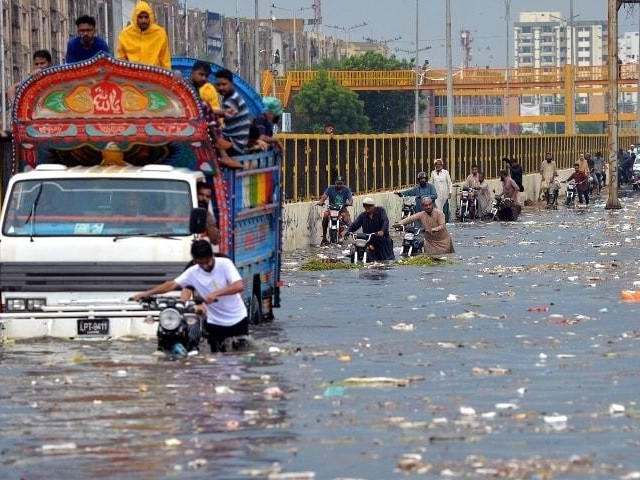 ---
ISLAMABAD:
The National Disaster Management Authority (NDMA) on Sunday advised all concerned provincial and federal ministries and emergency departments to ensure prior arrangements to cope with flash floods predicted in rivers and nullahs of Eastern Balochistan.
According to the NDMA advisory, the Flood Forecasting Division (FFD) has forecasted moderate flash flooding in the rivers and nullahs of Eastern Balochistan during the next 24 hours and heavy flooding after 24 hours.
It added that 'medium to high-level flooding' is expected in Kabul River at Nowshera, Khyber-Pakhtunkhwa (K-P) and tributaries of rivers Kabul and Indus, in Sindh, till Monday.
Moreover, 'high level and above flooding' is likely in the hill torrents of Dera Ghazi Khan Division, Punjab, in the next 24 hours.
The NDMA said that all concerned federal ministries and departments - provincial disaster management authorities (PDMAs), provincial irrigation departments and respective district administrations, district disaster management authorities (DDMAs) as well as municipal and city administrations - are advised to forewarn at-risk communities in vulnerable areas.
Read Police play major role in flood relief operation
It maintained that they are advised to remain on high alert and monitor the developing situation in order to reduce reaction and response times, pre-placing the rescue teams and equipment for rapid deployment in vulnerable areas.
The NDMA also stated that people living along the areas of hill torrents and the banks of Indus River be sensitised about the expected increase in water flow. They added that there should be timely evacuation of at-risk populations from low-lying and flood prone areas as per evacuation plans.
The locals, farmers and cattle herders were forewarned to shift cattle away from areas of hill torrents. Shelter, food and medicines have been made available in shelter camps.
Further, the NDMA advised the concerned authorities to restrict vehicle movement in areas likely to be affected by hill torrents. In case of any eventuality, a special situation report (SITREP) or update must be shared immediately with the NDMA.
COMMENTS
Comments are moderated and generally will be posted if they are on-topic and not abusive.
For more information, please see our Comments FAQ