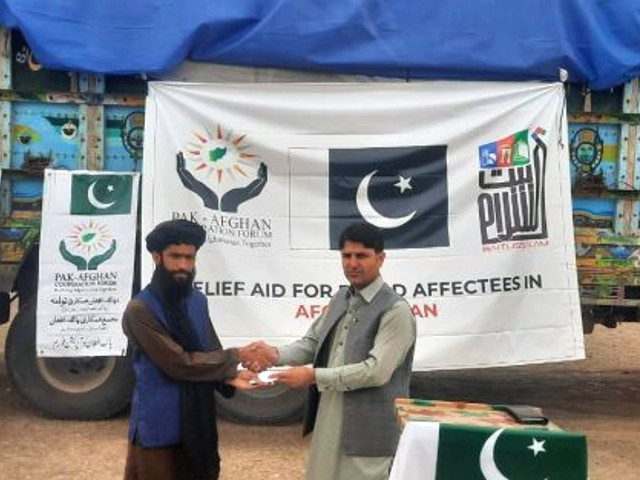 ---
ISLAMABAD:
The Pak-Afghan Cooperation Forum on Thursday handed over 25 tonnes of food items to Afghan authorities as part of its ongoing support to the people of war-hit Afghanistan.
The truckloads of the food items, arranged by the PACF, were handed over to the Afghan authorities at the Chaman border.
The handing-over ceremony was attended by Deputy Commissioner of Chaman Hameed Zahri and senior officers of the Afghan Foreign Office including Maulvi Waheedullah and Mullah Hikmatullah.
Since the Taliban takeover in Afghanistan last year, Pakistan had sent over a total of 15,390 tonnes worth Rs2,650 million of humanitarian assistance to Afghanistan.
Also read: Pakistan sends another tranche of humanitarian aid to Afghanistan
The humanitarian assistance had been sent to Afghanistan via 83 convoys, including 743 trucks and four C-130 flights, till August 5.
Since September 2021, over 14,945 tonnes of humanitarian assistance had been sent to Afghanistan via 694 trucks and four C-130 planes under arrangements of the Pak-Afghan Cooperation Forum.
In the wake of the recent earthquake in Afghanistan, Pakistan has opened its border in South Waziristan and established a makeshift medical facility. Relief aids from Pakistan include food, clothing, blankets and medicines etc.
In 2019, Afghanistan's second-largest Jinnah Hospital with a 200-bed capacity was opened in Kabul costing more than $24 million as part of Pakistan's contribution to reconstruction and development efforts.
Recently, Pakistan has offered to provide online education facilities for Afghan students as Allama Iqbal Open University and Virtual University will teach students through their TV networks.
In 2020, Pakistan's Higher Education Commission (HEC) announced around 3,000 scholarships worth Rs1.5 billion for Afghan students to study in different institutes of Pakistan in various fields, including medicine, engineering, agriculture, management and computer science.
From its limited resources, Pakistan is providing $500 million for capacity building in various sectors including education, and health as well as building schools, hospitals, and roads in Afghanistan.
COMMENTS
Comments are moderated and generally will be posted if they are on-topic and not abusive.
For more information, please see our Comments FAQ