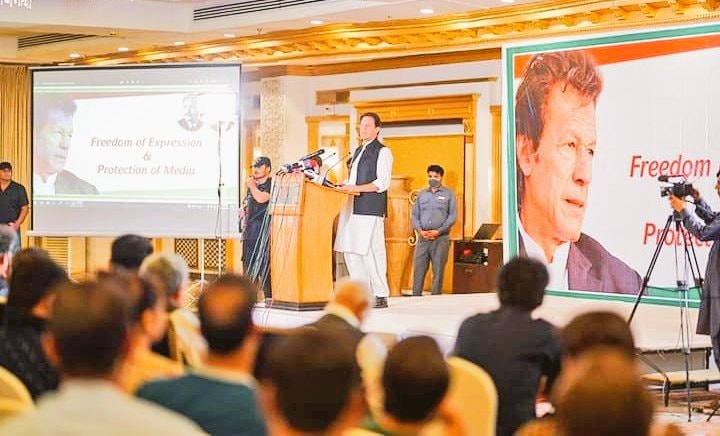 ---
ISLAMABAD:
Former prime minister and Pakistan Tehreek-e-Insaf (PTI) Chairman Imran Khan has urged the "neutrals" — a tacit reference to the establishment — to review their policies while there was still time, saying on Thursday that stability would not come unless free and fair elections were held.
Addressing a seminar on media freedom in Islamabad, the PTI chairman, while revealing that the establishment had told him about politicians' corruption, raised the question as to why it allowed them to come to power when it was privy to this.
Before coming to power, the former premier said, the Inter-Services Intelligence (ISI) used to tell him about the corruption of the Pakistan Peoples Party (PPP) and the Pakistan Muslim League-Nawaz (PML-N) and he started believing that the establishment would react.
However, he regretted that it did not happen. Many times, he said, the ISI also told him about politicians' corruption but they were time and again allowed to rule the country. "Are you worried about this country... do you know where this country is heading..." Imran asked the "neutrals".
Imran said that the dictators and corrupt politicians curbed media freedom to hide their corruption and wrongdoings, but emphasised that he was never afraid of the independent press. The supremacy of law in the country was impossible without the accountability of the powerful persons, he added.
Read more: Imran's papers rejected from Faisalabad
According to a statement, the PTI chief said that he had joined politics to eliminate corruption. He added that he supported then military ruler Gen Pervez Musharraf during his tenure to eliminate corruption but Musharraf gave NRO to the corrupt rulers.
Also, he claimed that the National Accountability Bureau (NAB) was "unfortunately" not in his control during the previous PTI government, otherwise, he would have definitely recovered billions of stolen money from 15 to 20 people and put them in jails.
Lashing out at the incumbent rulers, Imran said that the corruption case of Rs16 billion against incumbent Prime Minister Shahbaz Sharif was an open-and-shut case. He questioned how the prime minister's elder brother and former prime minister Nawaz Sharif was living in a house in London worth Rs4 billion. He said that efforts were being made to bring Nawaz back, while there was a conspiracy to disqualify him.
In his speech, Imran said that refusing to give bases to America did not mean he was anti-America, but stressed that the interest of the country must be looked at.
Reiterating that a US assistant secretary had warned that Imran should be removed or else the country should get ready to face the consequences, Imran said that "no matter how much you call yourself neutrals, the nation will blame you for imposing the government of thieves upon us".
The PTI chairman said when he was removed from the government, some quarters thought that people would distribute sweets, but on the contrary people came out on the streets.
Imran said that his chief of staff, Shahbaz Gill, had been asked to give a statement against him. Reiterating that Gill was stripped naked and tortured, he questioned that other political leaders, including Nawaz, Fazlur Rehman and Ayaz Sadiq, used harsher words than Gill but their treatment was different.
Also read: 'Banana republic': Imran slams treatment meted out to Gill in police custody
The PTI chairman stated that attempts were being made to disqualify him and break his party, as they were "calling our people, MNAs and are spreading fear" among them. He added that spreading fear among people would not help because the nation had finally realised that they wanted true freedom.
He said that the country could not run on loans just the way cancer could not be treated with aspirin. He then asked the "neutrals", how could economy recover without political stability. "What would happen in the coming two months when no country was ready to invest in Pakistan," he continued.
"I want to tell the neutrals that there is still time to review your decisions, as decisions made behind closed doors are often not right, you should think of 220 million people because the youth need jobs, who will not accept these thieves, come what may," he said.
Imran stated that if someone asked him to live a life under "these thieves", he would prefer death than accepting "these thieves". The PTI chairman said that only fresh elections could bring political stability to the country.
He also accused his opponents of corruption, saying former prime minister Nawaz Sharif, while in power, built 17 factories out of plundered wealth. "Corruption is a symptom of absence of rule of law."
"They closed ARY News […] what was their fault that Shahbaz Gill made a statement which could be perceived wrong," he said, adding nothing as such was ever done when Maryam Nawaz, Ayaz Sadiq or Nawaz Sharif spoke against the army.
While condemning the "torture" on Gill, he said "they have completely broken him down […] I believe our society has fallen to a point, where I am ashamed. And they are doing all this only so that we accept these thieves."
COMMENTS
Comments are moderated and generally will be posted if they are on-topic and not abusive.
For more information, please see our Comments FAQ