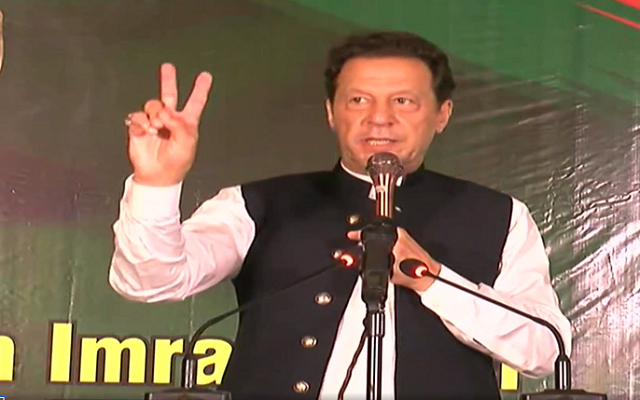 ---
FAISALABAD/ PESHAWAR/ KARACHI:
Pakistan Tehreek-e-Insaf (PTI) Chairman Imran Khan's nomination papers for National Assembly constituency NA-108 Faisalabad have been rejected by the returning officer while his candidature for eight other constituencies has been approved.
The returning officer of Faisalabad has approved the nomination papers of 12 candidates, including PTI's Farrukh Habib and Pakistan Muslim League-Nawaz's (PML-N) Chaudhry Sher Ali and Abid Sher Ali.
During the scrutiny of nomination papers, Imran was summoned over a discrepancy in signatures and unsatisfactory answers pertaining to his assets, but the former prime minister did not appear before the returning officer.
Habib, while reacting to the development, said that the returning officer rejected the nomination papers of the party chief without any justification. He added that the objections to his candidature were sent to all through WhatsApp.
He highlighted that the same papers were submitted in eight other constituencies.
"We will not trust this returning officer in the future either," he said. "A PML-N candidate has been a defaulter of WASA (Water and Sanitation Authority) for five years, [yet] his papers were approved."
The former ruling party has decided to challenge the returning officer's decision and has started preparations for a formal appeal.
Meanwhile, PTI workers staged a protest demonstration in front of the Election Commission of Pakistan's (ECP) office.
Apart from this, the nomination papers of all candidates, including Imran, on four lower house seats in Khyber Pakhtunkhwa (K-P) have been declared valid, whereas those of Ilyas Ahmad Bilour have been rejected from NA-31 Peshawar.
Six candidates in NA-22 Mardan and nine candidates in NA-24 Charsadda had submitted their papers, all of which have been declared valid. The papers of 10 candidates in NA-31 Peshawar and 17 candidates in NA-45 Kurram have been rejected on technical grounds.
Three women candidates had also submitted their nomination papers for the vacant seat reserved for women from K-P. Their papers have been declared valid.
Meanwhile, the process of scrutinising nomination papers for Karachi's three lower house seats has been completed and the electoral symbols will be allotted on August 29. The candidature of 15 individuals, including Imran, has been approved for NA-237 where PML-N's Zainul Abideen Ansari's papers have been rejected.
All nomination papers submitted in NA-239 have been approved, while the candidature of 20 individuals has been approved in NA-246. The PTI chief is also a candidate in these three constituencies.
Moreover, according to a private news TV channel, Imran's papers from NA-118 Nankana Sahab have been approved against the objections of the PML-N's candidate. The returning officer has declared the nomination papers of 10 candidates, including Imran, valid.
The returning officers' decision can be challenged by August 20, which is the last date for appeals.
It is worth recalling here that following the PTI's en masse resignation and the Pakistan Democratic Movement's (PDM) assumption of power, only 11 resignations were accepted by NA Speaker Raja Pervaiz Ashraf.
The electoral body subsequently declared these seats vacant and announced by-elections in these constituencies on August 28.
The by-polls which are otherwise considered dull by the masses caught the public's fancy as the former premier announced his intention to contest all nine seats alone. The decision was met with mixed reactions, especially as the PTI continues to push its demand for early elections.
COMMENTS
Comments are moderated and generally will be posted if they are on-topic and not abusive.
For more information, please see our Comments FAQ