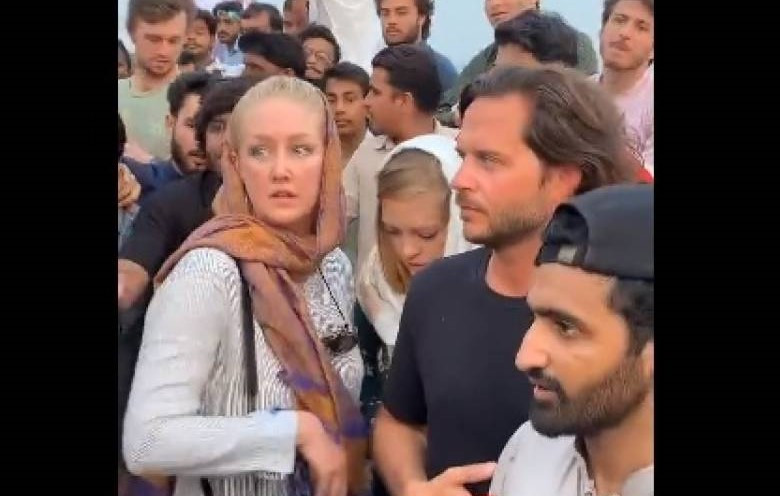 ---
ISLAMABAD:
The Islamabad police have arrested four persons on charges of harassing foreign tourists in the Shakarparian area of Islamabad on the occasion of Pakistan's Independence Day.
Three foreigners, two women and a man, were surrounded and harassed by an overwhelmingly large crowd at the Pakistan Monument in Shakarparian before they (foreign tourists) left the place.
In the videos widely shared on social media, the three foreigners could be spotted being harassed by the mob, consisting of only men, who violated their personal space by standing very close to them and staring at them. The tourists, especially the women, appeared distressed and uncomfortable as they tried to look around them and find a way to escape the crowd.
Police sources said that the four suspects were traced with the help of the National Database Registration Authority (NADRA).
The sources said that raids were conducted at several places before the accused were arrested. Police sources said that the videos of the incident have also been retrieved from the accused.
Police sources said that a case was registered at the police Abpara police station on the complaint of duty officer, Sub-Inspector Asif Ali after the video went viral even though the foreigners did not show up to register a complaint. The sources said that police tried to trace the foreign tourist to get more details from them but they could not be located.
Also read: Mob of men harass foreign tourists in federal capital on Independence Day
The sources said that raids were being conducted to arrest other persons seen in the videos. A senior police officer said that elements involved in such heinous acts bring a bad name to the country and they deserve no leniency.
The videos sparked outrage on social media with people urging authorities to initiate an investigation into the matter and arrest the culprits involved. After the incident gained online traction, the sense of urgency to identify the culprits was evident as the Islamabad police tweeted about the incident.
"IG Islamabad Dr Akbar Nasir Khan took strict notice of the incident. A case has been registered and an investigation has been started," the tweet read. "The video is being sent to NADRA to identify the accused. All the accused in the video will be identified and arrested. DIG Operations Sohail Zafar Chatta himself will supervise the case. This is a deplorable and criminal act and needs to be strongly condemned by people from all walks of life," the tweets acknowledged.
COMMENTS
Comments are moderated and generally will be posted if they are on-topic and not abusive.
For more information, please see our Comments FAQ