 ---
LAHORE:
At least 20 people were killed and six others injured in the wee hours of Tuesday when a passenger bus crashed into an oil tanker and caught fire on the Multan-Sukkur Motorway (M-5) near the Jalal Pur Pirwala Interchange.
It was not immediately known whether all of the ill-fated passengers were burned to death or some of them died of injuries sustained during the collision.
The sleeper bus departed at 9pm on Monday from Lahore to Karachi. Around 25 people were on board with 22 passengers headed to Karachi and two to Hyderabad.
Multan Deputy Commissioner Tahir Wattoo confirmed the incident on his official Twitter handle, saying that the passenger bus collided with an oil tanker.
Multan Commissioner Amir Khattak also confirmed the development in a tweet, saying that the accident had taken place at around 4am.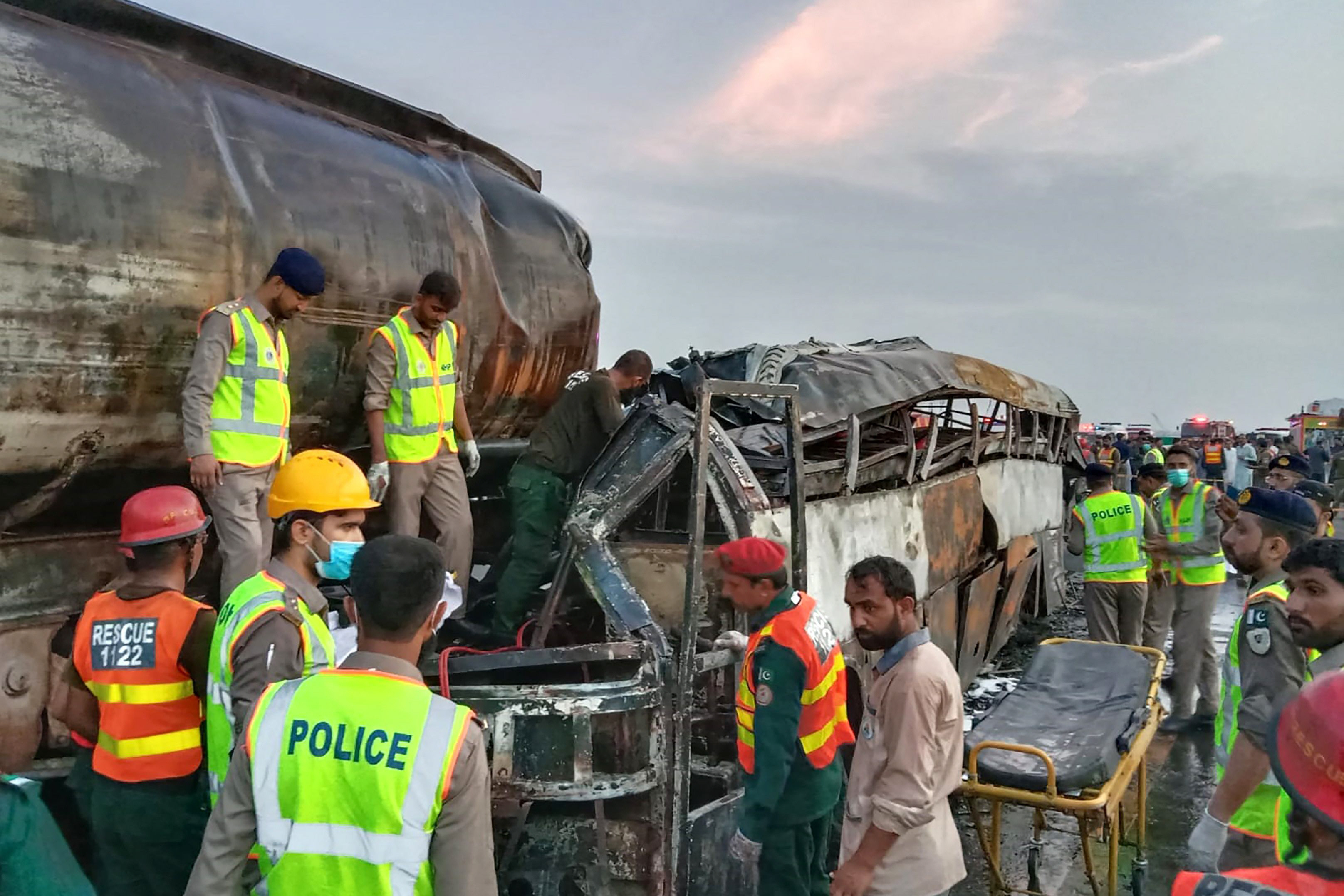 According to Rescue 1122 Multan, the bodies and injured were shifted to Nishter Hospital Multan.
The Motorway Police spokesperson said the bus caught fire soon after the collision. It took several hours for the rescue teams to put out the fire.
According to eyewitnesses, the fire was so intense that the flames could be seen from several miles away.
Traffic remained suspended on the motorway for hours after the accident.
While the cause of the crash has not been confirmed, some police officials opined that the bus was speeding while others alleged that the driver had fallen asleep.
Read Two die of Covid, 459 test positive
Meanwhile, President Dr Arif Alvi stressed the need for implementation of effective steps to control traffic accidents by following the rules and adopting precautionary measures to avert the loss of precious lives.
The president expressed deep sorrow over the loss of precious lives.
He prayed for the departed souls to rest in peace and for grant of patience to the bereaved families.
He emphasised the concerned departments to provide the best possible medical treatment to the injured.
Further, Prime Minister Shehbaz Sharif also expressed grief over the incident, praying for the deceased and their families. "I am saddened by the loss of 20 precious lives in the accident. My prayers are with the bereaved families," he tweeted.
جلال پور پیر والا انٹر چینج پر ہونے والا آئل ٹینکر کا حادثہ نہایت ہی افسوناک ہے ۔ حادثے میں 20 قیمتی جانوں کے ضیاع پر دکھی اور رنجیدہ ہوں۔ میری دعائیں غم زدہ خاندانوں کے ساتھ ہیں۔ اللہ تعالی سے دعا ہے کہ وہ مرحومین کو اپنے جوار رحمت میں جگہ دے اور پسماندگان کو صبر جمیل عطا فرمائے

— Shehbaz Sharif (@CMShehbaz) August 16, 2022
Punjab Chief Minister Pervaiz Elahi also expressed expressed grief over the loss and extended condolences to the bereaved families.
He directed the relevant authorities to provide "the best possible medical treatment" to the injured and to cooperate with the families of the deceased to identify them.
COMMENTS
Comments are moderated and generally will be posted if they are on-topic and not abusive.
For more information, please see our Comments FAQ