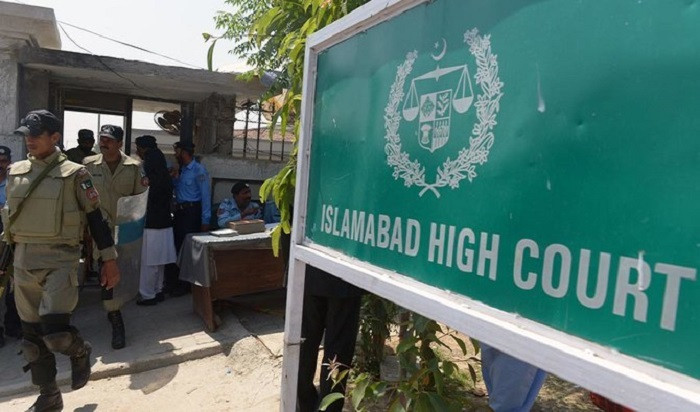 ---
ISLAMABAD:
Pakistan Tehreek-e-Insaf's (PTI) application against the Election Commission of Pakistan's (ECP) decision in the prohibited funding case has been fixed for hearing.
Islamabad High Court (IHC) Acting Chief Justice Amir Farooq will hold the hearing on Tuesday (today).
According to Express News, PTI has challenged the commission's decision in the high court on the basis of the fact-finding report in the prohibited funding case.
In the petition, it has requested that the proceedings on the fact-finding report should be suspended, and the show-cause notice issued by the commission should be suspended as well.
Moreover, it requested the court to declare the fact-finding report wrong and in excess of jurisdiction.
The petition asked that the court also declare that the authority has no power to recommend any action based on the fact-finding report.
It has further requested that the decision of the ECP should be suspended till the final decision of the petition in the high court.
Earlier this month, the ECP had announced its ruling in the long-awaited, cliff-hanger case of the PTI's prohibited funding, and ruled that the party did, indeed, receive illegal funding. It also issued a notice to the party asking why the funds should not be confiscated.
A three-member ECP bench headed by Chief Election Commissioner (CEC) Sikander Sultan Raja had announced the verdict in a case filed by PTI founding member Akbar S Babar, which had been pending since November 14, 2014.
In its written order, the ECP had said the political party received millions of dollars in illegal funds from foreign countries, including the United States, United Arab Emirates, United Kingdom, and Australia.
"The office is also directed to initiate any other action under the law, in light of this order of the Commission," said the 68-page judgement.
The electoral watchdog also declared that 13 'unknown' accounts have been found linked to the party and the submissions by PTI chief Imran Khan were 'inaccurate and wrong'.
Later, the Federal Investigation Agency (FIA) announced the initiation of an investigation in the prohibited funding case and said that five different inquiry teams have been formed against the PTI. Various inquiry teams have been formed that are expected to work in Lahore, Karachi, Peshawar, Islamabad and Quetta.
It also issued notices to PTI leaders, but they failed to appear before the investigative agency.
COMMENTS
Comments are moderated and generally will be posted if they are on-topic and not abusive.
For more information, please see our Comments FAQ