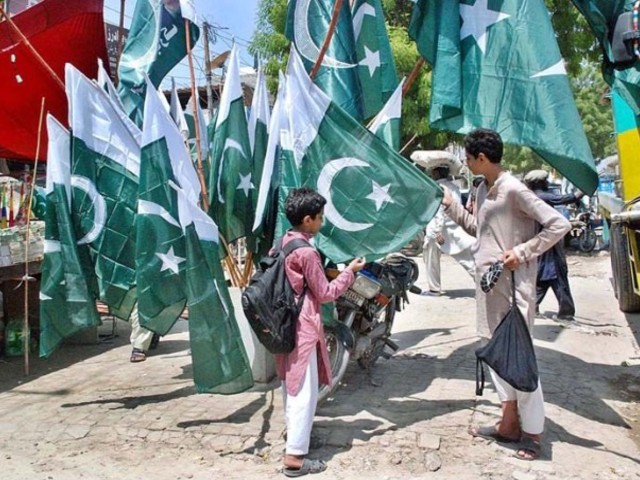 ---
HYDERABAD:
The 75th independence day of Pakistan was celebrated with patriotic fervour across Sindh with the people belonging to all walks of life taking part in the celebratory events, rallies and cake cutting ceremonies. The government officials organized the flag hoisting ceremonies in all districts of the province on Sunday.
On the Independence Day Eve, A large number of people came out to the city for the grand display of fireworks and rallies organised in the area of Latifabad and Qasimabad to celebrate the 75th Independence Day on Saturday at midnight. As the date changed to 14th August at midnight, the youth put on a grand display of fireworks and took out rallies on motorcycles and cars decorated with national flags.
On the dawn of the Indepence Day, Commissioner Hyderabad Division Nadeemur Rehman Memon raised the flag at an event which took place at Hyderabad Development Authroity's Secretariat. The top officers of the district administration and the police, notable citizens, teachers and students attended. A squad of police paraded before the participants while the national anthem was also sung and the children presented tableau.
"We need to remember the struggles and sacrifices of our forefathers for the independence of this country so that we may optimally contribute to the development and prosperity," said Memon. The DIG Syed Peer Muhammad Shah underlined the need to provide higher education in science and technology to the youth.
Speaking at an event, President of Hyderabad Chamber of Commerce and Industry Adeel Siddiqui proposed that the year 2022-23 should be marked as the year of 'made in Pakistan products'.Similar ceremonies were also held at Sindh University, Liaquat University of Medical and Health Sciences, Mehran University of Engineering and Technology, Sindh Agriculture University and other higher educational institutions. Many colleges and schools also marked the day.
Published in The Express Tribune, August 15th, 2022.
COMMENTS
Comments are moderated and generally will be posted if they are on-topic and not abusive.
For more information, please see our Comments FAQ