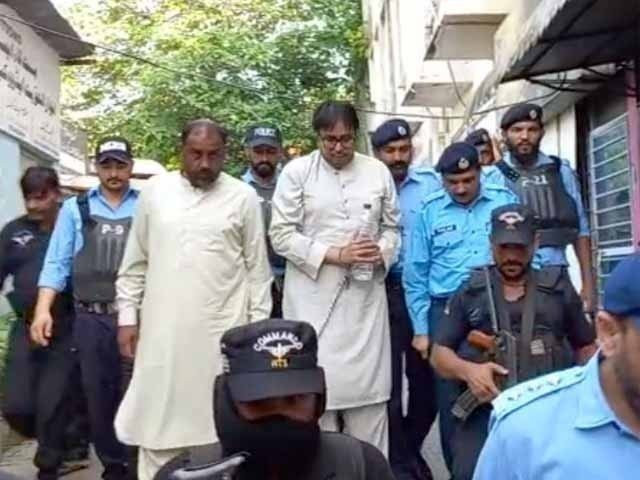 ---
  ISLAMABAD:
A judicial magistrate on Wednesday granted police two days physical remand of Pakistan Tehreek-e-Insaf (PTI) leader Shahbaz Gill after he was presented in front of a district and sessions court in Islamabad.
The government had confirmed yesterday that Gill had been arrested on charges of sedition and inciting the public against state institutions; however, the PTI claims that this was an "an abduction [and] not an arrest".
Earlier today, the police prevented journalists from entering the courtroom claiming that the magistrate had ordered a ban on journalists.
Meanwhile, Gill was presented in front of Judicial Magistrate Umar Shabbir in the presence of the accused's legal counsel, Faisal Chaudhry. The police requested Gill's physical remand for 14 days while his lawyer opposed it.
"If we go to the high court we will go for a dismissal of the case," said advocate Faisal Chaudhry who also expressed concern over "blood stains on Shahbaz Gill's clothes".
Read Gill named as Imran's chief of staff
The lawyers also told media that Gill "has told the court that there is a threat to his life if he is sent on physical remand".
PTI workers were also heard sloganeering "Pakistan Army Zindabad [long live]" as the advocate spoke to the journalists.
Following the magistrate's decision Gill told media representatives that "this is a political case", that the "Pakistan Army is the most sacred institution" and "it is imperative we all respect the institutions".
"There is nothing to be ashamed of in my statements," he said while standing outside the court, "the statements [were made] out of love for the army […] were not intended to provoke anyone […] only spoke about those bureaucratic officials who had said wrong things".
Magistrate Shabbir, nonetheless, approved the police's request and granted two days' physical remand. The court also ordered that Gill be presented before the court on August 12.
COMMENTS
Comments are moderated and generally will be posted if they are on-topic and not abusive.
For more information, please see our Comments FAQ