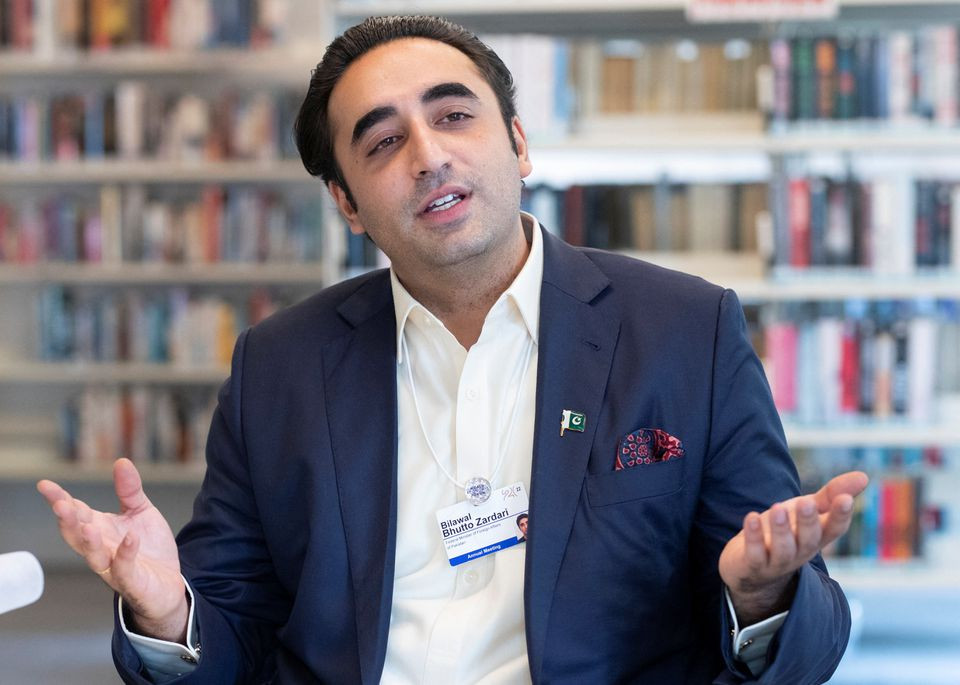 ---
PHNOM PENH:
Foreign Minister Bilawal Bhutto Zardari on Saturday stressed that peaceful resolution of long-standing disputes in South Asia was critical for sustainable peace and long-term prosperity of the people.
"We also believe that, while focusing on the Ukrainian conflict, the world must not lose sight of other disputes, protracted conflicts, and situations of foreign occupation, which have the potential to destabilise the entire Asia-Pacific region," he said while addressing the 29th Association of Southeast Asian Nations (Asean) Regional Forum Ministerial meeting here.
"We strongly condemn and reject illegal and unilateral measures to perpetuate unlawful occupation and to effect demographic changes in occupied territories, in gross violation of UN Security Council resolutions and international law, including the 4th Geneva Convention," the FM added.
He said such actions had vitiated the environment for meaningful and result-oriented dialogue, adding that given the right conducive conditions, all outstanding disputes could be resolved through dialogue and diplomacy in the interest of regional peace, stability, and prosperity.
He congratulated the Asean Regional Forum (ARF) family for coming together at this important juncture in the collective efforts to promote dialogue and cooperation for peace and stability in the Asia Pacific.
"As we gather today for in-person meetings after several months of long-distance diplomacy, our region and the world at large are beset with challenges in multiple domains," he said.
"This is truly an inflection point in history, and the steps we take, or fail to take, would have profound consequences for the future," he added.
He said the Covid-19 pandemic was unprecedented in terms of its global scale as well as socio-economic impact and that the international cooperation and solidarity that it engendered was also unparalleled.
"Yet, we also saw the unfortunate rise of the phenomenon of vaccine nationalism as countries competed for the same resources to save lives and protect their populations," the FM noted
Going forward, he said it would be important to develop mechanisms and processes for a more coordinated response to future health crises, undertake efforts to ensure vaccine equity, and fight future pandemics in a more humane manner.
"Covid-19 exacerbated the economic woes of nations from North to South. Supply chains were disrupted, unemployment mounted, growth rates plummeted, and debt burden accumulated," Bilawal continued.
He said the Debt Service Suspension Initiative (DSSI) was laudable for providing much needed relief to developing countries in distress. "More can, and should, be done for reinforcing the recovery efforts, especially in the global South."
He called climate change an existential threat and said its impact on sustainable development and human well-being was incalculable. "As I speak, my country is ravaged by floods caused by unprecedented rains. Dozens of towns and villages have been inundated and thousands have been displaced," he observed.
"We fear that the damage to crops would exacerbate food insecurity and inflation that have already reached alarming levels because of the current global trends."
Separately, the FM expressed support for Asean led processes in the Asia Pacific and extended Pakistan's support for the Cambodian Presidency of ASEAN.
He held a meeting with the Cambodian Foreign Minister Prak Sokhonnon on the sidelines of the 29th ARF Ministerial Meeting.
He underlined the critical importance of ARF for regional security and expressed Pakistan's continued commitment to ARF.
He also expressed Pakistan's keen desire to enhance its engagement with Asean.
COMMENTS
Comments are moderated and generally will be posted if they are on-topic and not abusive.
For more information, please see our Comments FAQ