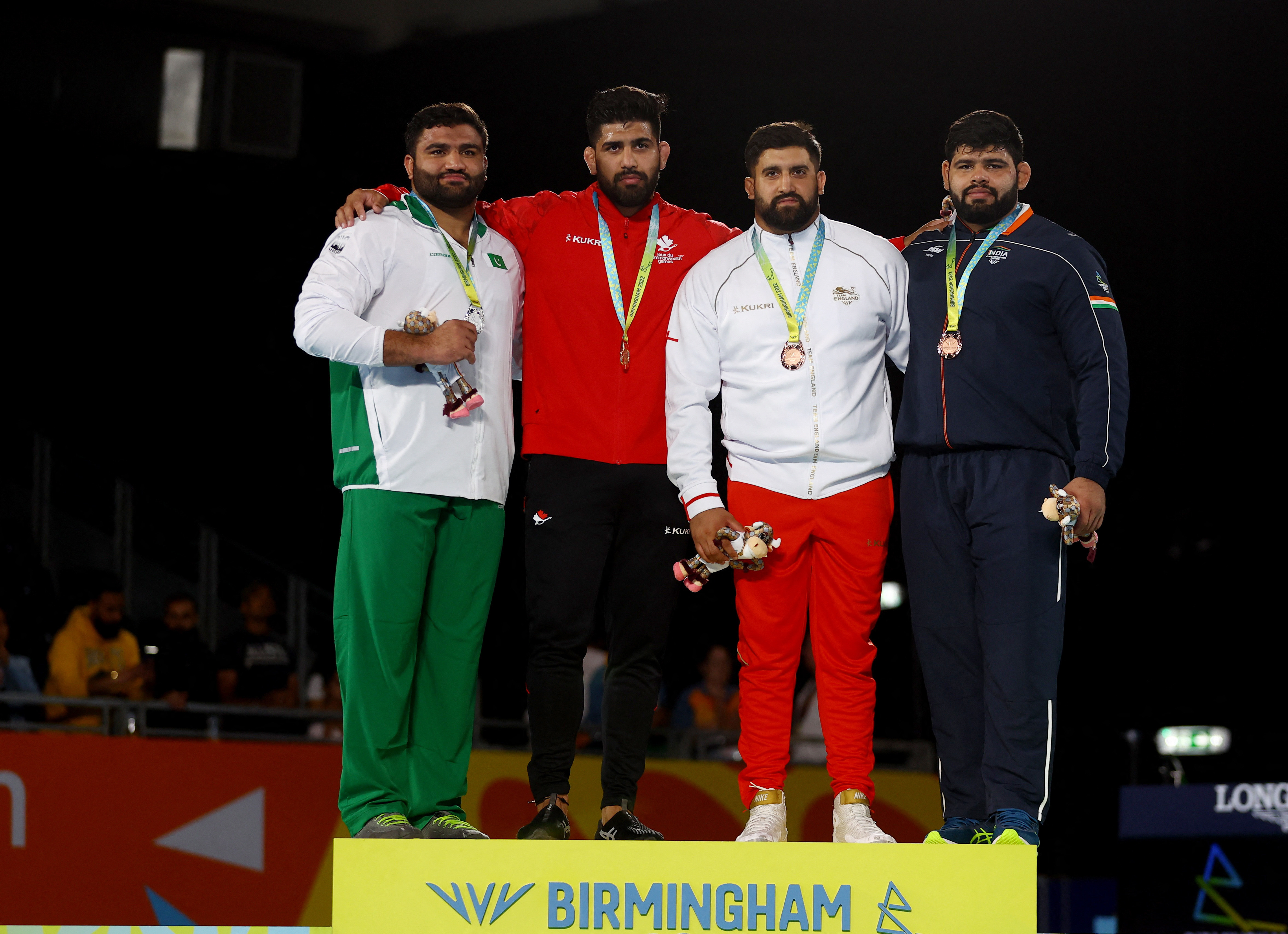 ---
KARACHI:
Wrestler Muhammad Sharif Tahir bagged the silver medal for Pakistan at the Commonwealth Games in Birmingham on Saturday.
Tahir lost his final to India's Naveen 9-0 in the 75kg event but he ran an extraordinary campaign to reach the final. He defeated Tonga's John Vake 11-0 in pre-quarters, Canada's Jasmit Singh Phulka 5-1 in the quarter-final and then outplayed New Zealand's Cole Hawkins 11-0 to reach the final and confirm a silver medal for Pakistan.
The 20-year-old joined Zaman Anwar and Muhammad Inam who won the silver medals the day before in the 125kg and 86 kg freestyle events.
Zaman appreciated Tahir and also Ali Saad who grabbed the bronze medal after defeating New Zealand's Surah Singh 11-0 within 55 seconds to add to the country's medal tally.
Ali lost his semifinal to Olympic medallist India's Ravi Kumar 14-4 after a tough fight. He defeated England's Harvey ridings 10-0 and Namibia's Romio Ricardo Goliath in his round of 16 match and quarterfinals, respectively.
Pakistan's third wrestler Tayyab Raza Awan also reached the semi-finals of the 97kg event where he lost to Canada's Nishan Randhawa 7-0, but he was still up for the repechage, the fight for the bronze medal.
The bronze medallist from 2018 was not able to defend his medal in the current edition of the Games as he lost to India's Deepak 10-2 in the end.
Earlier on Friday, Inayatullah also won Pakistan the bronze medal in 65kg event.
Pakistan's total medals at the Commonwealth Games are one gold, three bronze and three silver medals.
Pakistani wrestlers were impressive even after receiving support from the Pakistan Sports Board three months ago. Before that, they did not have any camp, while the wrestlers also kept appealing for the training abroad.
Meanwhile, the Indian wrestlers who won most of the medals in wrestling, received support from their government's program targeted to help the athletes achieve podium finishes in the international arena.
"I am making an appeal to the Pakistani government to please pay attention to the wrestlers. We have so much talent and we can do better at the international events, if we get the training abroad, like the wrestlers from other countries do," Zaman told The Express Tribune.
In other sports, Pakistan hockey team finished on the seventh place after they defeated Canada 4-3 in their 7-8th place classification match.
In squash, Amna Fayyaz and Faiza Zafar outplayed Sri Lanka's Yeheni Kurrupu and Chanithmah Sinaly 2-1 in the women's doubles plate quarterfinals.
Plate competition is for the players who lose their first-round matches in the main draw.
COMMENTS
Comments are moderated and generally will be posted if they are on-topic and not abusive.
For more information, please see our Comments FAQ