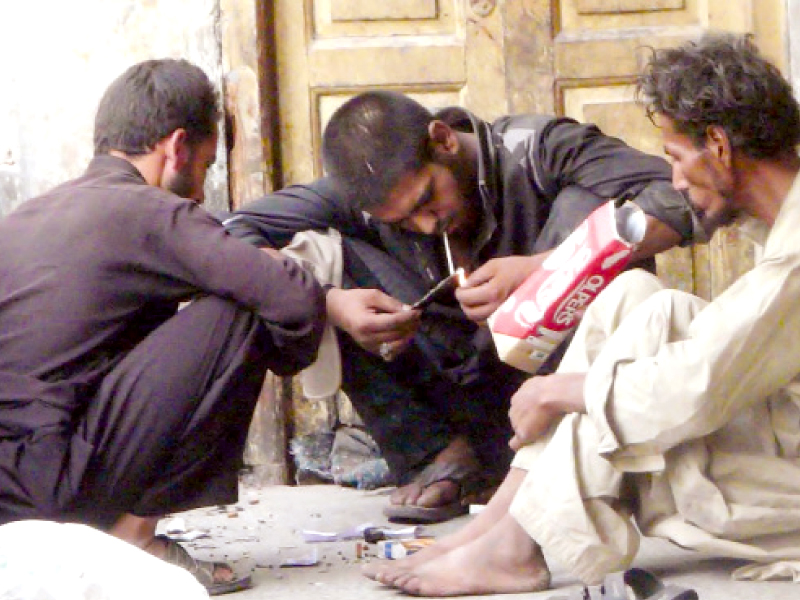 ---
KARACHI:
The issue of sale of drugs, including ice (methamphetamine), hashish and heroin, right under the nose of police in different areas of Karachi dominated Sindh Assembly's proceedings on Wednesday.
Some opposition MPAs claimed that police were reluctant to take action against drug peddlers even though they had pinpointed them. "Drugs like ice and hashish are a more serious threat to the young generation. I have shared a video and photos of drug dens with the SHO and SSP Keamari, but all in vain," Pakistan Tehreek-e-Insaf (PTI) MPA Shahnawaz Jadoon said while moving a call attention notice. He added that despite a ban on the sale of gutka, it is being sold in every nook and cranny of the province.
Another PTI MPA, Saeed Afridi also moved a call attention notice on the same issue. "According to our survey, around 363 drug dens are operating in my constituency PS-120 alone," he said.
"No drug den can be operated without the consent of police," he added. "I can prove how police get monthly commission from the drug lords," he alleged.
According to Afridi, the sale of drugs, especially hashish and ice, has now become common in colleges and schools. "I request the concerned ministers in the Sindh cabinet to please take action against the black sheep within police who have turned a blind eye to the menace," he said.
Minister for Excise and Taxation and Parliamentary Affairs Mukesh Kumar Chawla refuted the allegations of police's involvement in the drugs business. "Police have arrested around 245 drug paddlers and confiscated three gutka factories too," he said.
However, Minister for Information Sharjeel Inam Memon, while sharing data, said, "We have recently lodged around 83 cases against the criminals running drug dens and recovered 88 kilograms of hashish and 264 kilograms of heroin from District West."
He went on to say that almost all the drugs are transported from Khyber-Pakhtunkhwa where the PTI was supposed to bring a revolution. "We have zero tolerance on this issue and are trying to clear Karachi of drugs and crimes," he said.
Earlier, Irrigation Minister Jam Khan Shoro, while briefing the house, said that the provincial government has built around 116 small dams while work is in progress on 64 others.
"After the heavy rains water is going to waste, so we have plans to set up more dams to store it," he said while speaking during the question and answer session in the assembly.
To a question, the minister refuted the claim that water was being wasted beyond Kotri barrage.
"As per the 1991 Accord, 10 million acre feet of water must be released downstream from Kotri barrage for restoring and protecting the ecosystem. Sea intrusion starts if there is no river water downstream," he said.
Rabia Khatoon of the MQM raised the issue of dilapidated roads after the rains and questioned when the government would start restoring the roads network. The information minister said that they have devised a plan which will soon be implemented.
Published in The Express Tribune, August 4th, 2022.
COMMENTS
Comments are moderated and generally will be posted if they are on-topic and not abusive.
For more information, please see our Comments FAQ