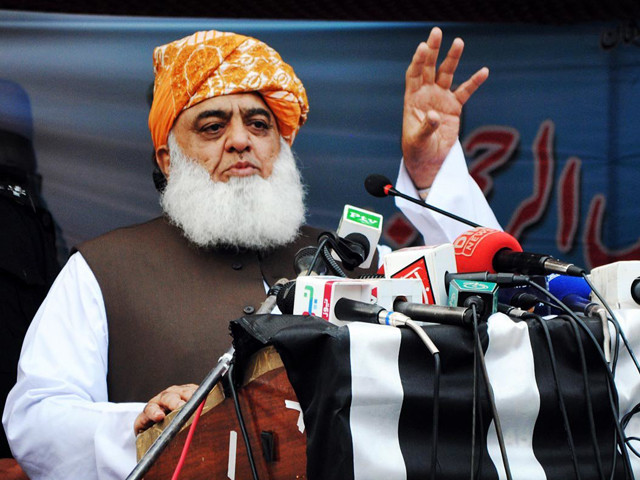 ---
Jamiat Ulema-e-Islam (JUI-F) Chief Maulana Fazlur Rehman has said that the Pakistan Democratic Movement (PDM) decision that the incumbent government will complete its tenure and the elections will be held on its scheduled time next year was taken with the consent of former prime minister Nawaz Sharif.
Responding to a question on the reports about the rifts within the ruling alliance, Fazl said the last decision that he announced after the meeting of the PDM leaders earlier this week was taken with a consensus of all the constituent parties of the PDM.
"There was no disagreement over this decision... when the final decision was being finalised Mian Nawaz Sharif was present in the meeting via zoom," he said while addressing a press conference in Peshawar on Sunday.
"The joint communiqué was issued with his [Nawaz] consent... later I announced the decision that government will complete its tenure and elections would be held on time," he added.
The PDM, which mostly comprises political parties in the ruling coalition, including the Pakistan Muslim League-Nawaz (PML-N), held its meeting on July 28 days after the Supreme Court annulled the election of PML-N's Hamza Shehbaz as the Punjab chief minister.
Speaking about the PDM's decision to overthrow the Imran Khan-led government, Fazl said the incumbent government had saved the country from "destruction" by toppling the previous PTI-led regime.
Also read: Fazl asks establishment to stay 'neutral' during constitutional battle
Defending the tough decisions taken by the government, Fazl blamed the former PM Imran for the prevailing economic crisis.
"Everyone should wake up to the sensitivity of the challenge that we had accepted by coming into power... voting for the PTI is tantamount to supporting the destruction of the country," he added.
The PDM chief also highlighted issues facing the tribal districts of Khyber-Pakhtunkhwa, saying the law and order had deteriorated in the area due to the "weaknesses of the state".
"State needs to pay attention to the tribal areas. The reality is that there is neither any administration nor police in the tribal areas," he said.
He also demanded the government form a committee to identify and resolved the issues of the people of the erstwhile Fata.
COMMENTS
Comments are moderated and generally will be posted if they are on-topic and not abusive.
For more information, please see our Comments FAQ