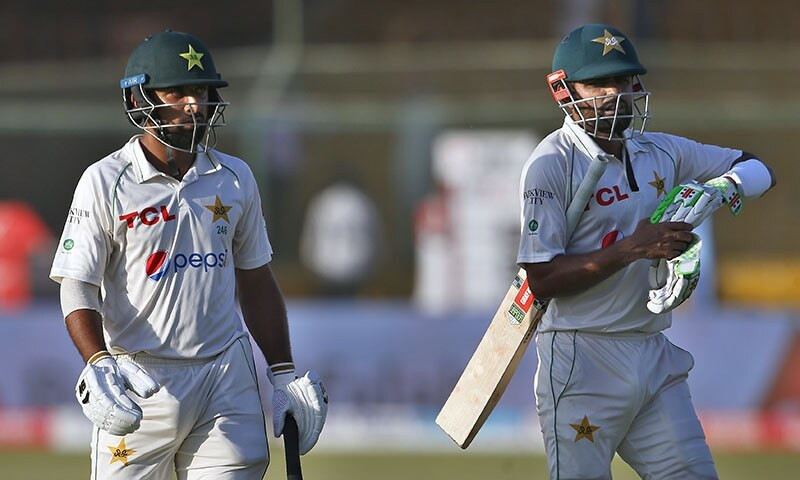 ---
KARACHI:
Pakistan came back from Sri Lanka with a few positives, but once again there are more questions to be answered and less answers to already posed questions for the Test side.
Pakistan won the first Test match against Sri Lanka on a turning pitch at Galle, by chasing a record total in the fourth innings.
Abdullah Shafique was the stand-out performer at the top of the batting order, while captain Babar Azam was in usual all-class mode for the tourists.
However, come the second Test, the Pakistani batting line-up, which looked rock-solid just a few days ago in the fourth innings of the first Test, started showing cracks.
Babar was once again seen playing the anchor role for the tourists, but no other batter was able to inspire Pakistan, and churn out a draw at minimum in the second Test for the series victory.
Former Pakistan batter Yasir Hameed says while other players should have performed in the second match, it is unfair to compare them to Babar.
"Babar has a different class," said Hameed, who represented Pakistan in 25 Tests.
"It is not good to rely on one batter, but comparing players like Imam and Shafique to Babar is not right. Every player has a different quality. The way Babar holds the crease is incomparable."
Agha Salman was given a chance in both Sri Lanka Tests and was able to score a fifty in the first innings of the second Test, but Yasir feels more players should be identified from the domestic circuit.
He named Saud Shakeel as the one who deserves a chance in Tests.
"We need to identify more batters, who score consistently in domestic circuit. Saud Shakeel deserves a chance. Agha Salman did score a fifty, but that too after three to four innings (sic)."
Yasir also complained about Pakistan not having a specialist number six batter in Tests.
"We need to invest in a number six batter. We haven't had a good number six after Asad Shafiq. They tried Faheem Ashraf on that spot, but then he disappeared too. We need a regular number six in our Test side."
Earlier, Australia also suffered a humiliating defeat at the hands of Sri Lanka in the second Test after they had won the first match by 10 wickets. Yasir thinks Pakistan's performance is also down to the conditions in Sri Lanka, which suit the home side more.
"We need to see that the conditions in Sri Lanka were not easy. There was moisture in the pitch and also pitches were turning way too much. It is not easy to bat in such conditions."
On the performance of wicketkeeper-batter Rizwan, former opener said he may be suffering from fatigue.
"Maybe, it is fatigue. Form is temporary, but Rizwan is hardworking and will make a comeback. However, we do need a backup for Rizwan," said Yasir.
On the note of resting players regularly, Yasir called for a systemic change so that any rested player isn't afraid of losing his place in the side.
"We need a systemic change. Whenever we make a player sit out, he is afraid that someone may come in, give performances and replace him. We need to give everyone surety that they have their own place in the team. This gives players the much-needed breathing room."
COMMENTS
Comments are moderated and generally will be posted if they are on-topic and not abusive.
For more information, please see our Comments FAQ