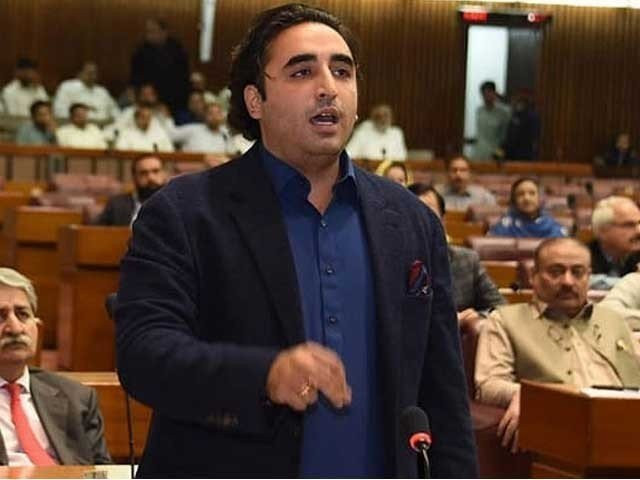 ---
Hitting out at the institution including the establishment and judiciary for playing a "controversial role", Foreign Minister and Pakistan Peoples Party (PPP) Chairman Bilawal Bhutto-Zardari has demanded to form a parliamentary committee for judicial reforms.
"Now is the time to form a parliamentary committee for judicial reforms. We will decide how many judges will sit on a bench. If the higher judiciary wants to announce verdicts then it's fine but all the judges will have to sit," Bilawal said in a fiery speech during a session of the National Assembly in Islamabad on Wednesday.
He urged the lower house of parliament to work against the "violation of the Constitution and if it cannot do that then "we should put locks on the assembly".
Also read: Govt decides to legislate to 'clip powers' of Supreme Court
"It took us three years to make this Constitution. But when the time came to violate it, all institutions came together. It took us 30 years to restore the Constitution in its original shape," he added.
The foreign minister said that they never tried to bring any institution by naming them X or Y and had only requested that when one institution is giving a verdict against another institution then a full court bench should be formed and whatever it decides, the government will accept.
"Our demand was not restricted to [Punjab CM matter]. But when the previous government tried to sabotage the no-confidence motion and we approached the court, I had the same request. I had said that this was a constitutional matter and a full court bench should be formed. It was not created at that time and not at this time.
Bilawal said that the former prime minister Benazir Bhutto accepted martyrdom in the struggle for democracy. "We restored the 1973 Constitution. We cleaned it from the Articles army rulers had included in it."
Read more: Sanaullah threatens governor's rule in Punjab
Talking about his party's achievements in the democratic process in Pakistan, the PPP leader said that the president used to have the right to dissolve the assembly whenever he wished but the PPP abolished it. "We snatched 58-2B from the president and gave it to this house. We signed the charter of democracy so that the judiciary can work freely, people can vote as per their wishes and journalists work without any fear."
He regretted that a "nexus" was produced which kept on working on how it can make Pakistan a "controlled democracy". "There is no 58-2B now but the new 58-2B has gone to the court."
He said that PPP workers struggled for former chief justice Iftikhar Chaudhry but the same person gave decisions which were not according to the law. "But the [PPP] govt did not attack the court. We kept working and ultimately reached our goal. We restored the democracy and also completed our term for the first time in the history of Pakistan."
Bilawal said that political forces in Pakistan had decided to bring judicial reforms under the charter of democracy which was implemented, adding that they were "threatened to roll them back via the 19th amendment.
"We were threatened that if it did not happen, the 18th Amendment will be eliminated. Today, I am admitting that it was our mistake that we fell for that threat and passed the 19th Amendment. We should have never done that. We should have said to the judiciary of that time that this is the Constitution of Pakistan and if you cannot follow it then you can go home but we will not change the Constitution."
Bilawal said that the judiciary sent home a prime minister whose party had the two-third majority in parliament.
He said that during the election campaign, some judges were taking part in a political campaign. "This house must take notice that the personalities who are not part of the political process what are they doing in election campaigns be it 2018 general elections or by-elections. I can tell you this that in the 2018 general election, CJP Saqib Nisar was running the election campaign against us. He came to Larkana and gave speeches and used to slap other judges. On polling day, our candidate Faisal Saleh Hayat was winning. The chief justice of Pakistan reached his opponent. The judge who was doing the recounting, how would he dare to go against the chief justice."
To form a "selected" system, Bilawal said: The institutions are playing a "controversial role" and not constitutional. "We want them to play the constitutional role and not controversial whether it be establishment or judiciary... their role should not be controversial. That is why we had suggested forming a full court bench. It doesn't matter to me whether Hamza Shehbaz becomes the chief minister or Pervaiz Elahi but the country cannot be ruled by two separate constitutions," he added.
COMMENTS
Comments are moderated and generally will be posted if they are on-topic and not abusive.
For more information, please see our Comments FAQ