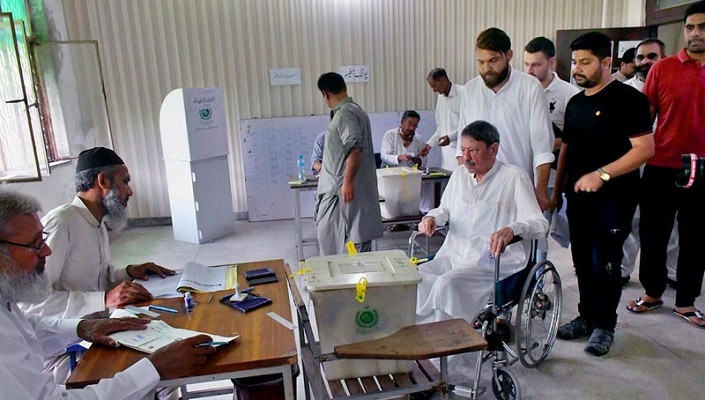 ---
LAHORE:
Contrary to the trend of all previous by-elections, record turnout was witnessed in the Punjab by-polls on Sunday, despite several complaints of anomalies in the voting lists.
The record of previous by-elections indicates that normally 25-30% voters exercise their right to vote in by-polls. However, in Sunday's by-polls over 40% voters, including youth, women and elders, voted in the 20 provincial assembly constituencies where elections were held after the Election Commission of Pakistan (ECP) disqualified Pakistan Tahreek-e-Insaf's (PTI) lawmakers who had deviated from the party policy.
As per the schedule announced by ECP, the polling process was started at 8:00am and continued without break till 5:00pm.
Huge enthusiasm was seen among voters and a large number of people reached the polling stations to cast their vote for their favourite candidates despite weekend.
Generally, the voting process remained peaceful except reports of light scuffles at 14 places out of total 3,100 polling stations.
Also read: PML-N congratulates PTI on 'landslide victory' in Punjab by-polls
At several polling stations, voters complained that they had confirmed their votes by sending text messages to the ECP's helpline 8300 but when they reached the polling stations their votes had been removed from the voter lists for unknown reasons.
A citizen, Muhammad Riaz, complained that votes of his entire family were registered in the Township area in the constituency PP-167 but when they reached the polling station, they came to know that the votes of his wife and elder son did not exist in the polling roll.
Another voter, Muhammad Ali, claimed while speaking to The Express Tribune that he had been exercising his voting right for the past two decades. But suddenly his vote has been removed from the voters' list.
He said he had also checked his vote in a nearby polling station but in vain. He questioned the authenticity of the voter lists and expressed concern over the role of the ECP. "I cannot exercise my constitutional right to vote owing to the negligence of the commission," he added.
Similar complaints were made by several other people who said they had to return home because of the absence of their names from the voter lists.
They also blamed the ruling party for removing their names from voters lists or shifting their votes to other constituencies.
Also read: Major upset on the cards as PTI leads in crucial Punjab by-polls
Besides the voters and supporters of different political parties, leaders of almost all parties contesting the by-elections, police and district administration officials visited the polling stations to ensure a smooth polling process.
Speaking to media outside different polling stations, PTI leaders Asad Umar, Fawad Chaudhry, Dr Yasmin Rashid, Hammad Azhar and Andleeb Abbas alleged that the PML-N was making all attempts to rig the by-elections and the ECP had closed its eyes. The rulers were using the police to harass PTI workers and illegally detaining them, they reiterated. They said at least 17 PTI workers had been arrested after registration of false cases against them.
The PTI leaders demand that the ECP take notice of violations of the by-election code of conduct to prove its imperiality.
They also warned the administration and police authorities to refrain from taking illegal actions against PTI workers as they had to face the legal consequences of all their action.
Meanwhile, addressing a news conference, Pakistan Muslim League-Nawaz leader and Punjab Law Minister Atta Tarar said the police and administration were taking action as per law to ensure peaceful by-elections.
He said the PTI's Jamshed Iqbal Cheema and Saeed Mahes had been arrested for causing head injury to a PML-N worker. If the government had been using force against its opponents, PML-N workers would not have been injured, he maintained.
COMMENTS
Comments are moderated and generally will be posted if they are on-topic and not abusive.
For more information, please see our Comments FAQ