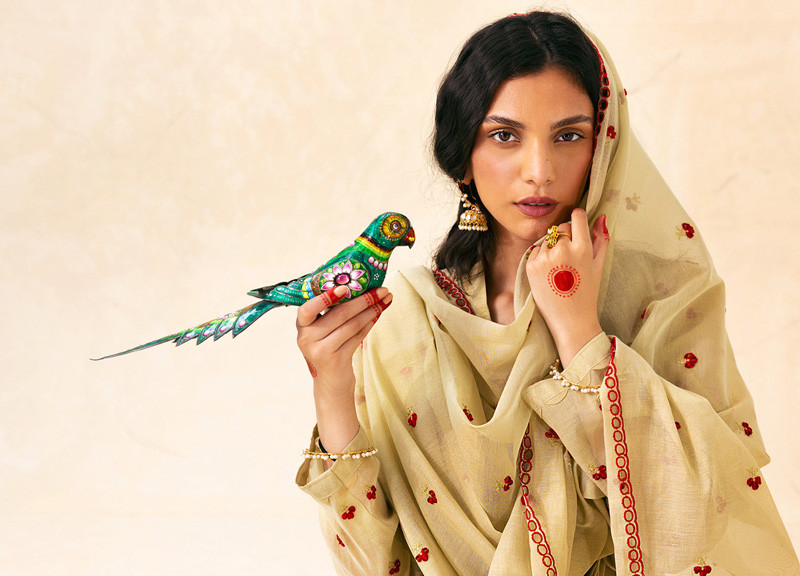 ---
Kayseria latest Master's Collection will immerse you in the magic of Monsoon, as seen through the lens of the grand world of miniature art, simultaneously reviving the local artisans and industry of pure cotton silk, Dhaka malmal, Masuri, Swiss Lawn, and Chiffon – sumptuous and rich, yet light, airy and liberating. Kayseria's Masters Collection promises all the attention to detail and quality that will continue to reward its wearer with timeless beauty, comfort and elegance.
Buoyant yet melancholy. Glorious but subdued. The mood is one of wistful longing; of the slow march of time until the arrival of the Monsoon, with all its blessings, bluster and blissful release from the oppressive summer heat. The palette is replete with soft and demure yet vibrant pastels, representing the colours of dappled clouds, grey and white; of clear, vivid blue skies right after a downpour; of the different hues taken on by flowers and leaves, as dust and decay are washed off and replaced with beauty reinvigorated.
Rhim Jhim
This limited edition Masuri ensemble dyed in a dull tea pink colour with pure gold zarri woven on khaadi is all elegance and class. A dream ensemble that showcases enchanted motifs and embroideries and inspired by the pastel hues of our rich traditions, Master's collection features the artistry of timeless designs. The ensemble consists of minimal design and embroidery on premium fabrics to appreciate the pure luxurious fabric.
Svatsu and Gul e Nasreen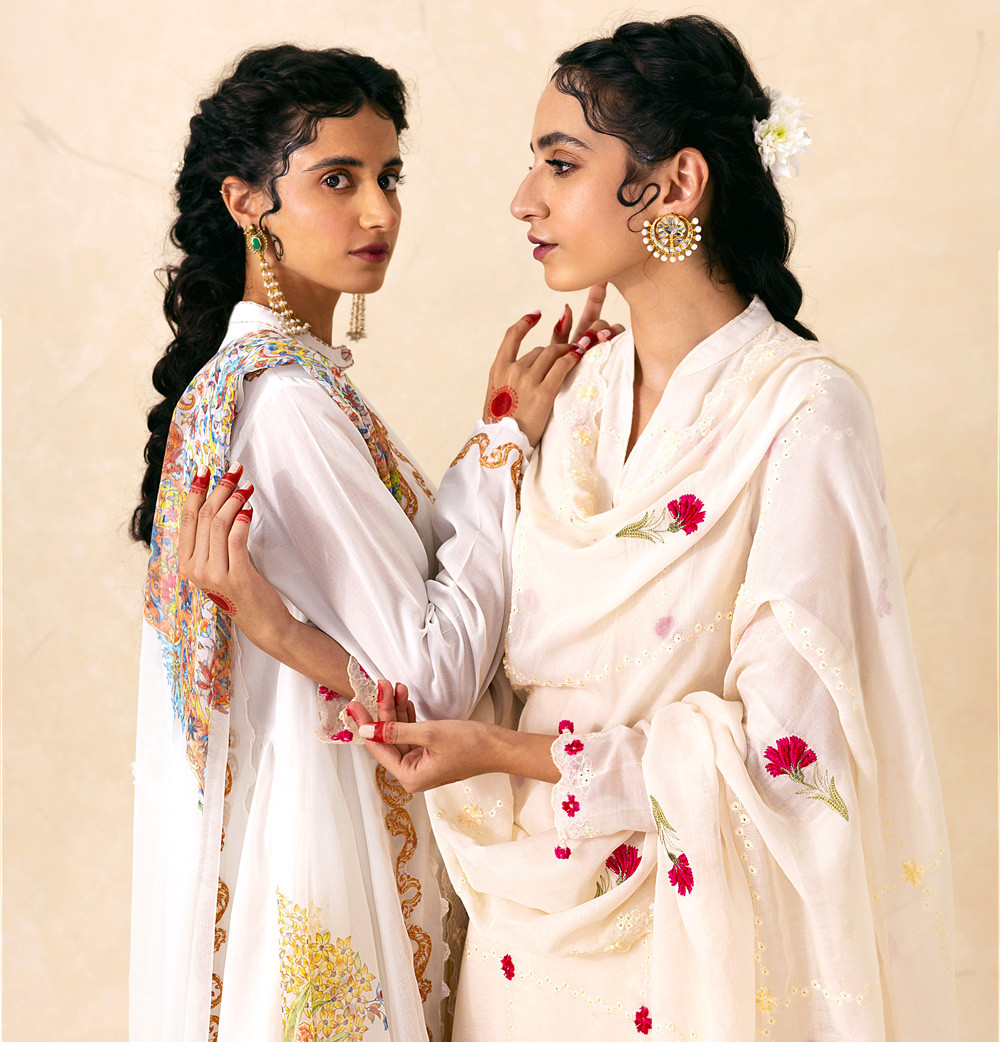 The realm of embroidered motifs adorned in bright fuchsia velvet to add a texture on the white premium canvas. Interplay of illuminating floral embroidery on pure Dhaka malmal gives joy to sartorial bliss. Along the glitz that adorns the embroidery and embellishment details of pure cotton silk dupatta; as precious and dreamy aura paired with cambric shalwar.
Jhim Jhum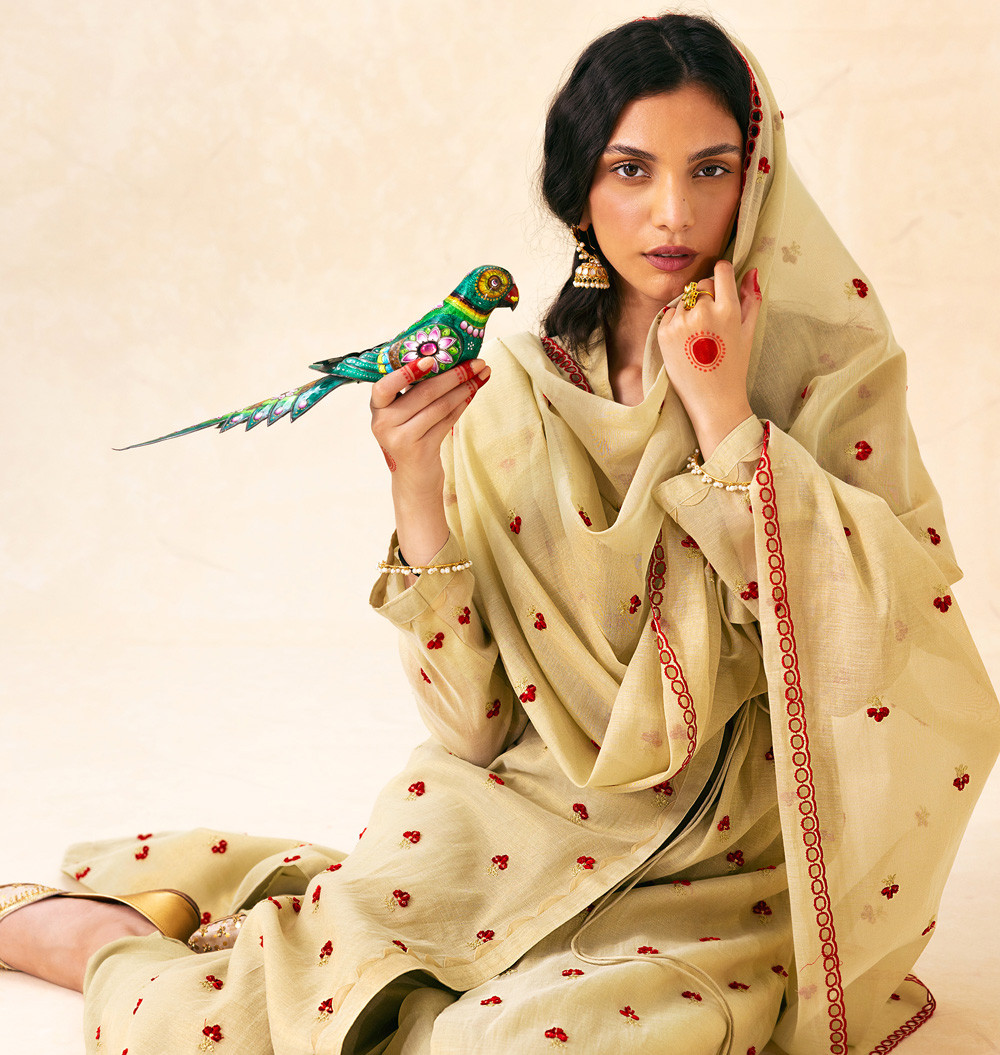 A lime green pure Masuri dream is made to accentuate the beautiful art of fashion. This pure silk combined with cotton woven on khaadi with pure gold zarri makes a statement ensemble. Experience the ethos of miniature art infused with timeless designs.
Jogiya and Neel Gagun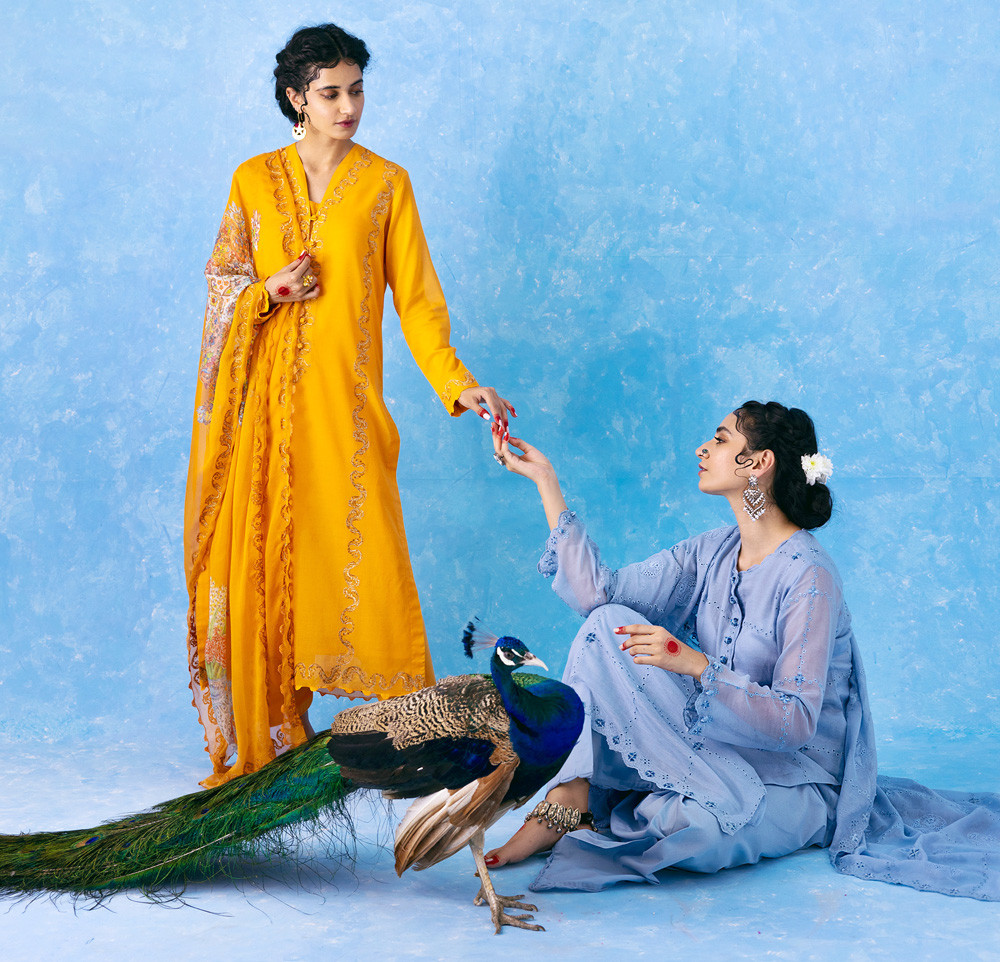 Inspired by the vibrant hues of our rich traditions, a pure Swiss lawn shirt, detailed with intricate embroidered motif on neckline. A combination of glamour and sophistication paired with cambric shalwar and winding embroidery and floral prints on crinkle chiffon dupatta to create a phenomenal ensemble.
Gul e Daoudi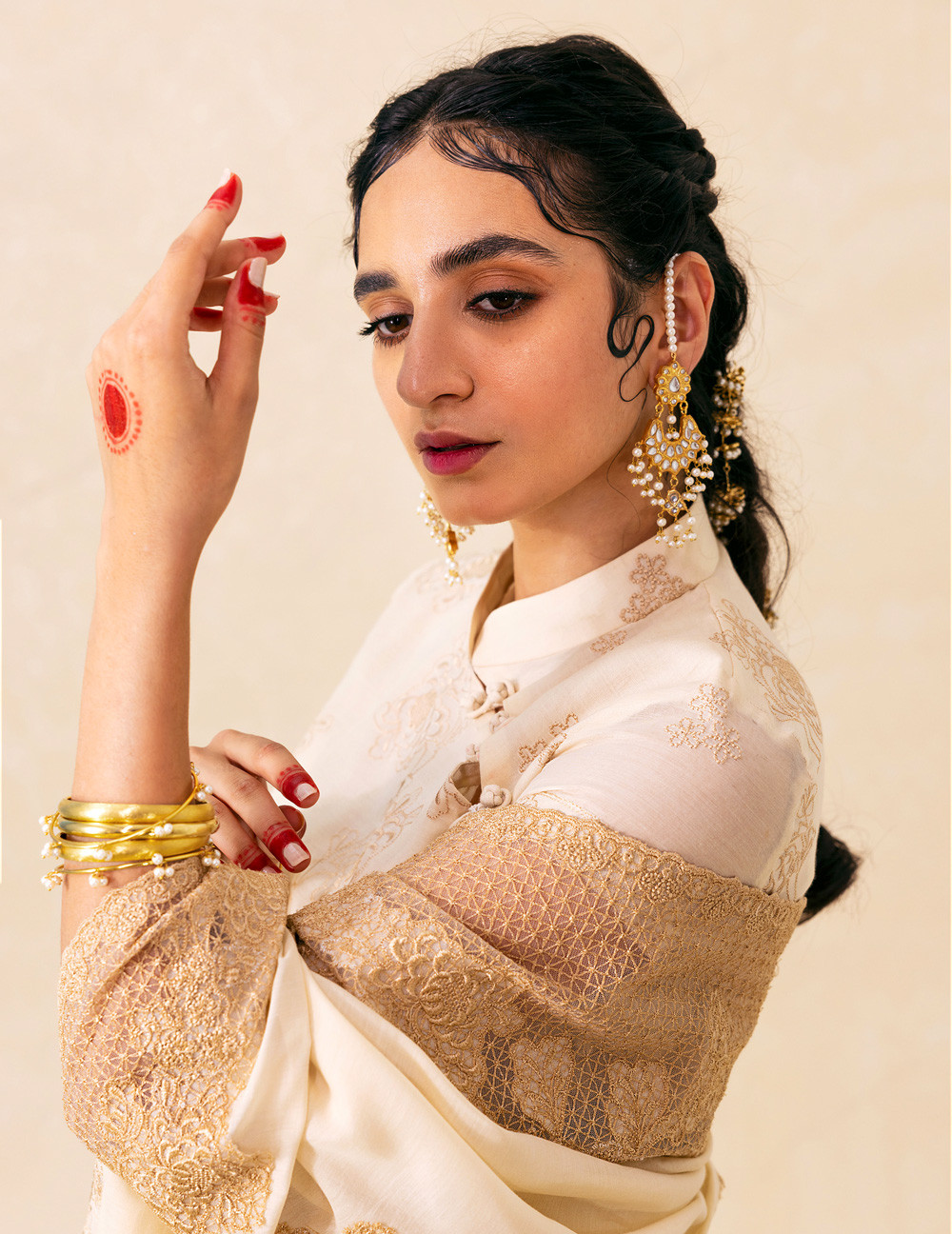 White chrysanthemum depicting happiness and joy with the finest craftsmanship and skills, this pure cotton silk ensemble is embellished with intricate embroidery that lifts the classic appeal and aligns it well with contemporary styling. Timeless embroidery & floral prints on crinkle chiffon dupatta paired with dyed cambric shalwar makes this a perfect fit for intimate festivities.
Maygh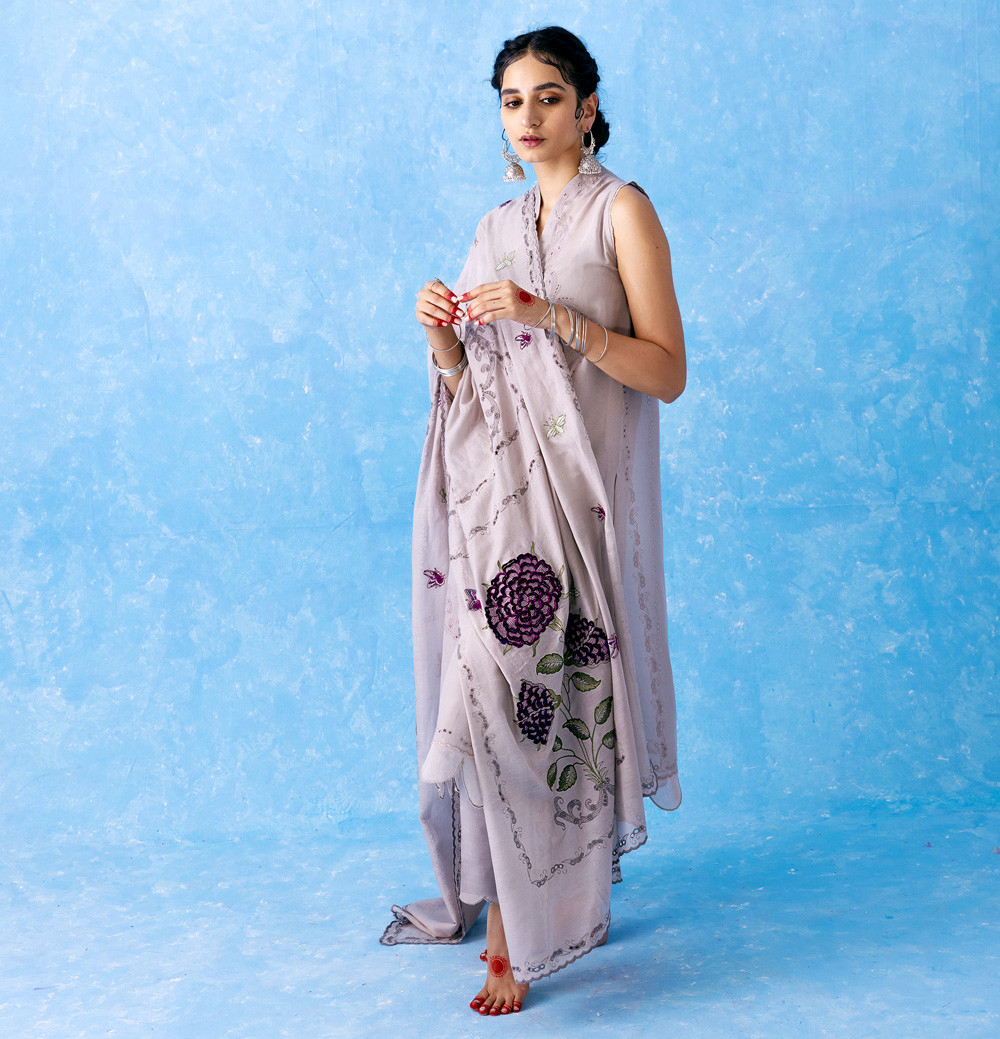 An opulent-luxury grey ensemble with botanical embroidery on Dhaka malmal with velvet effect to exudes glamour depicting Maygh. The Stunning outfit is paired with dyed cambric shalwar, and a beautiful pure crinkle chiffon dupatta with bold floral embroidery that is a memoir of regality and finesse.
COMMENTS
Comments are moderated and generally will be posted if they are on-topic and not abusive.
For more information, please see our Comments FAQ