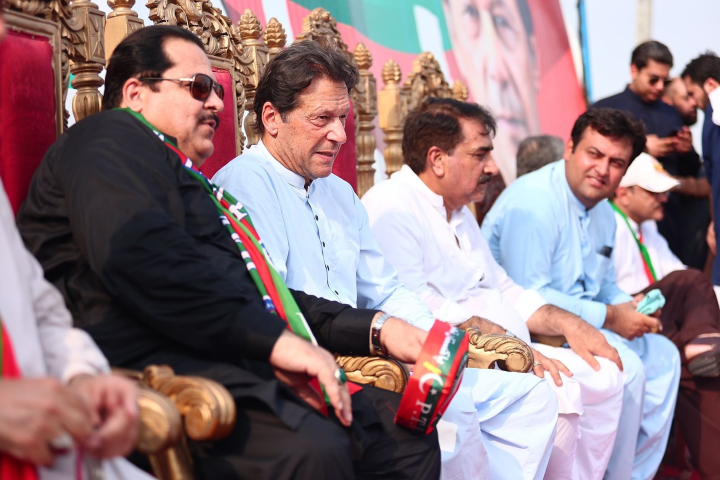 ---
LODHRAN/ BHAKKAR:
Former premier Imran Khan on Tuesday continued invoking the mysterious figure he referred to as "Mr X" who he warned has been deployed to rig the upcoming by-polls on 20 Punjab Assembly seats, as he dialled up on his tirade against the Election Commission of Pakistan (ECP) for being "in cahoots" with the PML-N.
Without mentioning a name, Imran has been sounding alarms that a certain "Mr X", who is sitting in Lahore, is trying to seize the election power after colluding with the ruling party in the province. The claim has echoed in a number of his rallies in the province as he aims to regain the reins of the country's political heartland.
Addressing a rally in Darya Khan, the PTI chief gave a clarion call to his supporters to join his hands in order to defeat the "thieves", saying the polls were not mere elections but a "jihad for real freedom".
"When the number of looters inside a country increases, the country is destroyed," he said and reiterated his claim that his government had been overthrown by the "thieves" foisted upon the nation via American conspiracy.
"These thieves have been sucking the country's blood for the past 30 years. I was against these thieves when I came into politics."
He also repeated his claims that attempts were mounting to intimidate and threaten him through calls on his phone. "I would rather prefer to sacrifice my life in my fight against these thieves but will never accept them."
Read more: 'Jihad for freedom': Imran urges youth to vote in upcoming Punjab by-polls
During his address, the ousted prime minister also lashed out at the PPP and its co-chairman, Asif Ali Zardari, alleging that the latter and his aides were laundering Sindh's money abroad.
In a thinly-veiled reference to PML-N's Maryam Nawaz, he said that a "liar queen" is leading the campaign of thieves and recalled that the Panama Papers had disclosed that Maryam Nawaz owned properties worth Rs4 billion in London's posh area.
He said that they conceal the stolen money abroad to escape the accountability process. He urged the masses to inflict a defeat on the thieves to change their own fate on July 17.
Similarly, Imran also laced in Chief Election Commissioner (CEC) Sikandar Raja and asked him to come clean on how many times he has visited Hamza Shahbaz and Maryam Nawaz.
'PPP to be blamed for Karachi's woes'
Separately, a day earlier, the former prime minister lashed out at PPP over urban flooding in Sindh and said the party has failed to address rain-related issues even after having ruled the province for 15 years.
Addressing a rally in Lodhran in connection with the July 17 by-elections, he said that Karachi is Pakistan's economic hub and for the past 14 years it is being ruled by a dacoit who has destroyed the city.
He cited the example of former Punjab CM and said that Usman Buzdar built underground water tanks in Lahore to preserve rain water but the rulers in Sindh never thought of doing anything for the rain water in Karachi. "Sindh cannot progress until Asif Zardari is occupying the province," he added.
Imran said that Sindh's money is plundered and sent to Dubai. "Cases against former president Asif Ali Zardari and Sindh Chief Minister Murad Ali Shah were ready, but an "unknown power" prevented their prosecution," Imran Khan said and added those who had the power did not consider corruption a bad thing.
'Nexus of evil'
Separately, in a tweet, Imran accused the Bhutto-Zardari family of corruption over the intense monsoon spell that inundated Sindh's capital city and dealt a severe blow to the ill-prepared infrastructure.
"Rains have once again exposed 14 years [of] corrupt rule," wrote the ousted premier, adding that the devastation of the city was a "classic example of how corruption ruins governance."
Also read: POL prices to go down as PM seeks summary amid decline in int'l market
The PTI leader also accused the political dynasty of taking federal funds provided to Karachi, directing them to "fake accounts" and investing in Dubai's real estate.
"This nexus of evil must be brought to an end," Imran remarked.
'Votes for real freedom'
Meanwhile, as by-elections are set to commence on July 17 in 20 Punjab Assembly constituencies, the PTI also released a campaign advertisement on Tuesday wherein the former premier urged his supporters to mobilise in an effort to thwart ballot-rigging.
In the video, Imran urged the youth to vote in the upcoming by-elections in Punjab, stating that votes would serve as "jihad" for "real freedom".
"The thieves in power have robbed the country of Rs11 billion and have had themselves pardoned," the party chairman claimed.
He added that Prime Minister Shehbaz Sharif-led government has destroyed the economy amidst rising inflation within the country.
COMMENTS
Comments are moderated and generally will be posted if they are on-topic and not abusive.
For more information, please see our Comments FAQ