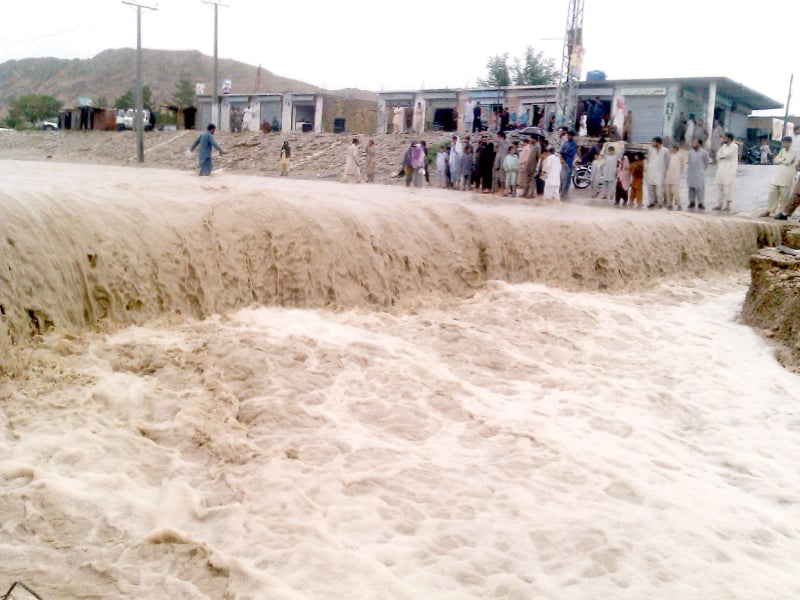 ---
QUETTA:
At least 25 people, including three women and four children, died while 35 others sustained injuries on Tuesday as heavy rains pummelled Balcohistan for the second straight day, the Provincial Disaster Management Authority (PDMA) said.
The Balochistan government declared emergency in Quetta after heavy rainfall on Tuesday that resulted in the death of seven people in various rain-related incidents and injuries to more than a dozen people.
Elsewhere in the country, rains triggered flash floods in various parts of Gilgit-Baltistan (G-B), killing four people, while four more people died in Karachi. A 14-year-old boy drowned in Nullah Leh in Rawalpindi whereas four children were rescued from drowning in Islamabad.
Devastation in #Quetta after rain.
Resulting horror for animals and humans both can be seen in video.
Note that this water can be easily managed if #Balochistan gov pays attention. But the nawabs who run it are enjoying the same rain in their farmhouses.
Meanwhile qta is a wreck pic.twitter.com/PVUCLdDwdM

— Asadullah Qazi (@suno_qazi) July 5, 2022
The heavy to moderate rains pounded the country, with Balochistan being the worst-affected. "Death toll from Balochistan rains reached 25 on Tuesday evening," PDMA Director-General Naseer Ahmed Nasar confirmed.
Nasar said that three women and four children were among the dead. He added that 35 people were injured throughout the province during the last two days. The death toll included seven fatalities in the provincial capital.
In a notification, the PDMA declared Quetta as the calamity-hit district, while the provincial government had also declared emergency. "Assist and support the rain-affected people," Chief Minister Mir Quddus Bizenjo directed rescue officials.
"Rescue workers were engaged in hectic efforts to provide timely relief to the rain-stricken people in Sariab, Pashtoonabad, Nawan Killi, Kharotabad and other parts of the provincial capital," Nasar told Express Tribune.
"Most roads and streets on the outskirts of Quetta are inundated," he continued. "Rains have damaged hundreds of mud-walled houses. Rescue operations have also been launched in Awaran, Bolan and other districts of Balochistan."
Also read: Heavy Balochistan rains claim five lives
Meanwhile, over a dozen small and delay-check dams were swept away in the rainwater in Pishin, Killa Abdullah, Bolan, Mastung and other parts of Balochistan. Traffic remained suspended on Quetta-Jacobabad highway after floods in Machh river.
Dramatic rescue
At least four children trapped in Korang Nullah within the limits of Bani Gala police station were saved in a dramatic rescue. However, a 14-year-old resident of Hazara Colony of Rawalpindi was the unlucky soul, who drowned in Nullah Leh flood.
Sirens blared as the water level in Nullah Leh rose to 18 feet. Officials from the Pakistan Army and other aid agencies were deployed along the Nullah along with boats to cope with any more emergencies. Rescue 1122, civil defence and PDMA teams have also been deployed.
The heavy rain in the twin cities damaged the drains in Sector H-13 of Islamabad where water entered houses, while several vehicles also got stuck in the rainwater. Several low-lying areas of Rawalpindi were also flooded.
Glacial burst
At least four people died in Dirani village of G-B as flash floods triggered by glacial outburst and heavy rainfall ravaged parts of the region. Three more people, who had sustained injuries, were shifted to nearby health facilities in Sher Qilla and Gulapur villages.
The director general of the Gilgit-Baltistan Disaster Management Authority (GBDMA) said that the rescuers had been facing difficulty in reaching the affected areas as flash floods had washed away roads.
The flash floods mostly affected areas surrounding Youlbu Nullah, Gunji Main Nullah, Tormik Bazgang Nullah, Stak Askore Nullah, Rejing Nullah, Stak Nullah and Tughla Nullah. However, no loss of life was reported in these areas.
According to the GBDMA, floods in Tormik Bazgang, Rejing, Stak and Guji Nullahs destroyed water channels and supply schemes and roads in several areas and posed threat to the houses. Four bridges connecting the Gunji Bala Village had also been destroyed.
The downpour in Karachi claimed at least four lives. According to officials, two people died of electrocution, and one person died in roof collapse, while one body was retrieved from a flooded Gujjar Nullah.
More rains on the way
The Pakistan Meteorological Department (PMD) on Tuesday forecast more rain, wind and thundershowers in Sindh, Balochistan, Kashmir, Islamabad, upper Punjab and upper Khyber Pakhtunkhwa during the next 24 hours.
"During the last 24 hours, hot and humid weather prevailed over most parts of the country. However, rain-wind/thundershower occurred at isolated places in Upper Khyber Pakhtunkhwa, Kashmir, Balochistan, Punjab and Sindh," the PMD said.
According to the PMD, Karachi received 43.2 millimetres of rain, followed by 40mm in Balakot, followed by 33mm in Lasbela, 30mm in Muzaffarabad, 23mm in Sukkur, 22mm in Panjgur and Quetta and 15mm in Rawalakot and Garhi Dupatta.
(WITH INPUTS FROM OUR SKARDU, KARACHI AND RAWALPINDI CORRESPONDENTS)
COMMENTS
Comments are moderated and generally will be posted if they are on-topic and not abusive.
For more information, please see our Comments FAQ