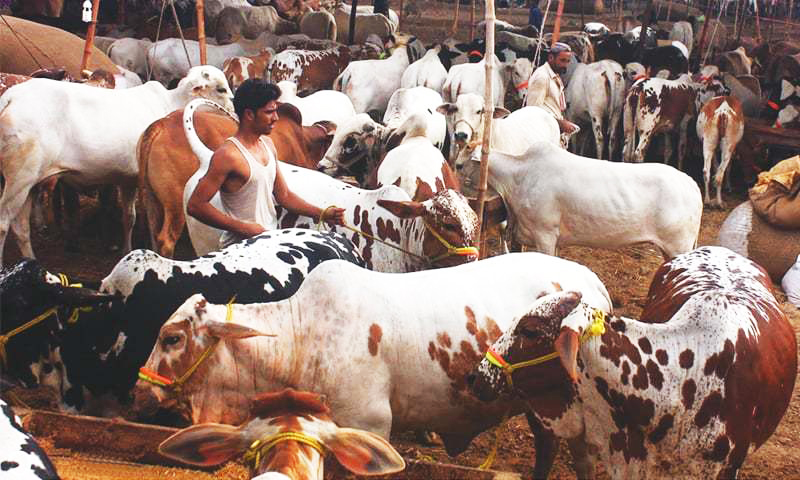 ---
KARACHI:
At a crowded portion of a sprawling makeshift cattle market on the northern outskirts of Karachi, Muneer Ali was trying to woo buyers to sell out his animals, ahead of Eidul Azha.
Unconvinced by the "higher" prices quoted by Ali, a cattle seller from Rahimyar Khan district of northeastern Punjab, a group of buyers made tracks for another stall.
But, prices were even higher there.
Traditionally, Karachiites visit the Sohrab Goth Maweshi Mandi – claimed to be Asia's largest cattle market – to buy the animals of their choice to sacrifice on Eid, one of the two main festivals which takes place between the 10th and 13th of the Islamic month of Zul Hijjah.
Pakistan will celebrate Eidul Azha on July 10.
"Prices are higher this year. No doubt about it," Ali, one of the thousands of cattle sellers who throng this cattle market at the highway that connects Karachi to the rest of the country every year weeks before Eidul Azha, acknowledged.
Also read: A difficult Eid ahead
He, however, blamed skyrocketing transportation, labour, cattle food and market charges for soaring prices of sacrificial animals.
Like many other nations across the globe, this South Asian nuclear country is grappling with a mounting economic crisis, depreciating foreign reserves, and a surging cost of living.
"We have sold out at least 50% fewer animals until now compared to the previous year," Ali said, expecting a rise in sales in the remaining last few days.
Echoing a similar view, Maratib Hussain, a cattle seller from the Dera Ghazi Khan district of Punjab, said: "There is no shortage of visitors but most of them do not turn out to be buyers."
Hussain admitted that higher cattle rates have kept the buyers at bay.
Higher prices
Mohammad Zahid, an insurance agent from Karachi, said that prices were beyond his expectations.
"We [he and his wife] used to sacrifice two goats but I don't think this would be the case this time as well," he said.
"At given prices, I can afford to buy only one goat this year," he added.
Asif Ali Syed, an organiser of the cattle market, estimated a 30% to 40% increase in animals' prices this year due to rising inflation and transportation costs.
"An average-size cow, which was available against Rs85,000 last year, is being sold at Rs125,000 this year," Syed said.
Similarly, he went on to say, prices of goats vary between Rs30,000 to Rs100,000 as against Rs20,000 to Rs75,000 last year.
Alternative ways
Syed, however, does not foresee a significant decline in sales of sacrificial animals despite soaring prices.
"There will certainly be an overall impact of the ongoing economic crunch on the sales. But I don't think it will be huge," he said, adding that citizens have come up with alternative ways to perform this "religious duty".
While goats and sheep each are counted as one, the larger ones like cows and camels have seven shares per animal, according to Islamic law.
The meat is then donated to the poor, and also shared among family and friends.
"A large number of people, who otherwise would sacrifice goats or sheep, have switched to the option of shared sacrifice due to higher prices," Syed said, claiming that "more" cows are expected to be sold out this time compared to the past year.
Currently, he said, over 400,000 animals have so far been registered in the cattle market, and the number is expected to reach 500,000 in days to come.
Shared sacrifice
Several charities, which have long been arranging affordable shared sacrificial facilities for the faithful with middle income, have seen a significant increase in orders this year.
The welfare organisations buy the animals, engage the butchers, complete the sacrifice and distribute meat to each shareholder as per the agreed weight.
The Al-Khidmat Foundation, Edhi Foundation, and Sailani Welfare Trust – Pakistan's three largest charities – have booked thousands of such orders.
In this way, these charities get to keep the hides, which sell for cash, one of their sources of income.
"So far, we have received 30% more orders compared to the past year," said Amjad Chamriya, an official of Sailani Trust, citing the receding buying power of people from the middle and lower-income brackets as one of the key reasons behind the increase in shared sacrifices.
"We have introduced several options ranging from low to modest charges to ensure that a maximum number of people can perform this religious obligation," he went on to say.
The trust, he added, has so far received 15,000 sacrifice orders
According to Abdul Qadir, an official of the Edhi Foundation, the charity has so far received 8,000 sacrifice orders from across Pakistan and abroad.
Rashid Qureshi, a senior official of Al-Khidmat Foundation, which is also arranging the sacrifice of cattle for Afghanistan, Rohingya refugees in Bangladesh and Syrian refugees in Türkiye, said that they were expecting a 20% increase in the number of bookings this year.
The charity, he said, has booked over 25,000 sacrifice orders hitherto across Pakistan.
These charities also distribute meat among the poor and Afghan refugees in Pakistan.
COMMENTS
Comments are moderated and generally will be posted if they are on-topic and not abusive.
For more information, please see our Comments FAQ