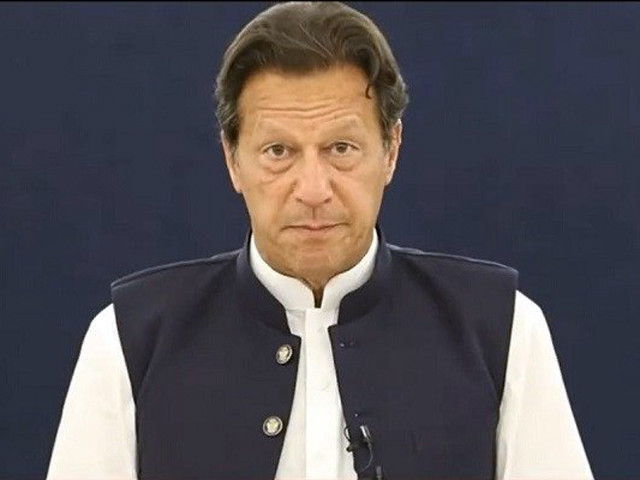 ---
ISLAMABAD:
Former prime minister Imran Khan on Friday said that the United States (US) backed regime change because it wanted to have military bases in Pakistan and use the country once again to meet its foreign policy objectives in the region and beyond.
The former premier said that the US once again wants to have bases in Pakistan and use the country against Russia, saying the issue was going on between the US and Russia but Pakistan can't import cheap oil and gas from Russia; a condition that doesn't apply to India.
"Those who have powers; those who are our neutrals; those who now say that we have taken a step back and become neutral; isn't this their Pakistan," Imran, who is the chairman of the Pakistan Tehreek-e-Insaf (PTI), said. "Won't they suffer if the economy goes down."
Read more: 'Below me to respond to compulsive liar like Imran,' says ex-brigadier
The PTI chairman asked if those who have been imposed on Pakistan – the incumbent government – have interests in Pakistan, saying they fled abroad whenever corruption cases are filed against them and come back after striking a deal – NRO.
"Is this in Pakistan's interest," Imran asked. "If we think that our interest is with these 'thieves' then we don't have any future."
Speaking at a seminar titled 'Regime Change: Impact on Politics, Security and Economy' organised by Islamabad Policy Institute (IPI), he said the regime change has profoundly harmed Pakistan.
During his tenure, Imran had repeatedly said that giving military bases to the US for its future operations in Afghanistan was out of the question. At one point, Imran had categorically said that Pakistan would "absolutely not" allow any bases to the US and use of its territory for any sort of action inside Afghanistan.
Also read: Imran announces anti-govt rallies in major cities on July 2
Even, during a meeting of the Parliamentary Committee on National Security, country's civil and military leadership had emphasised that Pakistan was ready to face any consequence but would not permit the US to establish any airbase on its soil.
The PTI chairman recalled that Pakistan paid a huge price for taking part in the war on terror but the US never even thanked it for standing by it, adding that the reason was that "we allow others to use us like tissue paper".
The former-cricketer-turned-premier said that those imposed on Pakistan through the US regime change conspiracy had no interest in the country because they were just looting and plundering the national wealth.
Imran said that "these crooked people" just commit corruption and flee the country, as they had nothing to do with the country and its people. He reiterated that they only come back after striking a deal to clear their corruption cases, adding that they again gave themselves a clean chit in Rs1,100 billion corruption cases under a NRO-2 by amending NAB law.
Because of the regime change, Imran said that there was an ongoing debate about what had happened to the country, regretting that "these thieves have plunged the country into a quagmire".
The PTI chairman asked when the Economic Survey testified that the economy was flourishing during the PTI tenure as the agricultural industry and other sectors were improving, then why was the PTI government removed under an external conspiracy.
Imran said that the PTI government was blamed for not being able to control inflation by the incumbent rulers when they were in the opposition. However, he added, the incumbent government unleashed an unprecedented wave of inflation in just three months.
The PTI chairman said that the nation was paying the price of the incumbent rulers' incompetency in the form of inflation and load-shedding.
He said that everyone was worried about the situation of Pakistan's dwindling economy, fearing Pakistan was facing a situation like Sri Lanka and that would cause a national security problem.
He said that the military security was one thing but economic security was equally important, adding that the neutral would also suffer if the economy collapses.