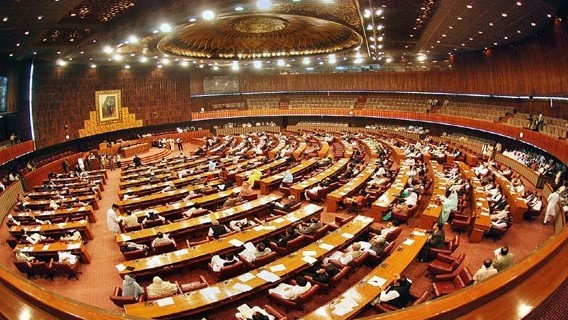 ---
ISLAMABAD: The National Assembly approved on Thursday close to Rs140 billion demands for grants for four key ministries, rejecting around 400 cut motions by opposition parliamentarians who blamed these divisions for inefficiency.

As the process of budgetary approval entered its second day, the house took up cut motions on demand for grants for interior, petroleum, railways and water and power ministries.

The National Assembly gave approval to Rs50 billion grants for the Interior Ministry. All 137 cut motion by opposition were rejected by the house through a voice vote.

Substantiating their motions to cut allocations, several opposition lawmakers target what they called failures of the ministry and its attached departments to provide people proper security and other services.

A member from the Pakistan Muslim League-Nawaz (PML-N) said the Federal Investigation Agency (FIA) that is to probe high-profile crimes has failed to investigate the murder of former premier Benazir Bhutto and killing of Baloch leader Akbar Bugti.

"If this is what you call performance, the FIA doesn't deserve any funds," Engineer Khurram Dastgir Khan spoke of the agency.

Some other members targeted the performance of the National Database and Registration Authority (Nadra) and passport issuing outfit, both working under the interior ministry.

A few opposition MPs blamed attached departments of the ministry for rampant corruption which they argued made  their demand for cut in funds stronger. But Interior Minister Rehman defended the criticism, saying the law enforcing agencies working under him are surviving 'very difficult' circumstances in their fight against terror.

More than Rs54 billion demands for grants for Railways Ministry were also given approval by the house. The opposition's 60 cut motion could not get any weight in the face of government's majority.

But the criticism on huge funds being pumped into what many MPs called a white elephant forced the Railways Minister Haji Ghulam Ahmed Bilour into an admission that all is not well with the country's rail system.

But the minister blamed resource scarcity for the Railways running up huge losses.

The ministry of water and power of also got its Rs27.7 billion demand approved by the house with a rejection to 90 opposition motions for cutting it to size.

Raja, as usual, put the blame for his ministry's failure to eradicate power cuts on the previous government with a claim that the present regime is striving to remedy the situation.

The house disallowed 109 cut motions to approve Rs7.14 billion grants for the ministry of petroleum and natural resources, though the opposition raised some critical questions on the government's oil and gas exploration ventures.

Published in The Express Tribune, June 25th, 2010.
COMMENTS
Comments are moderated and generally will be posted if they are on-topic and not abusive.
For more information, please see our Comments FAQ