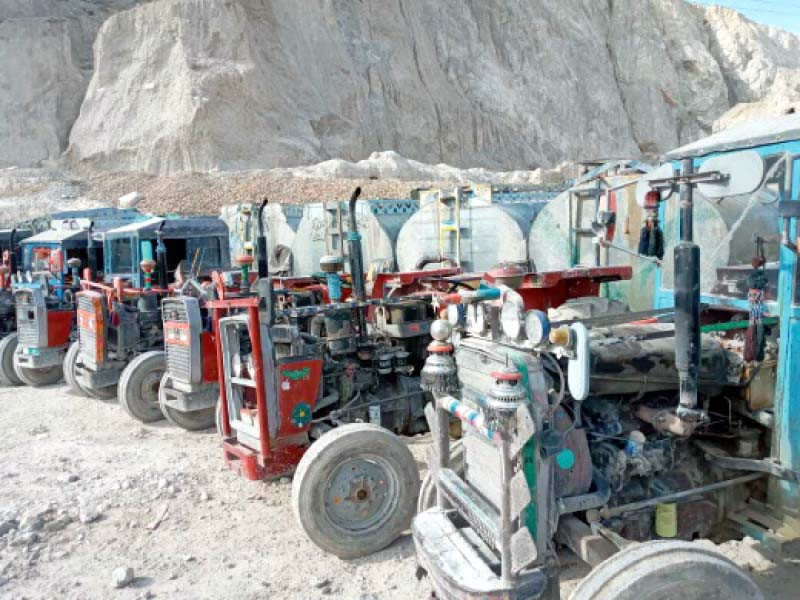 ---
QUETTA:
Each day Quetta city requires 50 million gallons of potable water but Water and Sanitation Authority (WASA) is able to provide just 25 million gallons, leaving a huge gap in the demand and supply.
The scarcity of potable water in Quetta district has given birth to a powerful and thriving tanker mafia and the city has been left entirely on its mercy due to the government in action.
Talking to The Express Tribune an official of Irrigation Department Barkath Khan Kakar said that due to 25 million gallons shortage, every household has to order water tankers to meet its requirements.
In Quetta, like much of the province, the underground water level has gone down to 800 feet and sinking a private tube well cost at least Rs1 million but there is no guarantee that this tube well will work permanently so the solution is going even deeper which could push the cost of a tube well, sufficient enough to supply a single household, to Rs5 million.
This is the amount of money not every household can afford.
As per the 2017 census Quetta has a population of 2.3 million but independent sources put it at three millions.
Each passing year, the water level is going down, further complicating an already complicated picture.
The WASA is responsible for water supply in the city but it can't cope with the increasing demand. Water tankers are there to bridge this gap.
"I pay Rs2,000 for a tanker of water which is sufficient enough for five days," a resident of Quetta's Airport Road Ghulam Dastagir said.
Nobody knows if this water is clean or not, he noted.
WASA claims to have 428 operational tube wells in the city. However independent sources dispute this claim.
"Out of 428 only 12 tube wells are non-functional," the Managing Director WASA Hamid Latif Rana said when contacted.
He said the authority was making all out efforts to provide clean drinking water to the masses.
He said that consumers were reluctant to pay their bills, which is a big problem for his department.
Local residents have their own complaints about WASA.
Another resident of Quetta, Abdul Sattar Mandokhial said that tanker mafia is minting money right under the nose of WASA.
He added that most of the public tube wells are out of order thus leaving people at the mercy of tanker mafia.
WASA has around 2,000 employees which is an entire army in its own right.
Chief Minister Mir Qadoos Bizenjo has declared provision of clean potable water as top priority of his government.
The provincial government has also started work on Mangi Dam in Harnai district.
Barkath Khan Kakar said that with the completion of Mangi Dam, the issue of water scarcity would be addressed to a large degree.
He observed that there were widespread reports of contaminated water being supplied to the households by water tankers.
The water quality should be checked regularly, Kakar said.
In Balochistan the issue of water scarcity is getting serious each passing day and water-borne diseases are widespread.
The outbreak of cholera claimed precious human lives in Dera Bugti because the residents of Pir Koh were provided contaminated water.
Water scarcity issues is also getting serious in Pishin, Killa Abdullah, Kalath, Mastung, Noshki, Chaghi, and other districts of Balochistan.
Published in The Express Tribune, June 5th, 2022.
COMMENTS
Comments are moderated and generally will be posted if they are on-topic and not abusive.
For more information, please see our Comments FAQ