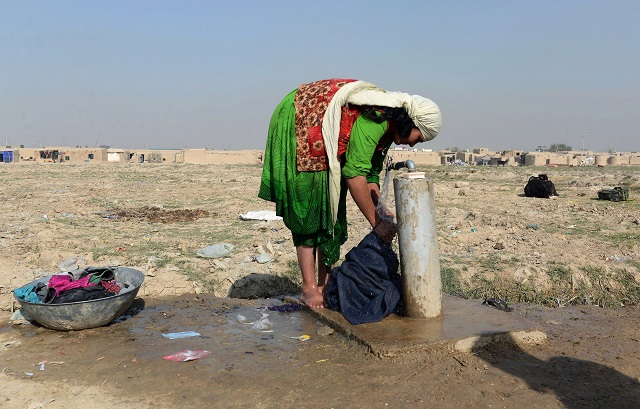 ---
LAHORE:
After repeated attempts at conjoining two wires, minus any safety precautions, Barkhat Ali's face breaks into a smile as the bulbs in the tent settlement light up - he has safely conducted what is colloquially known as a kunda.
Taking offence to his endeavour being called power theft, Ali quipped, "we have little choice apart from getting electricity from nearby houses as LESCO does not give us any." Ali, the gypsy, belongs to a tent settlement near the Ravi River, which is one of the largest in Lahore. Despite the settlement's size, it is not only devoid of power but is also missing basic amenities like clean water.
"Our children and women fill large plastic canisters with water from a nearby tube well or official water supply and carry it on donkey carts and loader rickshaws to our tents." As for water to clean and bathe, Ali pointed out hand pumps at the edge of the settlement which according to him only pump out "swamp water." When asked why they were okay with such miserable conditions of life, Ali shrugged and responded that they had become used to it. "Rain or shine, this is our home," he said with a sense of pride. Another gypsy, an elderly man who referred to himself as Baba Boota, added that their ancestors had lived the same way and they were just following in their footsteps. "We are happy with our lifestyle."
When asked if he had a source of income, he responded affirmatively. "All of us, women and children included, either beg or sell toys on the city streets. We go out in shifts; some during the day and the remainder during night," he informed. The main challenge for many in the settlement these days, however, is not an income but rather the severe heat.
"We set up our tents opposite from the sunlight. At night time we get by but during the day we have to seek shade under the trees," Ali said. However, the problems for the women in the settlements are not just limited to heat or lack of water and power as the summer brings with it gynaecological diseases as well. "The gypsy women cannot even mention their problems because of the taboos and have to suffer in silence. The young girls are the worst affected," said Alina Azhar, a local activist working to provide clean water to the homeless.
Azhar told The Express Tribune that since the government could not be bothered with providing any services, locals try to help by donating water coolers, which is of huge help to the women. "If the government cannot provide water, they should at least promote women's hygiene," Azhar remarked. The only hygiene promotion the settlement along the Ravi and various others get is monthly health camps by non-governmental organisations, as per the elderly, Boota.
"They treat the people free of cost. They have even set up a camp to educate our children." While Boota and the others are content with this minimal attention, Dr Salman Kazmi, an expert in infectious diseases based in Lahore, said that if an epidemic were to break out in tent settlements, their occupants would be facing a fight for their lives. "While it is true that their living conditions give them higher immunity; this immunity will not extend to the diseases drinking contaminated water and harsh summers bring," Dr Kazmi told The Express Tribune.
Published in The Express Tribune, June 3rd, 2022.
COMMENTS
Comments are moderated and generally will be posted if they are on-topic and not abusive.
For more information, please see our Comments FAQ