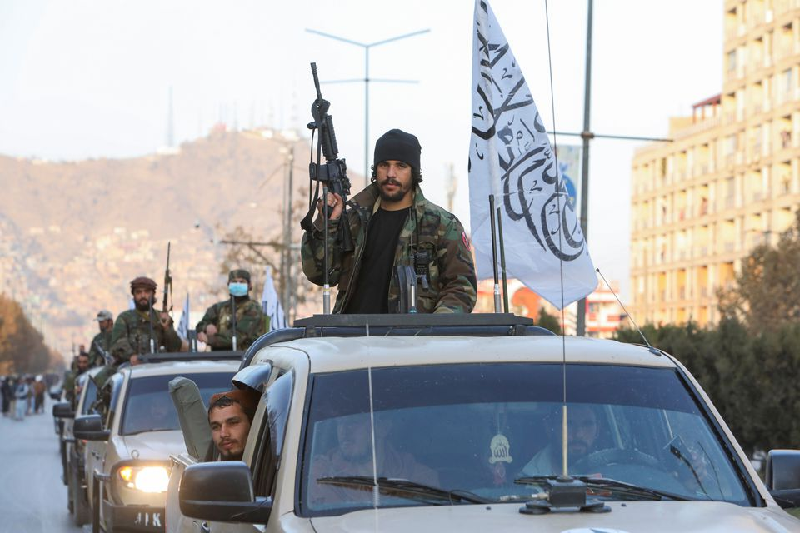 ---
PESHAWAR:
An annual report by the United Nations Security Council (UNSC) has highlighted the relationship of the Afghan Taliban -- who came to power last year after the withdrawal of the United States forces and the subsequent fall of the Ashraf Ghani-led government in Afghanistan -- with the Tehreek-e-Taliban Pakistan (TTP) and the Al-Qaeda leadership.
The report of the UNSC 1988 Taliban sanctions committee also underscored the presence of other terror outfits, particularly the TTP, in the Taliban-led regime. According to the UN, the TTP "benefitted the most of all" due to the takeover of Kabul by the Afghan Taliban.
"TTP has arguably benefitted the most of all the foreign extremist groups in Afghanistan from the Taliban takeover. It has conducted numerous attacks and operations in Pakistan. The TTP also continues to exist as a stand-alone force," the report said as it estimated the number of TTP fighters to be "several thousand".
"The group [TTP] is estimated to consist of 3,000 to 4,000 armed fighters located along the east and south-east Afghanistan-Pakistan border areas," the report added.
According to the report, Haqqani Network leader Sirajuddin Haqqani has reportedly been relied upon more than anyone else and to "act as an intermediary between TTP and Pakistan" given his group's control of the Afghan interior ministry and the Ministry of Refugees and Repatriations. These ministries give the HQN "further points of contact with the Tehreek-e-Taliban Pakistan (TTP)".
Other groups include the Eastern Turkistan Islamic Movement (ETIM), Islamic Movement of Uzbekistan, Jaish-i-Mohammed (JiM)..and Lashkar-e-Tayyiba (LeT)."
Read Mehsud tribe forms body to broker army, TTP talks
"Jaish-i-Mohammed (JiM) is a Deobandi group that is ideologically closer to the Taliban. The leader..is Masood Azhar, and Qari Ramazan is the newly appointed head of JiM in Afghanistan...JiM maintains eight training camps in Nangarhar, three of which are directly under Taliban control."
Threats to Taliban
The report said the most potent threat faced by the Taliban regime came from the Islamic State and National Resistance Front, a guerilla outfit composed anti-Taliban fighters.
"The main military threats faced by the Taliban have been from ISIL-K and from former Afghan government elements in the National Resistance Front and Afghanistan Freedom Front (AFF), each of which is conducting guerrilla-style operations against Taliban forces."
"...in order to confront the threat from ISIL-K, the Taliban have created three battalions of special forces. These so-called "red units" are the Badri 313 Battalion, led by Abdul Hafeez Hafiz 15 and consisting of 600 to 700 armed fighters."
"The emergence of resistance groups has led the Taliban to adopt aggressive measures against populations suspected of supporting anti-Taliban elements," it added.
Al Qaeda
"The relationship between Al-Qaida and Taliban remains close and is underscored by the presence, both in Afghanistan and the region, of AQ core leadership and affiliated groups, such as....AQIS [Al-Qaida in Indian Subcontinent]. AQ is pleased with developments in Afghanistan, which it anticipated for over 20 years."
"AQ has used the Taliban's takeover to attract new recruits and funding and inspire AQ affiliates globally. Previously....it was believed to have a continued presence in Afghanistan. Under the Taliban, Afghanistan is viewed as a friendly environment for continued occupancy."
"The core Al-Qaida leadership under Aiman Muhammed Rabi al-Zawahiri is reported to remain in Afghanistan: more specifically, the eastern region from Zabul Province north towards Kunar and along the border with Pakistan. Since August 2021, al Zawahiri has appeared in eight videos."
"Member States continue to regard Mohammed Salahaldin Abd El Halim Zidane, a.k.a. Sayf-Al Adl, as the likely successor to al-Zawahiri. Sayf-Al Adl is assessed as a capable veteran commander who could take the group forward."
"The former first amir for Al-Qaida in Afghanistan, Abu Ikhlas al-Masri was reported by one Member State to have been released from prison during the Taliban drive towards Kabul in summer 2021."
"International media broadcast the return to Nangarhar in late August 2021 of Amin Muhammad ul Haq Saam Khan, the former security coordinator for Osama bin Laden...Other Al-Qaida members are reported to be living in Kabul's former diplomatic quarters."
"Al-Qaida is reported to remain in the south and east of Afghanistan, where it had a historical presence." "At present, the operational activities of Al-Qaida in Afghanistan have been limited to advise and support to the Taliban," it added.
"Despite fears of an influx of foreign extremists to Afghanistan after August...only a small number have materialized, almost all with pre-existing Afghan links...while few foreign terrorist fighters were seen relocating to Afghanistan, Al-Qaida may only require a small number."
"Being subordinate to Al-Qaida core, AQIS is maintaining a low profile in Afghanistan, where the majority of its fighters are located."
"The group [AQIS] is reported to have 180 to 400 fighters... Fighters included nationals from Bangladesh, India, Myanmar and Pakistan."
"The 2020 name change of the AQIS magazine from "Nawa-i Afghan Jihad" to "Nawa-e-Gazwah-e-Hind" suggests a refocusing of AQIS from Afghanistan to Kashmir."
"One Member State observed that since the Taliban have assumed power, it is not possible to view Taliban finances separately from government revenue: they are intertwined and essentially the same."
Islamic State
"The Kabul airport attack of August 26 is reported to have elevated ISIL-K to be the most prominent Da'esh affiliate. In late 2021, Da'esh core made $500,000 of new funding available to ISIL-K."
"The decrease in ISIL-K operations may reflect an effective counter Da'esh strategy by the Taliban or could be attributed to winter conditions in remote locations, which slowed operations."
"Sanaullah Ghafari (alias Shahab al-Muhajir) remains the leader of ISIL-K. He is assessed to be in eastern Afghanistan, possibly Kunar, Nangarhar or Nuristan. Former leader Abu Omar al-Khorasani was killed by the Taliban in August."
"Aslam Farooqi was freed from another prison by the Taliban. Several member states reported that he was killed in January."
"Ghafari is regarded as an effective leader in firm control, largely owing to the Kabul airport attack and several subsequent attacks."
"Other leadership figures......include Mawlawi Rajab Salahuddin (alias Mawlawi Hanas) as deputy, Sultan Aziz Azzam (spokesperson), Abu Mohsin (head of finance), Qari Shahadat (head of training), Qari Saleh (head of intel) & Qari Fateh (head of military operations).
"..estimates of ISIL-K strength range between 1,500 and 4,000 fighters, concentrated in remote areas of Kunar, Nangarhar and possibly Nuristan Province. Smaller covert cells are thought to be present in the northern provinces of Badakhshan, Faryab, Jowzjan, Kunduz and Takhar."
Taliban internal rifts
"Taliban supreme leader Hibatullah Akhundzada is assessed to be living in Kandahar. Towards those with whom he remains in communication, including Mullah Yaqub, Sirajuddin Haqqani and Mullah Abdul Ghani Baradar, he is said to have become more autocratic and dismissive of dissent."
Read more 'Pak drone' eliminated TTP targets in Afghanistan
"Security measures to conceal Hibatullah's location reportedly include minimised mobile telephone use, limited personal engagements and communications to and from the leader conducted mainly by remote courier and hand-written messages."
"The foremost internal division within the Taliban has been defined by opposing views between moderate and hardline blocs. The moderate bloc consists of senior Taliban, including Mullah Baradar, Sher Mohammad Abbas Stanekzai, Padshah Khan and Shahabuddin Delawar."
"It is clear from these episodes that Taliban cohesion was easier during the group's insurgency period when there was a compelling common cause to expel foreign forces from Afghanistan."
"Nonetheless, there has been pushback against the Haqqanis. During the March jirga in Kandahar, it emerged the Haqqanis had expected an endorsement of Sirajuddin's elevation to deputy prime minister. This did not materialise."
"Nevertheless, the Haqqani Network's securing of key positions increases its capability to work with the foreign terrorist groups that are its traditional allies. Several member states have expressed concern at the Haqqanis' control over the issuing of identity papers."
"As the leader of HQN...Sirajuddin Haqqani has ostensibly developed a reasonable understanding with the second deputy, Mullah Yaqub, particularly in their mutual opposition to Mullah Baradar. This is seen, however, as more an alliance of convenience than conviction."
COMMENTS
Comments are moderated and generally will be posted if they are on-topic and not abusive.
For more information, please see our Comments FAQ