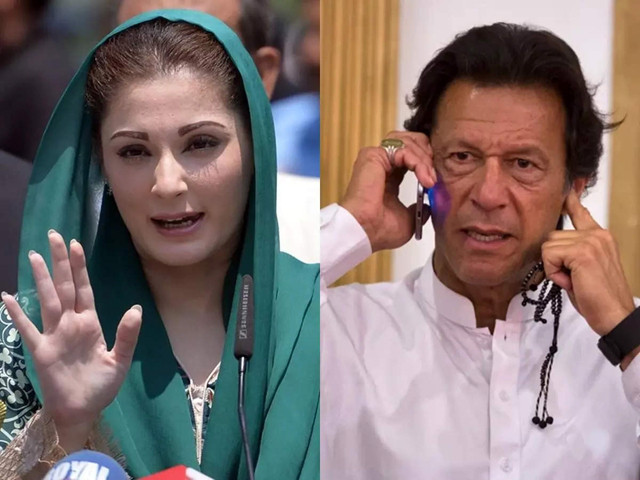 ---
ISLAMABAD:
PML-N Vice President Maryam Nawaz on Friday advised "half-mad" former prime minister Imran Khan to stay away from the media for a while as his "miserable mental health" did not allow him to be in front of the camera in the aftermath of his party's "failed" long march.
She was apparently responding to an incident that happened earlier during the day in which Imran suddenly stepped out of a news conference in Peshawar following a harsh question by a journalist.
"The people have rejected Imran Khan. A revolution takes its own course and does not get stopped by the police but if it runs away after seeing the police, it should die its own death," she wrote on her official Twitter handle.
Read more: Imran says there was 'no deal', ended march to prevent bloodshed
Calling Imran Khan "half-mad", Maryam advised him to stay away from the media "due to his miserable mental health", saying that the former premier had claimed to bring three million people to Islamabad but could hardly manage 10,000.
The PML-N leader said that Imran, who was abusing the Supreme Court a few days ago, now under the pretext of the top court's latest verdict wanted to fulfil his agenda of "anarchy".
"The Supreme Court must stay vigilant and should keep itself away from this political battle. Otherwise, the impression of partisanship will be fuelled which would be detrimental to judiciary as an institution," she added.
Maryam said that Imran should seek forgiveness from police officials who became victims of his chaos.
Earlier in the day, while addressing a news conference in Peshawar, Imran dismissed reports that a deal was made to end the Pakistan Tehreek-e-Insaf's much-hyped long march, saying he decided to conclude the protest in order to "avoid bloodshed".
Imran said he would march again if early elections were not announced.
Also read: What made Imran make a swift retreat?
Referring to the party's "Haqeeqi Azadi March", the ousted premier lamented how police officials attacked the participants of the march, blaming the incumbent coalition government for picking officers to target the PTI.
Imran reassured his supporters that he was the same leader who once conducted a sit-in for 126 days and that it would not have been difficult to do so again during the "Haqeeqi Azadi March" in the federal capital.
"However, as soon as I reached, I became aware of the extent of the situation," Imran said, adding that he knew there would be bloodshed and claimed that his supporters were "ready" even after seeing the "terrorism" carried out by the police.
COMMENTS
Comments are moderated and generally will be posted if they are on-topic and not abusive.
For more information, please see our Comments FAQ