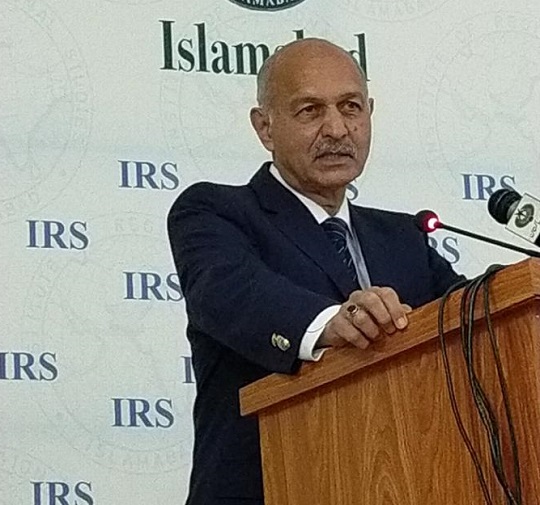 ---
ISTANBUL:
The policies of "Muslim middle powers" can no longer be dictated by Western nations, while these nations should focus on connectivity, boosting their economies, and coming together for "mutual interests," said Senator Mushahid Hussain Sayed.
Calling Turkish President Recep Tayyip Erdogan a "lion of Asia" who has a "vision and will," Mushahid Hussain Sayed told Anadolu Agency: "We have what I call 'Muslim middle powers' emerging like Pakistan, Turkey, Iran, and Saudi Arabia… and these are important elements who are playing a role for stability."
"Their policies can no longer be dictated by people sitting in London, Washington or New York or Brussels," said Sayed, who was visiting Istanbul for a meeting on Palestine with lawmakers from several other countries.
Citing the "role" of Turkey and Pakistan in Azerbaijan's second Nagorno-Karabakh war which started on Sept 27, 2020 and lasted 44 days to recapture its territory from Armenia, Sayed called for greater cooperation on regional connectivity, the economy, defence, and issues of the Turkish Republic of Northern Cyprus (TRNC), Palestine, and Kashmir.
'Relations between Turkey and Pakistan not dependent on respective governments'
Sayed, who also chairs the Senate's Defence Committee, said Turkey and Pakistan enjoyed "a rather unique relationship".
"It predates the existence of even Pakistan," he noted.
Recalling the help extended by South Asian Muslims during Turkey's war of liberation, he said "this relationship, irrespective of any government in Turkey or in Pakistan, is always a strong bond."
"It's now strengthened through mutual interests. The mutual interests are linked with our worldview," he said.
Sayed said the two countries "have similar positions on the issue of Palestine, Kashmir, and the TRNC."
"This relationship has been reinforced by our cooperation in the fields of economy, defence, diplomacy, and in the field of regional connectivity, and that is extremely important," he said, citing the resumption of the Istanbul-Tehran-Islamabad (ITI) freight train as one example.
"When Azerbaijan was fighting the Armenian aggression and occupation of the homeland, Pakistan and Turkey were two countries which rose to the occasion," he said, adding "because of this move," the flags of Turkey and Pakistan were raised in Azerbaijan when they celebrated the Nagorno-Karabakh victory.
Sayed said Pakistan was the first country to send a delegation of parliamentarians to "express solidarity" with Turkey after the failed coup by the Fetullah terrorist organisation in July 2016.
"I, myself, in my speech at the Asian Parliamentary Assembly in Cambodia, said that President Erdogan is 'the lion of Asia'," he recalled. "I meant it because he is a man who has vision, like (former Malaysian Prime Minister) Dr Mahathir Mohamad."
Sayed said Erdogan is "a man who takes positions on issues, and he has shown the vision and will to do that".
Acknowledging that progress in bilateral relations between Turkey and Pakistan faced "bureaucratic obstacles," Sayed, however, said, "there are no limits to Pakistan-Turkey collaboration."
He said the two countries should sign a free trade agreement "and we should cut through the bureaucratic red tape".
"It's not a decision for bureaucrats. It is a political decision," he asserted.
Sayed said Istanbul and Turkey are "the favoured destinations of Pakistanis when they go abroad because of love, esteem, and respect."
"Two big anniversaries are coming up and we are celebrating them together," he said, referring to the 75th anniversary of the founding of Pakistan in 2022 and the centenary of the founding of the Republic of Turkiye in 2023.
"We will be there with our Turkish brethren to celebrate the historic anniversary because Quaid-e-Azam Muhammad Ali Jinnah had said that when Mustafa Kemal Ataturk died in October 1938, that this is a day of mourning for the Muslims of India," said Sayed, a renowned political commentator.
"That is how high in esteem the father of our nation held the father of the Turkish nation."
'Element of racism in Ukraine war'
Commenting on Russia's war on Ukraine, the Pakistani senator said Pakistan and Turkiye "have broadly similar positions on the issue of the Ukraine war."
"Of course, nobody can endorse any invasion of any foreign country. But there's a context to that. And Pakistan, therefore, abstained on that issue because basically, we see it as a European war," said Sayed.
"We are also concerned! I, as a Pakistani, and as a person who has links with the media, believe that there are, unfortunately, a lot of double standards in the Western media's coverage of the Ukraine war, because there is an element of racism — as if the lives of Europeans in Ukraine are perhaps more precious than the lives of non-Europeans, be they Kashmiris or Palestinians or Afghans or Syrians or Iraqis," he said. "That needs to be put on the record."
Sayed said there is the "context of the NATO expansion" around the Ukraine war.
"We wish that it should not become a part of another new Cold War," he said.
COMMENTS
Comments are moderated and generally will be posted if they are on-topic and not abusive.
For more information, please see our Comments FAQ