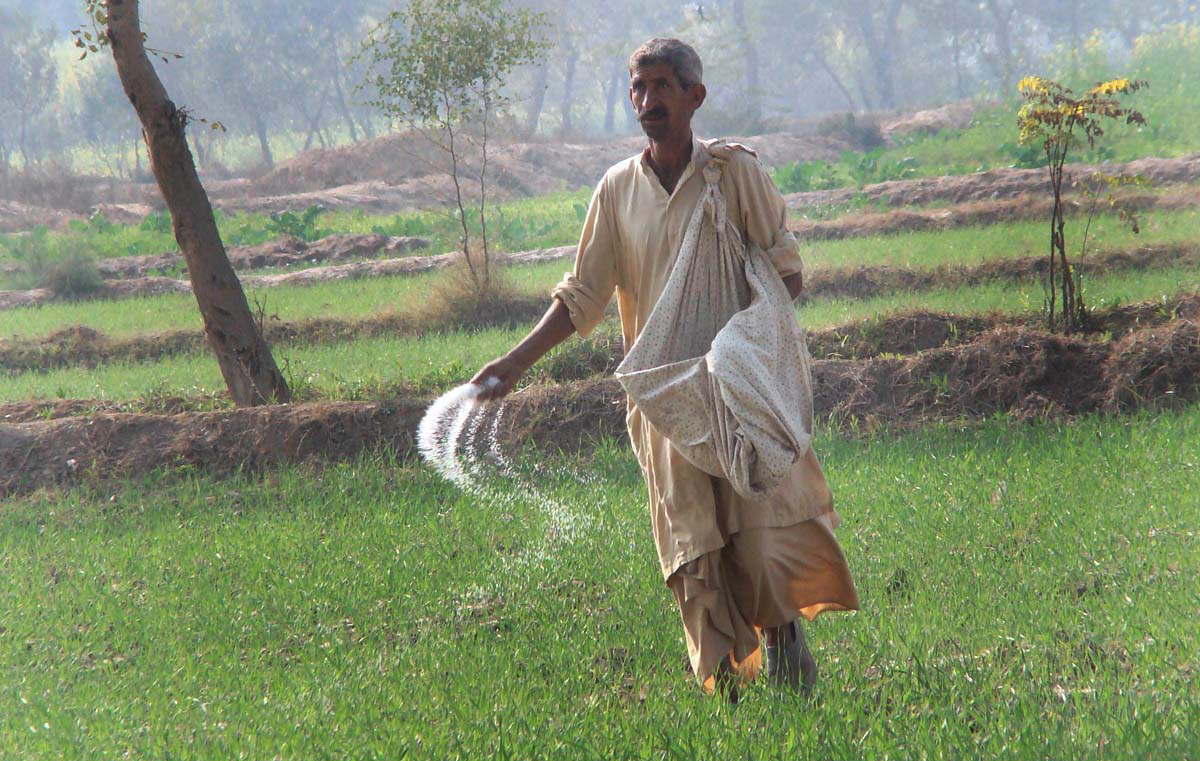 ---
ISLAMABAD:
A run up in gas prices and Russia's invasion of Ukraine have not only pushed fertiliser prices to new records but have also led to a slump in its demand to the lowest in decades due to unaffordability. Since January 2021, fertiliser prices have more than doubled as per the Fertiliser Price Index based on World Bank's data, and the price trend is expected to continue this year as well.
Costs of inputs used in fertiliser production, ie, of ammonia, sulphur, and natural gas (or coal), have tripled on average and have forced many fertiliser factories to cut production. The top four producers of fertiliser are China, the US, India, and Russia but they are also top consumers and importers of fertilisers, except for Russia.
In fact, Russia and Belarus used to supply 40% of world's potash-based fertilisers to the international market as well as other inputs for fertiliser production but now fresh economic sanctions on the two countries have propelled the fertiliser prices to unprecedented levels. Owing to this price hike, cuts in fertiliser use are now imminent, which means that the threat to food security is as real as it gets.
In Pakistan, di-ammonium phosphate (DAP) offtake has already faced a decline of 15% in the last season and its effects on quality and quantity of output are now being felt. According to the International Fertiliser Development Centre, West Africa may see its rice harvest shrink 33% if the situation doesn't improve.
Similarly, soybean harvests in Brazil, China and the US are expected to go down as the crop is highly dependent on fertiliser use and even 10% reduction in consumption may result in around 5% lesser output this year. Soybean is also used as feed for dairy cattle and any shortage can affect dairy and meat prices in future – not to mention that the ongoing cycle of commodity price inflation won't end till the situation in relation to Russia improves.
However, as compared to the international market, the situation in Pakistan is not that grim. Since January 2021, the local urea price has increased only from Rs1,669 per bag to Rs1,917 per bag – a mere 15% increase, while the imported urea price has increased about 300%. Now, the government has decided to give 7% subsidy by revising the price of fertiliser to Rs1,768 per bag.
Meanwhile, urea offtake in Pakistan has jumped by around 50% to 450,000 tonnes in April 2022 – thanks to the shift from conventional varieties to the hybrid ones. Though the industry has been providing annualised import substitution of a whopping $4 billion, it also presents clear opportunities of arbitrage in sight for black marketers and smugglers.
The current price hike in the international fertiliser market coupled with generous local subsidies could lead to a surge in smuggling from Pakistan. Earlier this year, Rs7.2 million worth of urea being smuggled to Afghanistan from the customs stations in Chaman was confiscated. To fight the smuggling menace, fertiliser makers are asking for permission to export surplus inventory and are even willing to forego the subsidised gas supply, if permitted.
Should the fertilier sector be deregulated, they claim, it is set to become a big exporter of Pakistan – bringing $0.8 billion in revenue annually. However, our experience with the sugar lobby tells us that, if deregulated, most of the fertiliser produced locally will be exported – only to be imported back when shortages occur at a later stage at 10 times the price tag. The government will end up subsidising the imported fertiliser again besides subsidising its production earlier.
Regarding fertiliser policy, we may consider taking a page out of China's playbook, which has banned fertiliser exports to boost its domestic inventories. The present subsidy on fertiliser makes sense as it is good business for traders and good politics for the cabinet seeking rural votes in the upcoming elections. Crop yields will soar, and farm incomes will rise but only if the subsidy reaches the intended beneficiaries and is not pocketed by middlemen.
Fortunately, the FBR has been discouraging sales to the unregistered dealers and the track and trace system launched by the revenue board since July 2021 to affix tax stamps at the production stage has been instrumental in tracking goods throughout the supply chain.
THE WRITER IS A CAMBRIDGE GRADUATE AND IS WORKING AS A STRATEGY CONSULTANT
COMMENTS
Comments are moderated and generally will be posted if they are on-topic and not abusive.
For more information, please see our Comments FAQ