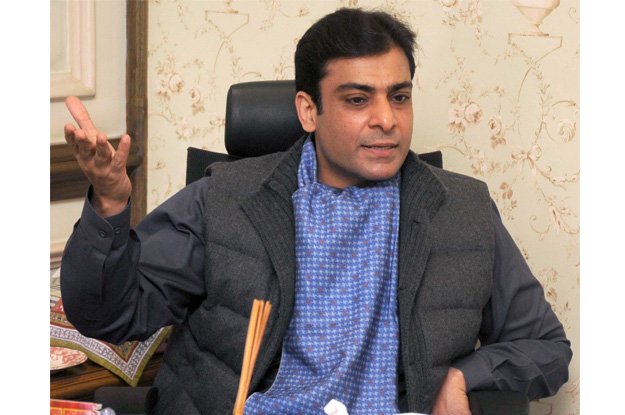 ---
LAHORE:
Hamza Shehbaz on Saturday became the latest member of his family to rule Punjab – Pakistan's political heartland – as he took over as the chief minister of the province, an unrivalled feather in the Sharif family's cap.
Hamza, who became the 21st chief executive of the province in a Punjab Assembly session marred by violence, is the third man from the House of Sharifs to take the coveted post.
More strikingly, his ascension to power comes a few days after his father, Shehbaz Sharif, also returned to power as a prime minister years after his elder brother, Nawaz Sharif, was sworn in for an unprecedented third term as prime minister on 7 June 2013.
Hamza, who was always mooted as an heir apparent to his father, was stated to be an "informal" deputy prime minister of Pakistan and deputy chief minister of Punjab in 2016, handling the political affairs alongside his blood relatives and cutting his political teeth way before formal entrance.
Also read: Hamza's inauguration hangs in balance as governor refuses to endorse election
Media reports were rife in 2016 that a committee had been established under Hamza, saying he was going to effectively act as a deputy chief minister of Punjab "to ensure effective delivery of key public services and prompt resolution of genuine public grievances".
Hamza has been a member of the Punjab Assembly since August 2018. Previously, he was a member of the National Assembly from June 2008 to May 2018.
He was re-elected to the National Assembly from constituency NA-119 (Lahore-II) in the 2013 general election.
A businessman by profession and known as "Poultry King of Punjab", Hamza began his political career in October 1999 when Pervez Musharraf sent his father Shahbaz and the elder Sharif into exile.
He was arrested on 11 June 2019 by the National Accountability Bureau over corruption charges. The arrest was made based on alleged money laundering and holding assets beyond means.
Also read: Hamza's reversal of fortunes
In another scandal, Federal Investigation Agency revealed 28 benami accounts through which reportedly money laundering of Rs16.3 bn was made through seventeen thousand credit transactions.
FIA claimed that eleven low-paid employees of the Sharif group were used to execute these transactions. Hamza Shahbaz and his father Shehbaz Sharif were to be indicted on February 10, 2022. However, the indictment remains delayed.
COMMENTS
Comments are moderated and generally will be posted if they are on-topic and not abusive.
For more information, please see our Comments FAQ