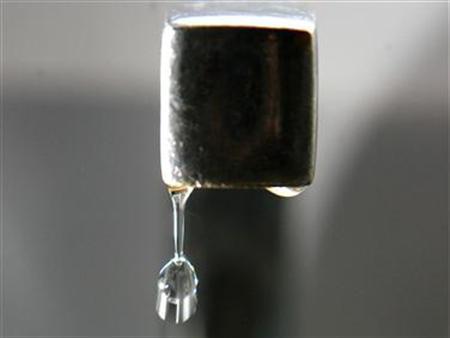 ---
RAWALPINDI:
With the rising temperature, residents of the Rawalpindi city are facing an acute shortage of water amid unannounced load-shedding.
The unannounced power cuts have badly affected the water supply through various tube-well.
Water supply from Khanpur and Rawal dams is not in line with the demand and it is low than the required quantity of water.
Due to power cuts, the Water and Sanitation Agency and cantonment boards were also facing difficulties in filling overhead tanks.
The intensity of the heat has exacerbated the demand for water. The ground water level is falling and the supply from Rawal Dam and Khanpur Dam is low. 460 tube wells have failed to ensure supply to cope with the water demand.
The water supply from a total of 460 tube-wells, Rawal and Khanpur dams is not enough to meet the water requirement of the citizens.
A total of 46 million gallons of daily water is being supplied to a population of 1.6 million as compared to the total need of 59 million gallons per day.
The groundwater level has dropped to 500 feet. A further widening of the demand-supply gap could be a precursor to a water crisis in the city.
WASA Managing Director Wasa Raja Shaukat Mehmood said that the tube wells were already not meeting the water demand and with increasing load-shedding, tube wells were not being run as per the schedule. The water supply from Khanpur and Rawal dams has also decreased, he said.
On the other hand, the daily water supply in Rawalpindi and Chaklala Cantonment Board areas has also decreased due to the gradual increase in the intensity of heat, which is causing difficulties for the citizens.
In Rawalpindi Cantonment Board, areas such as Dhok Saidan, Allama Iqbal Colony, Range Road, Dhok Banaras, Misryal Road and Tench Bhatta were facing a severe water crisis.
In Chaklala Cantonment Board, areas such as Dheri Hassanabad, Murrir Hassan, Lal Karti and Tipu Road have been facing water shortages.
The fasting people expressed their anger against water suppliers.
Haji Noman Momi, Bashir Ahmed Butt, Shaharyar Khan, Ashraf Malik, Rizwan Haider and Ishtiaq Ahmed said that the government should eliminate load-shedding during Ramazan and ensure water supply as per the demand.
Published in The Express Tribune, April 17th, 2022.
COMMENTS
Comments are moderated and generally will be posted if they are on-topic and not abusive.
For more information, please see our Comments FAQ