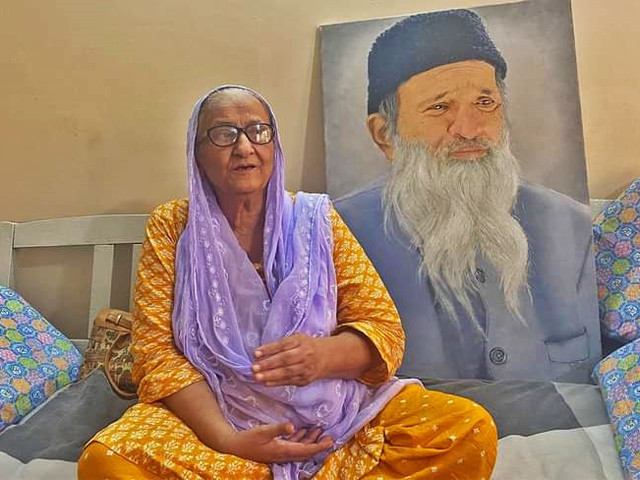 ---
Bilquis Bano Edhi, the widow of renowned humanitarian and philanthropist Abdul Sattar Edhi, died on Friday in Karachi, her son Faisal Edhi confirmed. She was 74.
Bilqis was one of the most active philanthropists in the country and co-chaired Edhi Foundation with her son Faisal after her husband's passing in 2016.
She was born in Bantwa, India and migrated to Pakistan after the Partition. Together with her husband their charity has saved thousands of unwanted babies.
She had been suffering from cardiovascular disease and was under treatment at a private hospital for the last few days.
Bilquis was reported to be in a stable condition on Thursday after she was rushed to the hospital earlier this week when her blood pressure suddenly dropped.
The Edhi Foundation Spokesperson Muhammad Bilal had said that though she is not in a serious condition, she will remain in the hospital for a couple of more days, adding that Bilquis had congestive heart failure and already undergone a heart bypass twice.
First Lady Tehmina Durrani also visited her during Prime Minister Shahbaz Sharif's maiden visit to the port city on Wednesday.
Pakistan's towering philanthropist and humanitarian was declared the 'Person of the Decade', along with human rights rapporteur of the UN Prof Yanghee Lee and the US ethicist Stephen Soldz.
A spokesperson for the Edhi Foundation told APP that as per the domino effect verdict, announced by the Impact Hallmarks, Bilquis Edhi was declared the most impactful person of the first two decades of the 21st century.
Bilquis Bano Edhi was a professional nurse and she headed the Bilquis Edhi Foundation. She spent more than six decades of her life serving humanity in need. Her charity saved over 42,000 unwanted babies so far by placing "jhoolas" [cradles] at the Edhi Homes and centres across the country.
Condolences pour in
As soon as the news of her passing broke out, people belonging to all walks of life including Prime Minister Shehbaz Sharif and other political leaders expressed sorrow over the death of renowned philanthropist.
"The passing of Bilquis Edhi is a huge loss for the nation. An incredible woman in her own right, she stood by Edhi sb. like a rock & together they set up an example of human compassion & ran one of the largest philanthropic organisations of the world. May her soul rest in peace!," wrote the premier on his official Twitter handle.
From raising orphans to marriages of homeless girls, Bilquis Edhi's services are unforgettable, said PPP Chairman Bilawal Bhutto Zardari while paying tribute to the services of the departed soul.
"The whole nation is mourning today but millions of orphans will probably feel orphaned for the first time today. May Allah Almighty grant Balqis Edhi Sahiba a place in Paradise," said PML-N Vice President Maryam Nawaz in a tweet.
He demise also saddened PTI chairman Imran Khan. "Her quiet, selfless work for the poor, the homeless, especially the orphans & abandoned children, made her a role model and a symbol of hope. My prayers & condolences go to her family," he wrote on his official Twitter handle.
Former premier and PML-N supremo Nawaz Sharif also shared same sentiments. "She was a very kind woman who had the pain of humanity. May Allah give her a place in Jannat of mercy and grant patience to the mourners. Ameen," he tweeted.
The United States Embassy in Islamabad also extended deepest condolences to the friends and family of Bilquees Edhi. "As a humanitarian and philanthropist she dedicated over half her life to helping those in need. She was a model of service and inspiration to many," it said in a tweet.
German Ambassador to Pakistan Bernhard Schlagheck also echoed the similar sentiments, saying, "Heartbroken to hear about the passing of wonderful humanitarian #BilquisEdhi. She was an extraordinary human who dedicated her life to the great cause of helping others—a woman who was truly inspiring. I extend my deepest sympathies to her family & the people of Pakistan for this loss."
First Lady Tehmina Durrani, who recently visited the ailing philanthropist in Karachi said, "Today I lost the woman who became my mother when I most needed one. The entire world lost one of its most valuable assets. I had returned from Mithadar believing we would meet again, alas I head back to say a final farewell. #BilquisEdhi was just another woman… but what a woman!"
Other political leaders, journalists and netizens also expressed grief and sorrow over the demise of Bilquis Edhi.
COMMENTS
Comments are moderated and generally will be posted if they are on-topic and not abusive.
For more information, please see our Comments FAQ