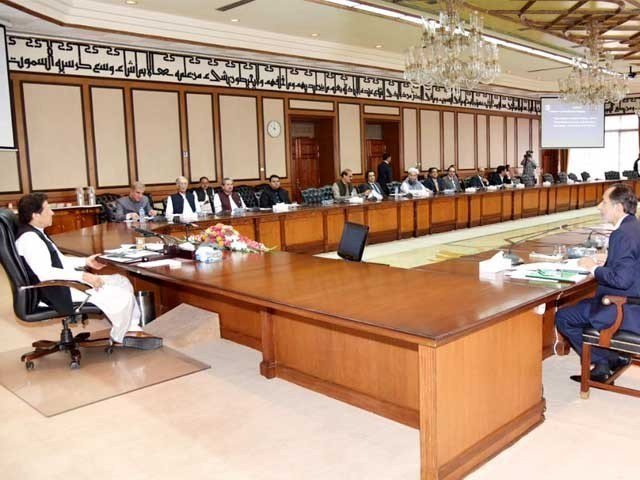 ---
Prime Minister Imran Khan on Saturday night summoned an emergency meeting of the federal cabinet to review the country's prevailing political situation, Express News reported.
The meeting came after crucial National Assembly session which commenced at 10.30pm earlier today has been adjourned till 9.30pm with opposition leaders claiming that the government was deliberately delaying voting on no-trust motion against PM Imran.
The federal cabinet members have been directed to attend the hurriedly called huddle.
"We don't know the agenda of the meeting," one government official told Reuters. "We just have been instructed to meet."
Before the session was adjourned, opposition leader Shehbaz Sharif, expected to become prime minister if PM Imran is ousted, urged lower house Speaker Asad Qaiser to ensure the vote was carried out as a matter of priority.
Also read: NA session adjourned for fourth time as govt drags feet on no-trust vote
The speaker said he would implement the court order "in true letter and spirit".
Lawyer Salahuddin Ahmed, who had argued in court for the vote to go ahead, said he believed it must occur before midnight.
PM Imran, who enjoyed widespread popular support when he took office, said late on Friday he was disappointed with the court ruling but accepted it. But he said he would not recognise any opposition government that replaced him.
"I will not accept an imported government," he told the nation in a late-night address, suggesting the move to oust him was part of a foreign conspiracy and calling for peaceful protests on Sunday. "I'm ready for a struggle."
(With input from Reuters)
COMMENTS
Comments are moderated and generally will be posted if they are on-topic and not abusive.
For more information, please see our Comments FAQ