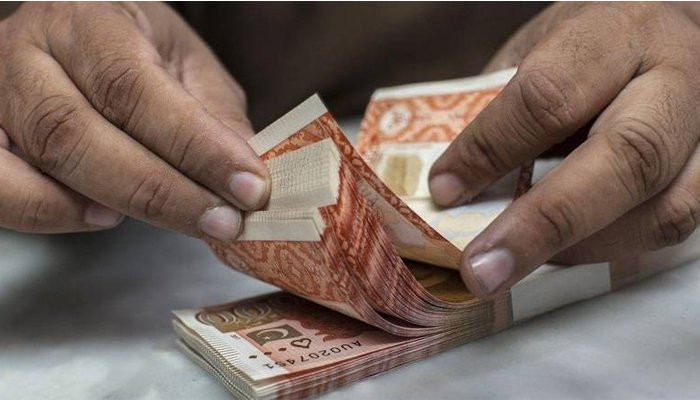 ---
KARACHI:
The Pakistani rupee has maintained its downward streak for about two straight weeks now, as it crossed Rs184 for the first time in history against the US dollar on Friday, amid rapid depletion in foreign exchange reserves which currently stand at two and a half years low level.
The rupee depreciated 0.33% (or Rs0.61) to a new all-time low of Rs184.09 in the inter-bank market, the State Bank of Pakistan (SBP) reported. The currency has maintained its record-breaking downward movement for 14 consecutive working days, except for March 24 when it closed flat on a day-on-day basis. Accordingly, the currency has cumulatively lost 3.12% (or Rs5.58) in the past 14 days from Rs178.51 on March 11.
READ Rupee depreciation hits industrial sector
Since the beginning of this fiscal year to date, the rupee has collectively dropped by a massive 16.85% (or Rs26.55) compared to the previous fiscal year's close at Rs157.54. Moreover, the foreign exchange reserves held by the SBP dropped $2.91 billion to $12.05 billion in the week ended March 25, according to the central bank. This has mounted pressure on the local currency.
"The country also paid $900 million to settle the Reko Diq issue, signaling that the existing reserves may be lower than the reported one," PakKuwait Investment Company Head of Research Samiullah Tariq noted. Arif Habib Limited Head of Research Tahir Abbas underlined that the latest pressure on the rupee was due to an aggressive pullout of investments by foreign investors from the local capital market.
"Foreigners withdrew over $400 million from T-bills and Pakistan Investment Bond (PIBs) in March, which is the biggest outflow from the capital market in the past two years on a month-on-month basis," he said.
COMMENTS
Comments are moderated and generally will be posted if they are on-topic and not abusive.
For more information, please see our Comments FAQ