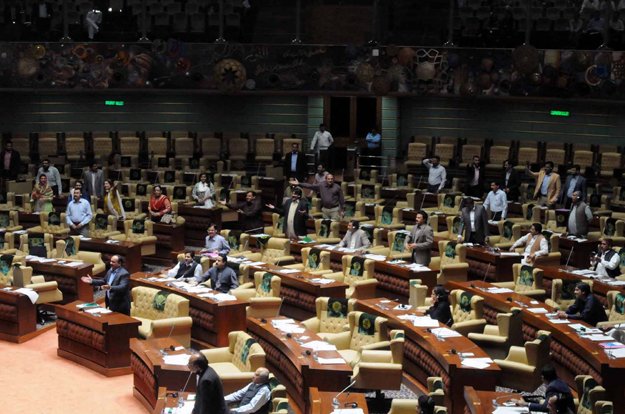 ---
KARACHI:
Pakistan Tehreek-e-Insaf (PTI) MPAs Khurram Sher Zaman, Seema Zia, Adiba Hassan, Adeel Ahmed, Dr Sanjay Gangwani, Shahnawaz Jadoon, Riaz Haider and others submitted a resolution in Sindh Assembly condemning Bilawal Zardari's statement regarding OIC meeting.
Talking to the media Zaman said, "today a resolution condemning the statement of a 'political child' has been submitted."
The child's grandfather had convened the first OIC meeting in Pakistan. Bilawal has opposed his grandfather's decision and action. PTI strongly condemns Bilawal's statement regarding the meeting.
"A PPP minister says the prime minister's foreign policy has failed. The minister himself has failed in every ministry. Saeed Ghani failed miserably in education, information and other ministries.
"If the prime minister's foreign policy had failed, March 15 would not have been declared the International Day against Islamophobia. If foreign policy had failed, Pakistan would not have the opportunity to host the OIC summit after 15 years.
"During the past 15 years, two governments came. If the foreign relations between Nawaz Sharif and Zardari tenures were positive then why Pakistan has always been accused of terrorism. Why didn't such an OIC meeting take place during their governments?"
Read More: Qureshi, Rashid warn against disrupting OIC moot
Khurram Sherzaman said, "I ask the election commission why it is necessary to hold elections when there is such a business of selling conscience."
He said, "an attempt was made to buy our female member for Rs160 million."
Zaman further said that action would be taken against Aslam Abro and Shehryar Shar under Article 63A.
Both the members voted for the Sindh government on the day of the money bill.
Aslam Abro and Shehryar Shar should not be in any misunderstanding.
Sher Zaman said that last night our workers protested against looting. Fake cases were registered against our political workers. We strongly condemn the police behaviour. Registering cases against peaceful protesters is a denial of democracy, he added.
Published in The Express Tribune, March 22nd, 2022.
COMMENTS
Comments are moderated and generally will be posted if they are on-topic and not abusive.
For more information, please see our Comments FAQ