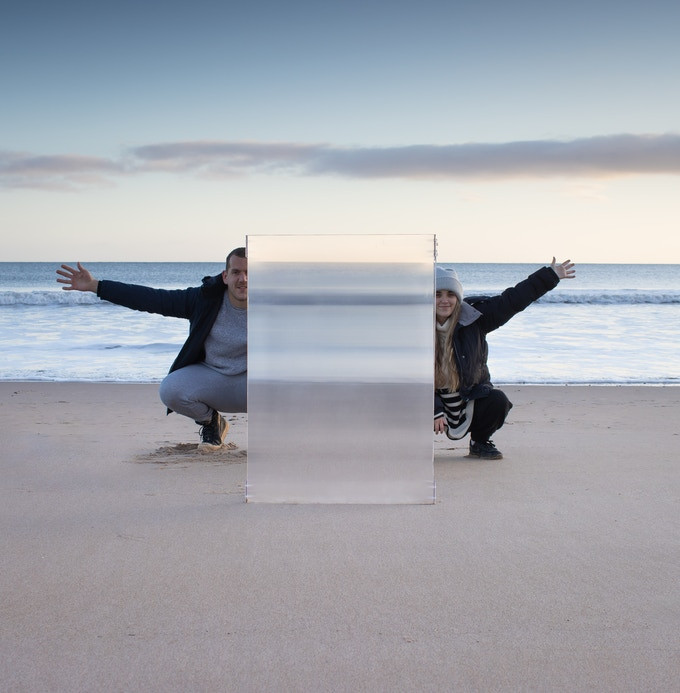 ---
A company based in London has designed a technology that can help you become invisible using a shield. By supporting their Kickstarter campaign, you can get an invisibility shield for yourself.
Invisibility Shield Co worked ambitiously for two years to design an efficient and reliable mechanism to make invisibility possible. Using a lens array to deflect light from the subject behind the shield and away from the observer in front of the shield, the invisibility works effortlessly.
The lens of the shield is oriented vertically to let the light from the subject be diffused when passing through the shield. The light from the background of the subject is refracted towards the observer who will be unable to spot you behind the shield.
The invisibility shield works best with uniform backgrounds like grass, foliage, walls, painted lines, and sand. The UK-based company provides the invisibility shields in two sizes, 3 X 2 feet which are sufficient enough to hide two full-grown humans behind it while sitting down.
The second size measures 12 X 8 inches, costing $64 while the former costs $394 inclusive of international shipping. Weighing just nine pounds and only two inches thick, the shield is made up of UV and temperature-resistant material.
The company ensured the product manufacturing was environmentally friendly with low emissions and the entire product being recyclable. Invisibility Shield Co. already has more than 360 orders already and will begin shipping in December of this year.
COMMENTS
Comments are moderated and generally will be posted if they are on-topic and not abusive.
For more information, please see our Comments FAQ