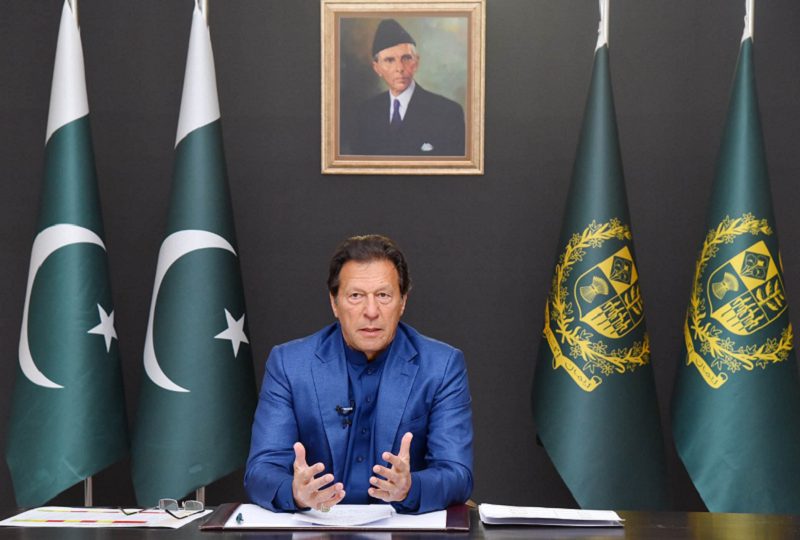 ---
ISLAMABAD:
Prime Minister Imran Khan on Tuesday threw down the gauntlet to the opposition parties, economists, and media by challenging them to a debate to compare the performance of Pakistan Tehreek-e-Insaf (PTI) with that of the previous governments, saying that no party served Pakistan like the PTI did.
While welcoming the challenge, the opposition parties have accepted the challenge for a debate at D-Chowk but asked the prime minister to visit Rawalpindi's Raja Bazaar if he wanted to get an honest view of his government's performance, saying "the public is the best judge".
Two former premiers, PML-N's Shahid Khaqan Abbasi and PPP's Raja Pervaiz Ashraf, reminded PM Imran that the proper place to have such a debate was inside parliament, which, as Ashraf put it, was never properly run in the last three-and-a-half years and, Abbasi said, could still be used to explain the position on the no-trust motion filed against the premier.
"He [PM] can join the debate in parliament on the no-confidence move and explain his position," Abbasi said. "We accept the challenge and are ready for a formal debate at D-Chowk."
Former PM Ashraf said, "We have debated inside and outside parliament and we are still ready but I think it's time for him to go now."
Ashraf asked the PM to visit Raja Bazaar and take the common people's view about inflation, unemployment, rate of potatoes, tomatoes and other food items, the difficulties that they face in paying utility and medical bills as well as fee, among other things.
"If the performance was so good, there would not have been the need to tell the people about it every day," Ashraf said, adding that these offers of debate and threats to gather people at D-Chowk were nothing but the thoughts of a man losing the battle.
Meanwhile, renowned journalist, Hamid Mir, also accepted the challenge and offered holding a live interview of PM Imran along with PML-N President and Leader of the Opposition in the National Assembly Shehbaz Sharif and PPP Chairman Bilawal Bhutto Zardari at D-Chowk.
Read More: Educators set to stage march at D-Chowk
Mir while welcoming the offer said: "I am ready to do a live interview with Imran Khan and if the premier wants he could invite Shehbaz or Bilawal with him.
He said that if PM Imran was not ready to face the opposition leaders then he was ready to do an interview with him alone.
"I will only ask questions with facts about the economy; facts and figures released by the State Bank of Pakistan," Mir said. "If he is ready, I can do this show at D-Chowk. I accept the challenge."
The offer to have a formal debate has come at a time of extreme political polarisation amid calls from politicians and religious scholars to lower the rhetoric and avoid resorting to name-calling and use of inappropriate language.
Surprisingly, the premier's challenge of debate over performance has come on the heels of him sacking and replacing his economic czars multiple times in the past three years on account of him not being satisfied with their performance.
The first one to go home was none other than PTI stalwart Asad Umar. In April 2019, Umar was sacked. Hours after being shown the door, Umar had reportedly admitted that he was removed by PM because of his "performance" at the post.
Since 2018, the premier has reshuffled the federal cabinet on a number of occasions. The frequent reshuffles have taken place against a backdrop of declining popularity of the ruling party because people have been expressing their disapproval with the government's economic policies since it came to power.
Pakistan Institute of Legislative Development and Transparency (PILDAT) President Ahmed Bilal Mehboob said, "It is a very good idea but I doubt they would ever agree to a properly planned debate."
COMMENTS
Comments are moderated and generally will be posted if they are on-topic and not abusive.
For more information, please see our Comments FAQ