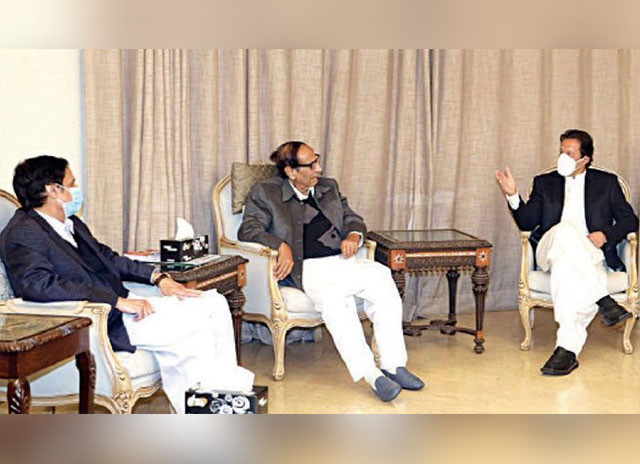 ---
Pakistan Muslim League-Quaid's (PML-Q) President and Punjab Assembly Speaker Pervaiz Elahi on Sunday advised Prime Minister Imran Khan to remain cautious of his advisers whom he blamed for a growing rift between the government and the media.
In a message sent to the prime minister, the PML-Q president expressed concerns over the statements given by the aides of the premier. He requested the prime minister to remain careful because "the PM's advisers through their misleading statements are creating a rift between the government and the media."
Read IHC takes sting out of PECA 2022
In his message, Elahi said there were reports of the PTI members being stopped from appearing on "some media channels". "The PTI will not be able to present its narrative in a balanced way through such policies," he said, requesting the PM and PTI leadership to review the decision.
Elahi also raised concerns over the ban on advertisements to "some newspapers and media houses" that was apparently imposed under the PECA law. The PML-Q chief added that government ads were paid through taxpayers' money and they should not be used to target particular newspapers and media houses.
He said the freedom of expression was a cornerstone of democracy, adding that he was given the task to mediate between the government and the media over the controversial PECA ordinance. "I am surprised over the PTI's campaign against the media," the Punjab Assembly speaker added.
Earlier, PTI's other ally, the Muttahida Qaumi Movement-Pakistan (MQM-P) relayed reservations over the controversial ordinance, urging the premier to take it back.
PECA LAW
On February 20, President Arif Alvi promulgated the ordinance making online public defamation a cognisable and a non-bailable offense while increasing the jail term for defamation of any person or institution from three years to five years.
Read Fawad reiterates 'full' support for controversial PECA law
Before the ordinance came into effect, Section 20, which pertains to the registration of complaints against individuals by aggrieved parties over defamation, was a bailable and non-criminal offence.
Subsequently, the bar councils and media bodies moved the high courts against the law and in a subsequent order, the Islamabad High Court (IHC) barred the Federal Investigation Agency (FIA) from arresting anyone under Section 20 of PECA.
After a stream of criticism from the opposition parties, rights organisations and civil society, the MQM-Pakistan -- an ally of the ruling PTI -- also joined the bandwagon, raising objections over the controversial ordinance.
COMMENTS
Comments are moderated and generally will be posted if they are on-topic and not abusive.
For more information, please see our Comments FAQ